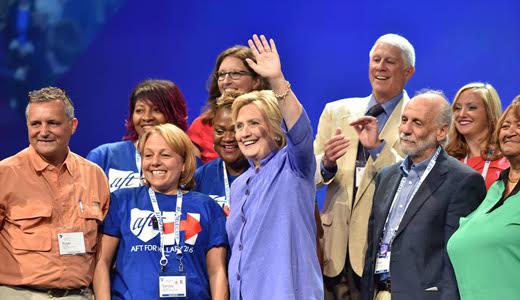 MINNEAPOLIS (PAI and Workday Minnesota) — More than 3,000 delegates convened July 21 at the Minneapolis Convention Center to celebrate 100 years of the American Federation of Teachers – and lay out a vision for the future of the 1.6-million-member union.
Union President Randi Weingarten gave the keynote address, while presumed Democratic presidential nominee Hillary Clinton, whom AFT endorsed a year ago, got a warm welcome when she promised AFT that teachers "would have a seat at the table" in a Clinton administration.
Clinton's address also touched on other education issues the union supports, including opposition to privately run public schools and to taxpayer-paid vouchers for private schools. She also touted more aid for pre-K education, a top AFT cause.
Her speech to AFT was one of three big addresses Clinton gave during the week of the Republican convention in Cleveland. On that confab's opening day, July 21, she spoke to the NAACP in Cincinnati before flying to address AFT in Minneapolis. On July 22, she addressed AFSCME's convention in Las Vegas.
AFT's 100-year history
In her speech, Weingarten said throughout its 100-year history, the AFT has been at the juncture of key social, economic and civil rights movements. "Democracy and fairness, education and economic prosperity" and "racial and social justice for all" were convention themes.
She recalled the founding of the organization in 1916 in Chicago, where "union headquarters was a spare room in the financial secretary's house."
"One hundred years ago, women didn't have the right to vote. Legislation to outlaw lynching was routinely blocked. Child labor was legal. Teachers were forced to sign 'yellow dog' contracts promising they'd never join a union.
"So much of what we take for granted today took the work of people just like you, coming together demanding better," Weingarten said. "We have done a lot, that to our founders would be inconceivable, but we made inevitable."
The AFT grew from its original eight locals to 3,500 local unions with more than 1.6 million members.
Many challenges exist
While reflecting on the union's success in promoting public education and raising the standards for educators and students, Weingarten said many challenges exist, including divisions and violence in American society.
"There are 33,000 gun deaths in the United States each year…" Weingarten said, then added, to loud applause, "Should it really be easier to get an assault weapon than to get a driver's license or to register to vote? We should never accept that mass murder and indiscriminate killing are the new normal."
Many Americans are struggling economically and looking for solutions, Weingarten said. "Underlying the anger that people are feeling are aspirations for a better life and those aspirations compel us to act."
Hillary Clinton's remarks
Clinton praised the work of the AFT in particular and of educators in general, and got a thunderous ovation.
"Thank you for caring for all children — no matter what they look like, where they come from or who they are," she said. Clinton also expressed her support for unions, adding, "We need to be serious about raising wages for teachers and support staff."
Those ideas and her past history got Clinton early teachers' support. AFT was the first union to openly support her run for the White House. The nation's other, larger, teachers' union, the National Education Association was the second.
Clinton also told AFT she would back efforts to modernize teaching, expand computer science and STEM education and ensure that testing assists teaching. Teaching-to-the-test, the center of the now-dead Bush era No Child Left Behind law, angered teachers and parents.
After strong lobbying by both AFT and the National Education Association (NEA), bipartisan majorities in Congress backed a replacement law which deemphasized linking testing as the end-all measure of student performance – and of whether schools and teachers would be penalized or not.
Clinton also attacked Republican presidential nominee Donald Trump for his divisive policies and Republicans attitude toward education. Her campaign also hosted its own "counter convention," just blocks from the GOP's conclave, in Cleveland.
Before arriving in Minneapolis, Clinton told the NAACP that violence and madness has to stop and pledged to push for reforms in law enforcement to reduce the killings of unarmed African-Americans as well as of police.
"There is, as you know so well, another hard truth at the heart of this complex matter: Many African-Americans fear the police," she said. Clinton vowed to work toward bridging the gap between the African American community and local police forces.
That repeated her statement three days before to the 200th anniversary convention, in Philadelphia, of the African Methodist Episcopal (AME) church that "There is clear evidence that African-Americans are much more likely to be killed in police incidents than any other group of Americans. And we know there is too little trust in too many places between police and the communities they are sworn to protect." She added, however, "good law enforcement officers far outnumber those who are bad and a violent response to violence is not the answer."
Barb Kucera is editor, Workday Minnesota
Photo: AFT Facebook