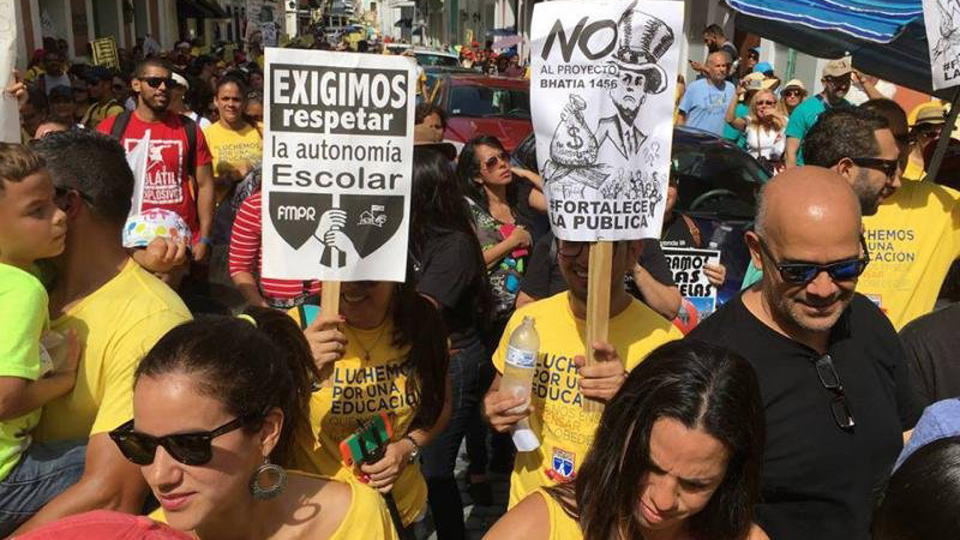 Teachers unions in the United States and Puerto Rico joined forces to fight the drastic school closings, forced upon the island's children by hedge fund creditors. Union leaders sent a letter last month to the financial oversight board imposed on Puerto Rico by a 2016 U.S. law passed to restructure the island's $123 billion debt owed to Wall Street bondholders and government workers' pension funds.
Puerto Rico is the latest and largest victim of Wall Street's predatory lending practices, teachers said, which will irreparably hurt children and families. More than 200 schools have already been closed, according to the American Federation of Teachers, and the board plans to close 148 more, cut 40 days from the school year and teachers' pay by 10 percent.
In their letter, the American Federation of Teachers President Randi Weingarten and Asociación de Maestros de Puerto Rico (the Puerto Rico Teachers Association) President Aida Díaz de Rodriguez outline the devastating impact these current round of cuts would have on children and challenge board members to visit the schools.
"Since Puerto Rico instituted deep austerity measures, the physical state of existing schools has deteriorated, with reports of pests at some schools, and teachers making do without libraries and books, and using their own resources to buy the basics," the letter stated.
"The majority of Puerto Rican students and their families live in poverty, and more than 140,000 of them are receiving special education services. School is the place where these students have access to education—to books, to teachers, to community and to at least two full and healthy meals."
Díaz said in a press release, "There is no way to save Puerto Rico's future without saving its public schools, partly because we do not have the large industries that invest back in our community."
Weingarten urged the union's members and supporters to stand in solidarity with the children and teachers of Puerto Rico.
"Hedge fund greed is driving Puerto Rico's debt crisis," she said in a May 10 email.
"They've demanded harmful cut after harmful cut, all so that they can turn a profit. We're tired of putting profits before students. We can't allow Wall Street to come in and strip opportunity away from these children."
The unelected board was created under the Puerto Rico Oversight, Management and Economic Stability Act of 2016 (PROMESA), passed by Congress and signed into law by President Obama. Some say the debt crisis has exposed the root cause: U.S. colonialism.
"With a Washington-appointed board directly overseeing the island's economy, and with a pivotal Supreme Court decision last year affirming that Congress continues to exercise sovereign power over Puerto Rico, the mask of self-governance has been removed," wrote Juan Gonzalez in The Intercept.
He said the colonial relationship is no longer viable.
"The old commonwealth is effectively dead. Absent a huge infusion of U.S. public dollars to prop up its collapsing economy, a scenario that is nearly impossible with a Trump White House and a Republican-controlled Congress, that relationship cannot be revived," he wrote.
"Political leaders in both Washington and San Juan, whether they like it or not, are being propelled to fashion a new political and economic status for the territory. They will have to finally decide whether to completely annex Puerto Rico as the 51st state or acknowledge that it still remains a distinct nation, with the right to its own sovereignty and independence."
In the meantime, the AFT is asking its members to send a message to the oversight board demanding they stop the cuts to education.