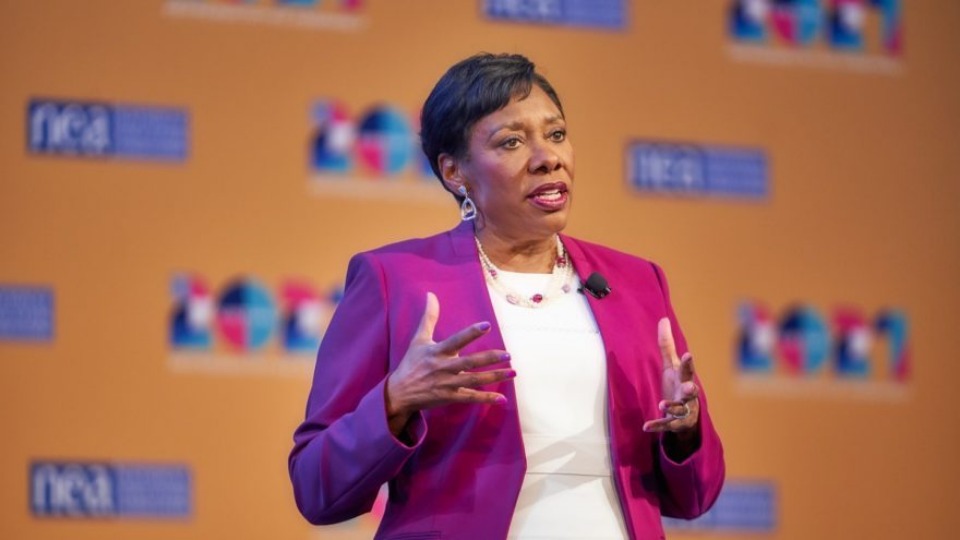 WASHINGTON (PAI)—The nation's largest union will keep pushing for the John Lewis Voting Rights Advancement Act, which would restore the teeth the GOP Supreme Court majority pulled from voting rights, despite a GOP filibuster threat, its president says.
In an e-mail urging the union's three million members to sign a petition to lawmakers, the National Education Association (NEA) President Becky Pringle, a middle school science teacher from Philadelphia, calls voting rights protections is crucial. The petition is here. Anyone can sign; it is not necessary to be an NEA member.
"Senate Minority Leader Mitch McConnell and other Republicans again have failed to protect our democracy by standing in the way of advancing the Freedom to Vote Act," she wrote.
"As a middle school teacher of more than 30 years, I am struggling with how to explain their indefensible action to our students, who are watching as they try to restrict access to our democracy and stack the deck against them. We will not be silent. And we should not allow Senate procedure to stop critical legislation like this from passing."
Pringle said Senate Majority Leader Chuck Schumer, D-N.Y., plans to take up the John Lewis Act, HR4 "as early as this week despite the threat of another filibuster." She quoted Schumer as declaring, "Republican obstruction is not a cause for throwing in the towel."
"HR4 would reverse dangerous, undemocratic trends flowing from Supreme Court rulings: Shelby v. Holder, decided in 2013, which invalidated the crucial 'preclearance' provision of the landmark 1965 Voting Rights Act and Brnovich v. Democratic National Committee, decided just a few months ago, which further weakened the law," NEA says.
The Holder case gutted the law's key Section 5, which forced state and local governments with histories of discrimination based on race or color to "preclear" any voting changes with the Justice Department.
The Brnovich case, from Arizona, let that GOP-run state's voting curbs—particularly on the collection of absentee ballots—stand.
"Email your senators and tell them to protect our democracy by protecting our right to vote," NEA concluded (emphasis theirs).