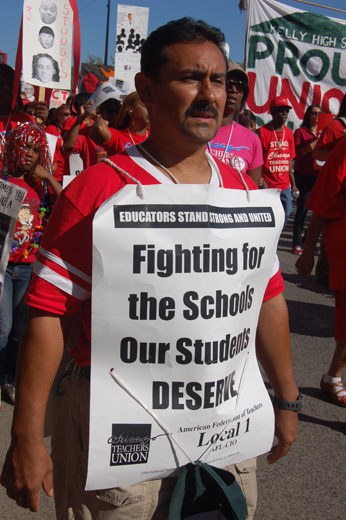 WASHINGTON (PAI) – The "polarization and anger" running through U.S. society, as a result of the collapse of the American Dream, "is playing out in the schools as well," Teachers President Randi Weingarten warns.
In a free-flowing talk and Q & A at the Women's National Democratic Club in D.C. on Dec. 12, the head of the 1.5-million-member union adds the conflict appears in fights over charter schools, state and local school funding cuts, and even in the Obama administration, in its emphasis on business-like practices in schools and on test scores.
Weingarten's remarks came as Congress is stalled, yet again, on what to do about federal school funding, and as Democratic President Barack Obama and his Education Secretary, Arne Duncan, emphasize their "race to the top" program, egging schools on with additional federal funds – if the schools improve test scores.
That teach-to-the-test ethos riles both parents and teachers, Weingarten told the group, as it assumes teachers can solve all of society's problems in the schools, and they can't. And parents are upset because subjects that actually would draw their kids into school and make it a place to learn, like music and art, are sacrificed, she said.
"There's a conversation that says teachers, who are viewed as a combination of Mother Teresa, Albert Einstein, Martin Luther King and Tony Soprano, can do it all. People want us to be angels – just like at Sandy Hook" during the school massacre there a year ago, she noted.
"They want us to turn it all around ourselves, and if we can't we should be fired."
The big reason teachers can't do it themselves, Weingarten said, is poverty, a theme she's emphasized before. The problems at low-performing schools, which are usually those in the poorest neighborhoods, lead to searches for "silver-bullet solutions" such as vouchers and charter schools, she added. Test data show little improvement.
"Testing is important," she admitted. "But it really says that something didn't happen in the engagement" between teachers and kids. And the success of such interaction drops, Weingarten told the group, when state and local officials slash education funding.
The results included 300,000 teachers, out of 3 million nationwide, laid off after stimulus money ran out and a billion-dollar hole in Philadelphia's school budget. The GOP-run state government, which runs the city's schools, yanked the money.
"Class sizes went up, music and art went bye-bye and then test prep took even more dollars away. And on top of all that, more kids are poor," due to the recession. "Two-thirds of the national achievement gap" in schools "is caused by poverty."
Nevertheless, what you hear from politicians, she said is "starve the schools." Then the politicians close the schools, destroying neighborhoods and telling parents that charters are "the only alternative."
"If you're telling me a kid can't get art and music because the dollars go to vouchers and charters, that's what I get mad about," she exclaimed.
Those scenarios led Weingarten earlier this year to join her Philadelphia Federation of Teachers members on a picket line – and get arrested – for protesting GOP Gov. Tom Corbett's budget cuts.
They also led Chicago teachers and residents into a mass, community-backed strike against school closures that Chicago Mayor Rahm Emanuel (D) ordered.
Despite those problems and political manipulation of school money, teachers still want to teach and make a difference in kids' lives, Weingarten declared. And her union is trying to help them do so by campaigning to make schools into community centers.
As such centers, which are already operating in several cities with AFT locals, the schools feed kids, provide after-school facilities, add health clinics, create all-day kindergartens, and give kids a safe haven from fearsome streets.
"We already feed the kids breakfast and lunch and some teachers even wash the kids' clothes," Weingarten comments. "The average teacher now spends $30 a week out of her own pocket to feed kids, on top of the $500 she spends on school supplies – and meanwhile her salary has been flat."
One thing AFT is not doing, she said, is defending tenure for incompetent teachers at all costs. Tenure should be used to give teachers protection to experiment with what works in the classroom and to prevent political interference, she told the group. But AFT believes tenure should not protect incompetent or unqualified teachers, since those teachers leave their kids' problems to successors in higher grades.
If parents want great and safe neighborhood public schools – and Weingarten says polls show they do – then they must get out and campaign for them, she said. That means taking to the streets in the cause of quality schools, as parents did in more than 100 cities on Dec. 9, she added. "We want your help, because we need people to reinvigorate public education," Weingarten concluded.
Photo: Chicago teachers' strike, September 2012. People's World.