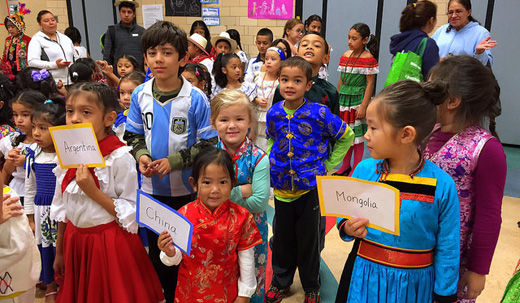 A California fifth-grader has "full-blown panic attacks" in school because the student fears being deported.
A Muslim teenaged girl in Washington state had suicidal thoughts after her classmates repeatedly shouted anti-Islamic slurs at her. Some other chants elsewhere: "ISIS", "terrorist."
An Oklahoma grade school teacher reports: "My kids are terrified of (Donald) Trump becoming president. They believe he will deport them – and NONE of them are Hispanic. They're all African-American."
And a Michigan high school teacher has to keep defending the rights of minorities to hold different views in an atmosphere "where the rhetoric has set up a school community that is hostile to conservatives and the Republican Party.
"It makes it difficult if not impossible to take sides in my classroom because I can't be silent in the face of this rhetoric, lest I lose my students' respect or trust."
Welcome to the 2016 presidential campaign and its traumatic, scary effect on kids.
Rolling back educational progress
That's detailed in a new report from the Southern Poverty Law Center, the nation's leading tracker and monitor of hate groups, crimes and bigotry. For years, the SPLC has also run a "Teaching Tolerance" curriculum for the nation's schools, which are still viewed as the top way young people are socialized into U.S. society's norms, including tolerance for minorities.
This year's presidential campaign has undone a lot of that progress, SPLC reports. And it's also traumatized millions of students, from kindergarten all the way through 12th grade.
That's what the SPLC found in its informal online survey of the nation's teachers, from March 23-April 2. Some 2,000 responded. The poll data in Teaching The 2016 Election painted a bad enough picture. The 5,000 comments from the teachers made it even worse:
67 percent reported their students were concerned about what might happen to them or their families after the election. The fears came mostly from children of immigrants, Muslims, African-Americans, and children of color. As a source, 20 percent of teachers mentioned pre-sumed GOP presidential nominee Trump. Fewer than 200 combined named other hopefuls.
"Close to one-third of students in U.S. classrooms are children of foreign-born parents. This year they are scared, stressed and in need of reassurance and support from teachers. Muslim children are harassed and worried. Even native-born African-American children, whose families arrived here before the revolution, ask about being sent back to Africa…We heard of students from second grade to high school crying in class," out of fear, SPLC says.
A North Carolina high school teacher reports her "Latino students carry their birth certificates and Social Security cards to school because they're afraid they'll be deported."
Half of the teachers saw "an increase in uncivil political discourse" among students. "More than one-third have observed an increase in anti-Muslim or anti-immigrant sentiment."
Teachers face tough choices
Some teachers are tackling the problem. Many aren't. Others spend their time trying to reassure their students that they'll be safe. "Teachers in general are very protective of their students and sensitive to their pain," SPLC reports.
But 43 percent of the teachers, including half of the elementary school teachers, are avoiding teaching about the campaign altogether – even though normal presidential election years see classrooms festooned with red-white-and-blue bunting and age-appropriate lessons in history and civics. By contrast: "I try not to bring it up," an Arlington, Va., teacher says about the campaign, "since it is so stressful for my kids."
Some school administrators ban political discussions, with the report citing instances in Virginia and Colorado, plus one New England teacher who decided not to discuss the campaign because "I need my job, so I must walk this fine line."
Other teachers "are throwing caution to the winds" and talking about the campaign. They know it surrounds and impacts their students. "I am less neutral," said a Jersey City, N.J., high school teacher. "I want to reassure my students that I don't buy into racist rhetoric."
A teacher in Washington state said: "This is probably the first time I haven't been unbiased about" a political campaign. "My students need to know that some of what they are witnessing is not OK." Added an Indianapolis teacher: "I am at the point where I'm going to take a stand even if it costs me my position."
The campaign and its rhetoric pervade every classroom, as the kids talk about it with teachers, at home and with each other. "I am not a history teacher, but the issues of this election are spilling over into everything," a San Diego teacher said. An Arlington, Texas, high school teacher said her students tell her "they feel alienated from a particular math teacher who advocates for Trump." Other teachers reported students using Trump's name as a slur
The teachers want "factual candidate profiles, facts about the issues and fact-based explanations of policy differences (their emphasis)," the report says. Several teachers taught sessions about media coverage and fact-checking, discussing fact-checking websites. But some parents complain about those sessions, and about teaching students to think critically.
One positive point is a heightened interest in politics by students at all levels. Some teachers use that to instruct the students about the political process. But even then, there's a downside. "One thing that worries me is that this is the first presidential campaign my high school students are old enough to understand," said a teacher from Edmonds, Wash. "I hope they don't walk away thinking this is what politics is all about."
The report is available on the center's website: www.splcenter.org.
Photo: Young students celebrate their countries of origin. | Flickr (CC)