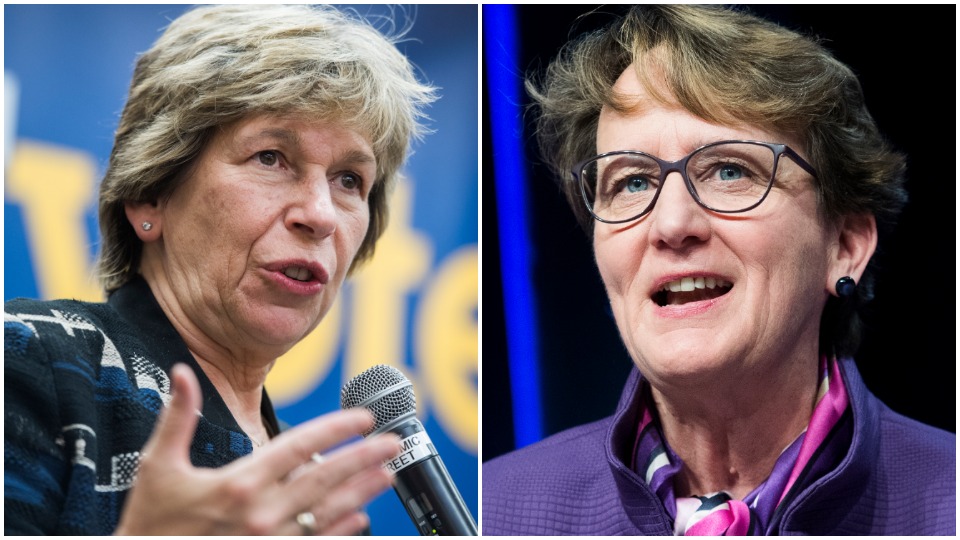 WASHINGTON—The Teachers (AFT) and the Service Employees have become the first unions to break organized labor's long silence on starting an impeachment inquiry against President Donald Trump. They're for it.
"All Americans—no matter where we are from or what color we are—can agree that our democracy is too important for any individual to be above the law, including the nation's president," union President Mary Kay Henry said on Sept. 25, a day after AFT President Randi Weingarten weighed in.
"Donald Trump has undermined the rule of law, threatened our national security, and held in contempt the very institutions on which our republic was built, most notably in his use of presidential power to pressure a foreign government to investigate a potential political opponent. He must be held accountable. No one is above the law," Weingarten said.
But a spot check of unions shows none are willing to take the next step and actually call for impeaching Trump through a vote by the full U.S. House. Other progressive groups demand that.
And only SEIU's Henry, so far, has cited Trump's crimes against workers as a reason for investigation of impeachment, too—and she did so indirectly.
House Speaker Nancy Pelosi, D-Calif., announced on Sept. 24 the opening of a formal impeachment inquiry against Trump on national security grounds, citing Trump's demand to Ukraine's new president to dig up damaging material on former Vice President Joseph Biden and his son, in return for foreign aid. Biden currently leads opinion polls in the 2020 Democratic presidential race.
Trump's actions "seriously violated the Constitution, especially when the president says 'Article II says I can do whatever I want'…And this past week, the president has admitted to asking the president of Ukraine to take actions which would benefit him (Trump) politically," Pelosi said.
That's "the dishonorable fact of the president's betrayal of his oath of office, betrayal of our national security, and betrayal of the integrity of our elections," Pelosi said. "No one is above the law."
Henry agreed and elaborated on that same final justification.
"SEIU supports the impeachment inquiry that has been set in motion in the House," Henry added. "This inquiry is necessary to ensure the integrity of our nation's laws. The American people deserve to know the facts about whether President Trump has abused his authority by putting his own political interests ahead of the interests of the country."
Other unions checked, including the most-outspoken ones, such as the United Electrical Workers, the Association of Flight Attendants and its parent Communications Workers, the Steelworkers, National Nurses United, and the Longshore and Warehouse Union, are silent, so far, on impeaching Trump. That's part of a historical pattern: Union leaders were also silent on the Nixon and Clinton impeachments.
Meanwhile, Henry advocated broadening the impeachment probe to encompass Trump's—and other politicians'—rigging the economy against workers.
"Working people of all colors and creeds are fed up with self-interested politicians using their power and influence to rig the rules in their favor. Congress must exercise its constitutional duty to investigate thoroughly and, if necessary, take action to ensure that we have a democracy that works for all of us," she declared.
Weingarten, a New York City middle school civics teacher, drew on that experience to defend probing impeaching Trump on grounds covering the future of U.S. democracy and the rule of law.
"As educators, we have worked to defend democracy—in our classrooms and our communities—despite the president's near-constant assault. We are grateful that House leadership will offer the powers of congressional oversight to this fight against presidential corruption and that they will launch a full and transparent inquiry into President Trump's betrayal of American democracy and crimes against the country he swore to protect," she said.
"Our nation's foundation—three coequal branches of government that check and balance each other—must transcend politics. Truth and transparency are the strongest disinfectants of all."
The only union-connected statement flatly advocating impeaching Trump came in a Steelworkers blog by Carl Davidson, an associate member and retiree in Pennsylvania. Davidson, too, cited Trump's statement that the president can do what he likes.
"Trump's latest bizarre assertion, that Article Two of the Constitution means he 'can do whatever I want,' is reason enough for an impeachment hearing," Davidson wrote.
"Article Two does the exact opposite, defining any number of things a U.S. president cannot do. This is the voice of a tyrannical autocrat, and dealing with it put us in a situation that is not going to end well. We are in uncharted territory where normal gets redefined every day."
Workers and unions have denounced, virtually since the start of Trump's time in the Oval Office, his continuing crusade to smash workers and their rights. None call for his impeachment on those grounds.
Those grounds include Trump's continuing war against federal workers, their pay, their pensions, their due process rights, and their jobs. They include his Labor Department's tries at destroying workers' overtime pay and its attempt to let bosses grab workers' tips.
And they include his stacking of the National Labor Relations Board with pro-management members, including one with a giant conflict of interest from his career with a prior anti-worker law firm. The NLRB, and its anti-worker general counsel—its top enforcement officer—have been busily rolling back worker protections ever since Trump gave them the majority to do so.
Other grounds for opposing Trump, even if unions decline to say lawmakers should impeach him for those reasons, include his destruction of health and safety standards on beryllium and silica, his plans to let companies get away from OSHA inspections through "consultations," and his destruction of food inspectors' jobs by turning over swine and poultry inspection to plant managers. There are many others.
Lawmakers also blast Trump for those actions, and more, but none have used them as grounds for impeachment. The only lawmaker who has offered impeachment resolutions, twice, is Rep. Al Green, D-Texas. He's based them on Trump's racist orations and actions, notably Trump's encouragement and endorsement of white nationalism. Green's impeachment resolutions have lost both times.