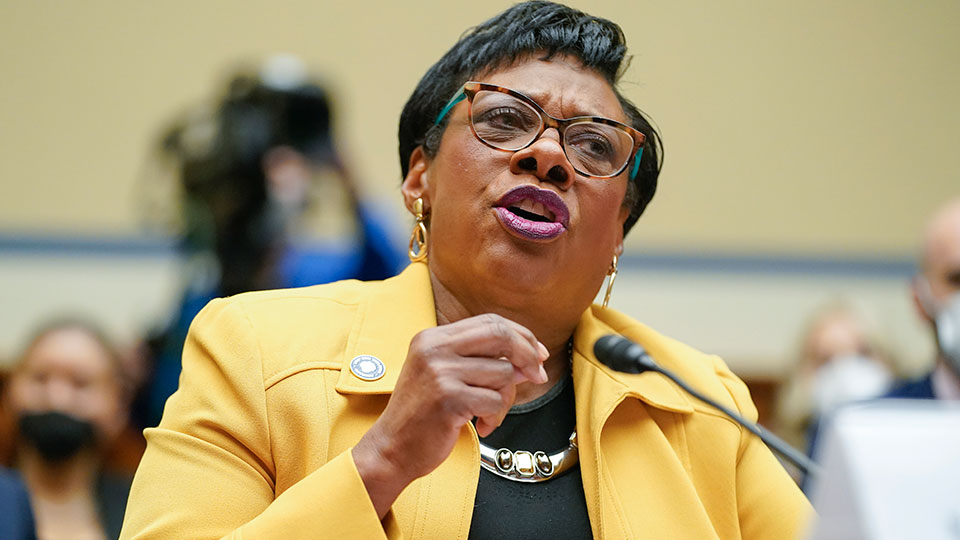 WASHINGTON (PAI)—The fear of gun violence in the nation's schools is now so pervasive that students find themselves crafting thank-you notes to loved ones in advance and writing wills, the president of the nation's largest union says.
And that horrifying trend will continue, adds National Education Association President Becky Pringle, a Philadelphia science teacher, unless the nation breaks the cycle of shootings—mass and individual—via strong gun controls. And she doesn't mean pistol-packing teachers in classrooms, either.
Gun violence not only kills and wounds hundreds of students yearly, but daily gunshots on the nation's streets will, with the mass shootings, cost 22,000 more lives—of kids and adults—from now through the end of 2022, the president of the 3-million-member NEA said.
Guns have killed some 20,046 people so far in 2022, the Gun Violence Archive reports. Another 17,523 have been wounded. That includes all mass shootings—defined as those with at least four dead—in and out of schools. Half of all gun deaths have been suicides.
All this, Pringle told the House Oversight Committee on June 8, demands lawmakers pass common-sense gun control legislation, now. Arming teachers, though, is not the solution for either NEA or the other big teachers union, AFT.
After all, teachers come to school to teach and inspire their students, not to be armed guards, Pringle testified.
Pringle spoke the week bipartisan Senate negotiators worked on a package of gun-control measures, seeking legislation popular enough to hopefully circumvent a Senate filibuster. Vicious opposition from the notorious gun lobby, the National Rifle Association, its political puppets, and its gun-maker corporate backers fuel that talkathon threat.
The bipartisan group agreed on June 21 to longer background checks in some cases, restrictions on firearms sales to people under 21—including a check of their juvenile records—federal grants to states to enact "red flag" laws and for school security upgrades, and closure of the so-called "boyfriend loophole." That exception can put guns in the hands of people already considered dangerous to themselves and others.
But their legislation does not ban semi-automatic assault weapons, such as the one the 18-year-old shooter used at the Ross Elementary School in Uvalde, Texas. His massacre of 19 fourth-graders and two teachers there the day before the school year ended—the latest such mass shooting in a school—drove Pringle to demand lawmakers act now.
"Tallying up the number of beautiful children who have died or been wounded does not begin to tell the full story of these massacres," said Pringle. Her list began with Columbine in 1999 and runs through Sandy Hook in Newtown, Conn., a decade ago, Marjorie Stoneman Douglas in Florida on Valentine's Day 2018, and now Uvalde.
"Students are traumatized and cope with survivor's guilt. Educators worry themselves sick wondering what they could have done. Life goes on, but life is never the same," she said.
"Camille, a survivor of Sandy Hook, had panic attacks for years that left her breathless and triggered migraines and nausea. She collapsed in high school one day after learning that on the anniversary of the attack, Sandy Hook students were forced to evacuate because of a threat against the school."
Camille and some 311,000 students "exposed to gun violence"—even if they're not actual victims—since Columbine "will be traumatized…quite possibly for the rest of their lives."
And that doesn't even begin to take account of the disastrous impact of the daily death toll on the nation's streets, or by individual murders and/or suicides, she added.
After "run, hide, fight" training now in schools, "students across the country are writing goodbye notes and wills, just in case.
"Unfortunately, their fears are perfectly rational. We are 25 times more likely to die by gun than are people in other developed nations. We often say that America is exceptional. But today, we are exceptional for the worst possible reason."
The Democratic-run House passed a package of gun-control bills the same day Pringle testified, 223-204. Democrats backed gun controls 218-2 (Kurt Schrader of Oregon and Jared Golden of Maine). Five Republicans—Brian Fitzpatrick (Pa.), Anthony Gonzalez (Ohio), Adam Kinzinger (Ill.), Fred Upton (Mich.), and Chris Jacobs (N.Y.)–voted yes, and 202 voted no.
"NEA members thank the House majority for taking decisive action to address this crisis, and we urge the Senate to act as well. More than anything, Americans are desperate for Congress to come together on legislation that could help end this hellish cycle of more shootings, more devastation, more thoughts and prayers," said Pringle, mocking the usual tsk-tsk response to massacres by gun control's political foes.
"Every single day politicians fail to take meaningful action, every single day that politicians ignore the majority of Americans who want stricter gun laws, you are telling our children: 'Protecting your lives matters less to us than protecting the status quo.'" 
Pringle politely did not specify the status quo and its corporate and political perpetrators—until she launched a challenge to lawmakers:
"I ask you: Who are you serving?"