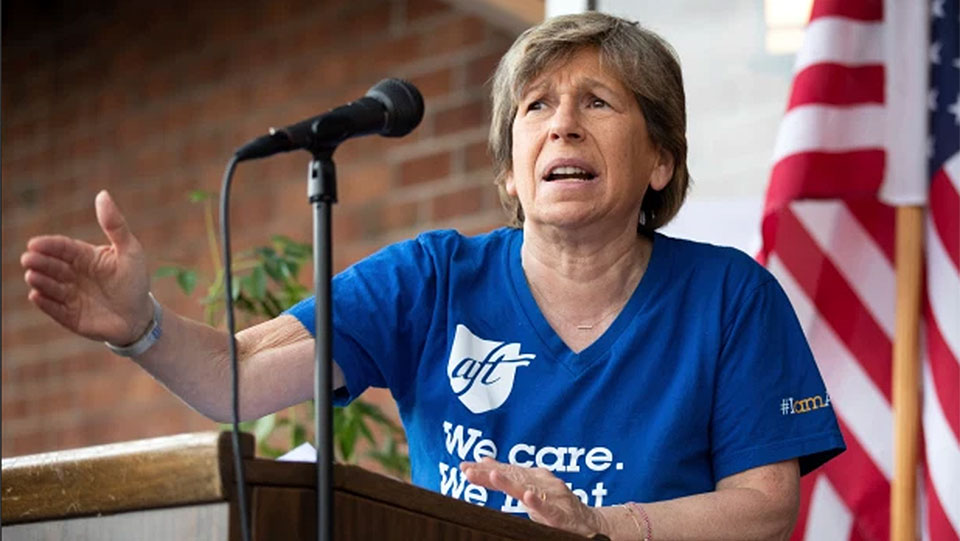 WASHINGTON (PAI)—With schools reopening starting in mid-August, the leaders of the nation's two big teachers unions are shifting their positions on mandatory anti-coronavirus vaccinations for teachers and staff.
Of course, add both Teachers (AFT) President Randi Weingarten and National Education Association Executive Director Kim Anderson, that's not such a stretch for their members. Both estimate 90% of their unions' members are already fully vaccinated.
The issue is important, as the nation's 50.2 million public school students and 3.8 million teachers and staff head back to classrooms, even in a time of rising concern over the spread of the coronavirus's delta variant.
That's because that variant strikes more youngsters, proportionately, than the original virus did—and children under age 12 are ineligible for vaccination, while only one-third of teenagers are vaccinated so far.
Weingarten, a New York middle school civics teacher, was direct. She wants a mandate. This week, her 1.6-million-member union's board will discuss mandating vaccination.
"As a matter of personal conscience, I think we need to be working with our employers, not opposing them, on vaccine mandates," she said on Meet The Press. "I wanted to bring all my leadership together to reconsider our policy that the best way to do this was to do it volitionally (voluntarily)."
"Speaking for myself, I've seen how dangerous the delta variant is. We need to continue to work with employers to keep workers and students safe and that includes working with, not opposing, vaccine policies."
Anderson, who reports to NEA President Becky Pringle, a Philadelphia science teacher and vaccination proponent, said much the same thing, but more low-key. Her union too has urged its three million members to get fully vaccinated and she reports almost 90% have.
As far as mandating vaccination goes, Anderson told National Public Radio's Morning Edition "We're looking at that right now and talking with our leaders and members. But the most important thing is every school district should be collaborating with educators and community members to discuss their safety plans about how to keep everyone safe."
Weingarten took weekend trips, part of her union's $5 million Back To School listening tour, to two states now among the nation's hottest coronavirus spots, Florida and Missouri, thanks to political obstruction by their ruling Republican governors and legislatures.
Another state in that category is Texas. "This is a public health crisis, and the politics are infecting this," Weingarten declared.
Proponents face political problems
This points up the political problem vaccination proponents, including both unions and the American Federation of School Administrators—which represents principals, counselors, and similar staffers, face: Republican-dominated red states.
"The delta variants are alarming," Weingarten added after talking with teachers in St. Louis and Florida. "And we already have an epidemic of the unvaccinated. Vaccines are the single most important way of dealing with covid."
The NEA's convention, in early July, passed a resolution urging all members to get vaccinated, and endorsing vaccines for the kids, too. But the NEA also has to walk a finer line, as it has huge numbers of members in "red" states and rural areas where adults are refusing to be vaccinated.
"NEA encourages widespread use of safe and effective Covid-19 vaccines," Pringle said even before its convention. "Vaccines are essential medical tools in preventing infectious diseases. We believe parents/guardians should follow vaccination guidelines from the American Academy of Pediatrics and Centers for Disease Control.
"NEA has joined with numerous education, public and child health, labor, and children's advocacy groups to support development and distribution of safe and effective Covid-19 vaccines for children under 16 years old. As rates of infection in children rise, vaccinating children is increasingly urgent both to facilitate safe in-person education and to curb further mutations of the virus that causes the disease."
"They are doing their part," Anderson said of NEA's three million members, "Nearly 90% are fully vaccinated. We are doing our part by spreading the word everyone should get vaccinated. And if you can't get vaccinated for some medical reason, you need to regularly test.
"We're running an informational campaign not only to our educators, but to their families as well so that folks can go out and buy their school supplies, and get their school clothes and get their shot—because it's part of a really successful back-to-school plan."
That still leaves Texas, the nation's second-most populous state, and Florida, at #3, and other red states, like Missouri, to deal with. Both right-wing GOP Govs. Greg Abbott of Texas and Ron DeSantis of Florida are dead set against even masking up.
Abbott's Texas Education Agency also banned schools from using money for distance learning, except for students who must quarantine. The Florida Education Association, the joint AFT-NEA affiliate in the Sunshine State, asserts DeSantis is sitting on $11 billion in federal pandemic aid targeted to help schools safely reopen for in-person learning.
"The governor is doubling down with dangerous calls for legislation in the new special session prohibiting required mask use in schools," Texas AFT President Zeph Capo said on August 6. "A majority of Texans view his conclusions as wrong-headed and his orders as counterproductive to public safety…Our survey of 7,384 members showed, 78% of public school employees favor local decisions on mask use—not the governor's restrictive order.
And the state's Texas Education Agency "is wrong in getting rid of 'contact tracing' for COVID-19-positive students and staff. If we are thorough in reporting cases of lice, why can't we do the same for Covid-19?" Capo asked.