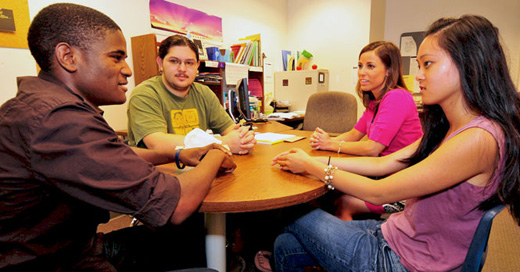 WASHINGTON – The leaders of the nation's two teachers' unions criticized the U.S. Supreme Court's April 22 ruling upholding an anti-affirmative action amendment to the Michigan constitution. Both union presidents also called the decision particularly troubling since it comes on virtually the 60th anniversary of the court's historic 1954 Brown vs Board of Education decision that outlawed segregation in the U.S.
The decision was so troubling to National Education Association President Dennis Van Roekel, a Phoenix secondary school teacher, that he said it subjects minority group students to "separate and unequal political processes that put undue burdens" on them.
The justices, by a 6-2 vote, said Michigan voters had the right to insert the anti-affirmative action language in their state constitution years ago, overturning affirmative action plans at the state's universities. Eight other states also constitutionally banned affirmative action.
Justice Anthony Kennedy, writing for three of the six-man majority, said the High Court isn't overturning affirmative action itself, but he placed a high value on the referendum that approved the amendment. His justification fooled nobody, least of all Justice Sonia Sotomayor, who wrote a scathing dissent and, in a first for her, read it from the bench.
"This refusal to accept the stark reality that race matters is regrettable," Sotomayor said, before giving examples of how.
Kennedy also didn't fool either Van Roekel, or American Federation of Teachers President Randi Weingarten, a New York City teacher. NEA signed a friend-of-the-court brief, with the Service Employees, in favor of affirmative action. Both unions represent hundreds of college professors and workers.
The brief said diversity in schools, from kindergarten through college, "is critical" to the schools' "missions of preparing students to function as citizens of our increasingly diverse country." NEA and SEIU also said "affirmative action proponents should not be disadvantaged in the political process based on their views that it is appropriate to take race into account to ensure student bodies are fully representative of all groups in our society."
"Today's decision turns back our nation's commitment to racial equality and equal treatment under the law by sanctioning separate and unequal political processes that put undue burdens on students," Van Roekel said. "The court made it harder to advocate and, ultimately, achieve equal educational opportunity.
"Having spent 23 years in the classroom, I saw first-hand the important role diversity played in the classroom and how learning from people with different backgrounds and perspectives can benefit all students, our workforce and our country as a whole. Fostering educational diversity and greater opportunity is critical to our nation's future.
"Sixty years after Brown, we find ourselves still separate and unequal, and the fight wages on to level the uneven playing field. It's in everyone's interest to see that talented students from all backgrounds get a close look and a fair shot at overcoming obstacles to educational opportunity. Yet, the Supreme Court's decision places roadblocks" in the way of ensuring public universities are places of "a fair and equal exchange of ideas," he said.
The court "struck a troubling blow to our nation's commitment to equal opportunity for all students. This decision has made it clear that equal treatment trumps equal opportunity, and it gives states the ability to write affirmative action out of their law books," Weingarten said. "This ruling, taken with the Supreme Court's evisceration of the Voting Rights Act, takes us backward on racial equality. We agree with Justice Sotomayor that 'this refusal to accept the stark reality that race matters is regrettable.'
"Every student, regardless of race, gender or ethnic background, deserves access to a quality higher education, and today's decision will make it harder to deliver on that promise," she added. And "colleges and universities are strengthened through diverse student bodies, which provide richer learning environments for all students."
Photo: NEA