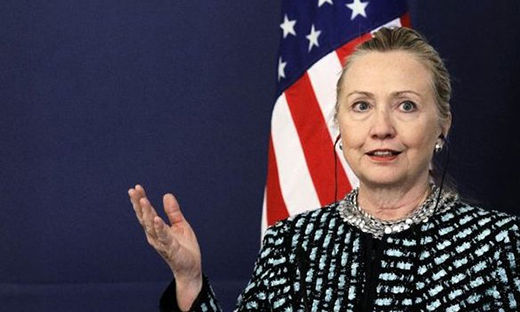 WASHINGTON – The leaders of the nation's two big teachers unions launched their organizations' presidential endorsement processes with the first publicly reported meetings between union presidents and top Democratic presidential hopefuls.
Both Lily Eskelsen-Garcia and Randi Weingarten, presidents of the National Education Association and the American Federation of Teachers, respectively, said the hopefuls are committed to an inclusive vision of education that relies on teachers, not tests.
The meetings are important because both teachers unions are known for their members' political activism, intelligence, credibility and reach. NEA is the nation's largest union, with more than three million members and branches in every state.
AFT, with almost 1.5 million members, is large and influential in key swing states and big cities, such as New York, Philadelphia, Chicago, Baltimore, Los Angeles and D.C.
Eskelsen-Garcia met the current Democratic front-runner, former Secretary of State Hillary Rodham Clinton, on June 9. Weingarten, her executive council and seven rank-and-file AFT members met Clinton and challengers Sen. Bernard Sanders, Ind.-Vt. (running as a Democrat) and former Gov. Martin O'Malley, D-Md., on June 3.
AFT also sent questionnaires on education issues to all presidential hopefuls, announced and unannounced, of both parties. No Republican replied, Weingarten said.
NEA also invited all hopefuls to participate, Eskelsen-Garcia added. The Utah 6th grade teacher called her conversation with Clinton "frank and robust."
She added teachers will "ask the tough questions that get to the heart of issues they, their students and families are facing every day. They know all students deserve the support, tools, and time to learn. But are politicians willing to commit to the success of every student regardless of his or her zip code? That's the question educators will ask over and over again."
"What we can do together to deal with the issues we know are at the real core of making it possible to look at every little boy and girl and say 'Yes, you will have the best chances we can give you,'" Clinton told Eskelsen-Garcia.
Clinton satisfied both unions on ending over-exclusive concentration on mandatory testing and teaching to the test as the sole way to evaluate students, schools and teachers. That's the key facet of GOP President George W. Bush's No Child Left Behind federal education aid law, which has raised the ire of teachers, parents and unions nationwide.
"Education is not just how well you do on a test," Clinton said in a statement released by NEA. "We know about a lot of different learning modes ant not every child learns the same way. We have funneled our kids into a particular educational model that I don't think will ever produce the looked-for results.I would like to see us get back to looking at individual children, looking at age-appropriate learning experiences, looking at enriching the classroom experience, using tests that are not done for the sake of getting a score but for actually diagnosing the needs of kids and helping those kids do better year after year."
Clinton repeated those themes in her meeting with AFT. She told the AFT council that "unions are part of the solution" to improving schools, respecting teachers and helping kids learn.
O'Malley touted his gubernatorial record: A major expansion of state school aid. Sanders has made access to quality K-12 education and free college education both platform planks and legislative proposals, and tied it into his campaign theme about income inequality.
"Elections matter. That's why we are committed to using our collective voice to help give pro-public education, pro-worker candidates the strongest possible base to win — because we know what happens to workers when the other guys win," Weingarten, a New York City teacher, explained.
"Every single child should be able to start learning early at home, in child care settings, at pre-K, and then go off to public school with teachers who are going to be able to support them and who have the respect and dignity that comes with the teaching profession," Clinton replied. AFT has campaigned for comprehensive pre-K for all kids for years.
"I want to work with you to make sure we do what needs to be done based on evidence, not ideology. From what I've seen, all of the evidence, and my own personal experience, says the most important and impactful thing we can do for our public schools is to recruit, support and retain the highest-quality educators. It is just dead wrong to make teachers the scapegoats for all of society's problems. Where I come from, teachers are the solution," Clinton said.
O'Malley reminded the group he worked with unions, on improving Maryland's public schools, currently top-ranked among states. He also took potshots at the GOP. "I don't know how these other guys think," he mused. "How do you improve public education if you vilify and turn into enemies the teachers that are responsible for our children?
"The more a person learns, the more a person earns and the better that is for our eco-nomy. One of the most important things we can do to give our country to our kids and restore the truth of the American dream is to improve education and access to higher education."
Sanders fit his drive for more funds for public schools into his theme of income inequality and its impact on the U.S. "The issue is getting our priorities right," he told the AFT group. "You have 25 hedge fund managers who, a few years ago, made as much money as 435,000 public school teachers. Is that what America is supposed to be about?
"I am calling for a political revolution, and what that means is…changing fundamentally the priorities of this nation. We are the wealthiest nation in the history of the world. Today. Why in God's name is there any school in America talking about cutting back?"
Photo: Hillary Clinton has told leaders of the nation's teachers' unions that she opposes reliance on just mandated tests to measure student progress. | AP