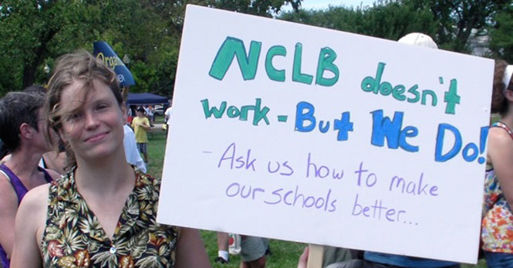 WASHINGTON (PAI) – With the key Senate committee on education issues off to a fast start in the latest attempt to rewrite the nation's federal education aid law, teachers and their two unions are weighing in on the federal role and the key issue of "teaching to the test."
What the outcome will be is anyone's guess. Ever since GOP President George W. Bush, the GOP-run Congress and top congressional Democrats pushed through the last rewrite – No Child Left Behind (NCLB) – in early 2001, teachers, parents, administrators and lawmakers have been at loggerheads over how to judge schools, kids and teachers.
Key issues in those fights, as they are now, include how many tests kids should take as they progress through grades K-12, the weighty role of the tests in evaluating, hiring and firing teachers, which public schools "flunk" and why – and whether federal dollars should be yanked from those schools and channeled elsewhere, such as to charter schools or religious schools.
"I'm here today to share a teacher's vision of what's happening in our schools, and hopefully help shape education policy," Seattle First grade teacher Rachelle Moore, a board-certified outstanding teacher and a National Education Association (NEA) member, told the Senate Health, Education, Labor and Pensions Committee during one of several panel hearings on the NCLB last month. NEA is the larger of the two U.S. teachers unions.
"There is no 'average' student," Moore said. "Each is shaped by individual experiences, and those experiences must be taken into consideration when shaping policies geared towards improving student success." She especially pushed in-service training, pairing new teachers with outstanding mentors – as Seattle does – to attract, train and keep excellent teachers.
That's especially important because data show half of all teachers leave the profession after five years, because of lack of respect and training as well as low pay. And now half of all public school students come from poverty-level families. That includes half of Moore's pupils.
"High-needs schools like mine often have difficulty retaining experienced and highly effective teachers," said Moore, the only public school teacher to testify so far. "It's a very challenging environment to be placed in without proper support from more-experienced colleagues." Moore campaigned for putting two teachers in each classroom in such schools.
"The student-teacher ratio is lower, which allows us to differentiate instruction and spend more time working one-on-one with individual students. Instead of providing individualized instruction for just some of our students each day, with co-teaching, we can meet the needs of all 20 of our students every day," she explained.
The NEA and the American Federation of Teachers have their own principles for rewriting the NCLB law. AFT just issued theirs in a joint report with the Center for American Progress, a pro-labor think-tank. The two unions' principles include, but are not limited to:
Return the focus of the federal law on those schools, and students, that most need help. The law "must return to its original purpose of fighting poverty and leveling the playing field for disadvantaged students," AFT President Randi Weingarten, a New York City secondary school teacher, wrote in a February 2 letter to the Senate committee's leaders.
End use of standardized tests as the be-all and end-all to measure students' progress, teachers' effectiveness and whether – and how much – federal aid a school should get. Using test results alone "corrupts the quality of education," especially for kids from poor families, says NEA President Lily Eskelsen-Garcia, a primary-grade teacher from Utah.
"Equally important is ending the devastating pressure of our current high-stakes testing system and ending federal involvement in teacher evaluation," Weingarten wrote.
But the unions have two foes on the teach-to-the-test issue: The Obama administration, and some civil rights groups. The Leadership Conference on Civil Rights backs frequent tests, and reporting scores by group. It says that forces an end to long-time practices of "social promotion," lower expectations for minority children, and sending them the greenest teachers.
Give states and school districts flexibility in meeting education goals. NEA advocates creating a "quality dashboard" of indicators, besides the tests, to show whether a school and its teachers meet state and school district goals. States seeking federal education money would have to prove how they plan to achieve that "dashboard," NEA said.
New Committee Chairman Lamar Alexander, R-Tenn., a former governor and U.S. Education Secretary, may be thinking along the same lines. "The government ought to enable and encourage, not mandate, innovation. It can do this well," he said at the latest hearing.
Increased social services at schools that serve high-poverty populations. These wraparound services – everything from school lunches to health screenings to after-school programs to keep kids off dangerous streets – are a particular AFT cause. They're also where Alexander splits from AFT and Democratic President Barack Obama.
"Children living in poverty need extra supports, such as targeted instruction, small class sizes, trained paraprofessionals to support small-group learning, and increased health, social and emotional services," Weingarten said in a statement. "Alexander's draft discussion bill would freeze funding at current levels. This is especially devastating for…the chief federally funded education programs for disadvantaged students."
More money to schools most in need. State aid and local property taxes provide 93 percent of U.S. school funding, producing wide disparities between rich and poor districts. NEA says the NCLB rewrite must "offer federal financial incentives to states to develop, adopt, and implement an education finance system that would provide equitable and sufficient funding for every student to meet content and performance standards." Adds Eskelsen-Garcia: "A child's chances for success should not depend on living in the right zip code."
Photo: NEA