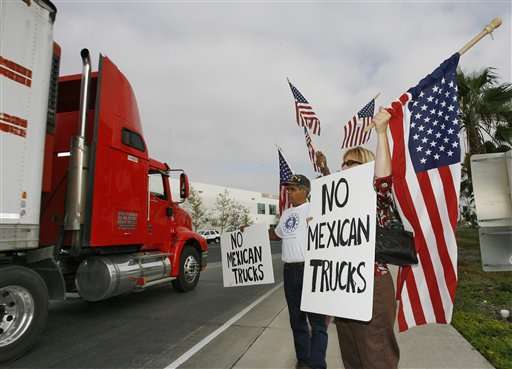 WASHINGTON – The Teamsters are blasting an Obama administration Transportation Department green light to let all Mexican trucks roll over every U.S. road.
An "outraged" union President James Hoffa called DOT's ruling "rash" and in defiance of facts about un-inspected and unsafe Mexican trucks and lack of U.S. inspectors that the agency's own Inspector General uncovered.
The agency also did not wait for a report from its own truck safety advisory committee, which met in December, but took no action on the issue, preferring further investigation. The union's safety and health director is an advisory committee member.
DOT " has chosen to ignore the findings of the DOT Inspector General and is moving forward with a plan to open the border to Mexican trucks in the coming months," Hoffa said.
The agency's plan, announced January 9, implements a provision of the controversial U.S.-Mexico-Canada "free trade" treaty, NAFTA. DOT would let any Mexican truck roll on any U.S. road, presumably after a border inspection. The agency has run a pilot nationwide project with a select group of Mexican trucking firms. Other Mexican trucks were restricted to within 20 miles of the border. Not any more.
Obama Transportation Secretary Anthony Foxx claimed DOT's report to Congress showed the pilot program and additional tests proved Mexican trucks met U.S. standards.
Hoffa said they didn't. "One thing was made clear in the IG's report: The pilot program was a failure. It did not provide enough data for the IG to determine with any confidence that trucks in the program were representative of those that could be permitted in the future.
"Nor could the IG project the safety performance of Mexico-domiciled carriers based on the data collected from the pilot program," he added.
"This policy flies in the face of common sense" and ignores both a law and rules covering the pilot program, he added. "Allowing untested Mexican trucks to travel our highways is a mistake of the highest order and it's the driving public that will be put at risk by DOT's rash decision."
The Teamsters and highway safety groups have battled against letting Mexican trucks roam nationwide ever since NAFTA passed 20 years ago. They got Congress to restrict the Mexican trucks to the 20-mile zone, and repeatedly sued to stop them from rolling elsewhere.
The union and its allies point out that the Mexican trucks are not only supposed to meet U.S. safety standards – which they don't. And the Mexican drivers are also supposed to pass U.S. drug tests, but there aren't enough available facilities to administer the tests.
Photo: Dozens of protestors waved signs and U.S. flags at the border crossing Thursday to protest a program that will allow up to 100 Mexican trucking companies to freely haul their cargo anywhere in the United States. | Denis Poroy/AP