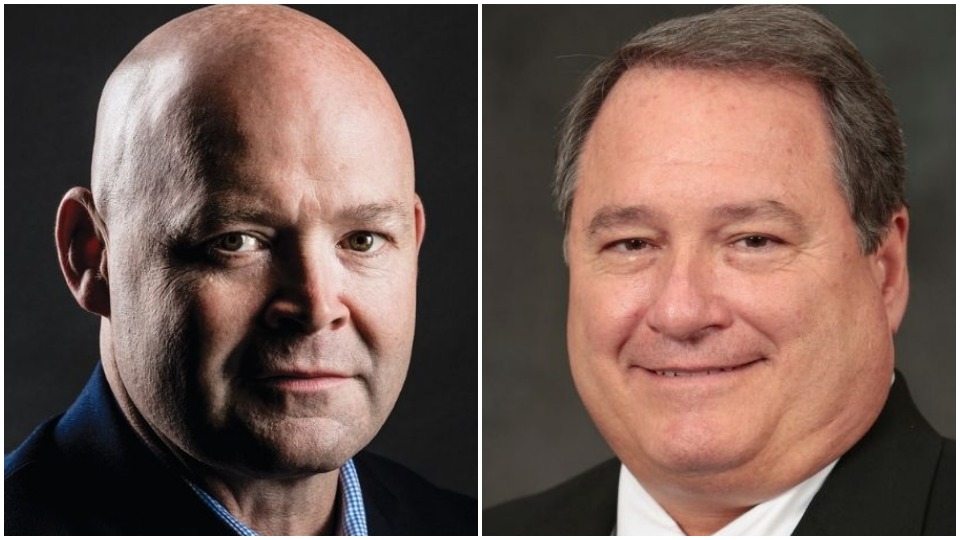 WASHINGTON—Teamsters presidential hopefuls Steve Vairma and Sean O'Brien sparred Sept. 1 over a range of issues in the first of three debates between the men running to succeed 22-year incumbent Jim Hoffa.
At times, the two agreed. But they differed over rejoining the AFL-CIO. And Vairma said he successfully fought to protect workers in financially troubled multi-employer pension plans—and charged O'Brien's sectoral plan was in the red when he took over. O'Brien said it isn't now.
O'Brien, in tone, appeared more willing to use a strike against recalcitrant bosses, while Vairma appeared to favor continued negotiating, with the strike threat in reserve. And Vairma hit O'Brien for a brief suspension by an independent union monitor, while O'Brien replied he served his time and has mended fences.
The election is important, not just for the union—the nation's fourth-largest, with 1.4 million members—but for other workers.
That's because problems facing the Teamsters and their members, who range from delivery drivers and truckers to graphic artists, university TAs, rail freight crews, casino workers, and airline ramp workers, among others—mimic those facing U.S. workers overall.
They include existential threats from enormous non-union low-paying exploitative companies, with Amazon as the looming ogre, and from automation: Driverless vehicles, which would rob Teamster truckers of jobs.
One overhanging issue was the man who wasn't there: Hoffa
Hoffa has endorsed Vairma, of Denver Local 455, and the union's Warehouse Division director. Vairma defended the administration while declaring "this is a union moving into the future with new ideas and a new direction," highlighted by the diversity of his slate for the Teamsters board.
In 2016, Fred Zuckerman of Local 89 in Louisville, Ky., narrowly lost to Hoffa. Zuckerman is now O'Brien's running mate, seeking to become Secretary-Treasurer on the Teamsters for a Democratic Union slate. Ron Herrera, the incumbent Western Region VP from Local 396 in Covina, Calif., is Vairma's Teamsters Power running mate and the first Latino slated for a top Teamsters post.
O'Brien, of Boston Local 25, was the insurgent. "My opponent stated Jim Hoffa is not running, but that doesn't mean his values and his bad habits won't continue," he said. O'Brien later offered a few specifics. None directly involved Vairma.
"Organizing Amazon is a critical point going forward and we've already set up a separate division" with a director, to construct that drive," Vairma said. "There's a lot of ways we'll take them on, but I can't tip my hand right now," other than to advocate "taking on units" of Amazon city by city "and forming huge strong coalitions" to win.
"For the future of organized labor and of our workers at UPS, we have to succeed," he added. The Teamsters have 325,000 UPS members.
"I agree, but this should have been done 10 years ago when Amazon had only 20,000 workers," O'Brien replied. He said he's been going city to city, talking with unionists and local officials about how to fend off Amazon expansions. So did Vairma, in Colorado. The Aurora City Council rejected Amazon's bid to build there.
O'Brien then pivoted to declare that "negotiating strong contracts" is the answer to Amazon's inroads and worker exploitation. "In the last UPS negotiations, there were so many concessions, it didn't help us in organizing," he declared.
That UPS contract was also a bone of contention between the two, particularly its lower wage tier for "22.4" drivers. Under the union constitution then, the board could impose the contract on a bargaining unit if members voted it down but turnout was under 67%. The last UPS pact got 48% in a low turnout and the board, including Vairma, OK'd the pact.
"We should have gone back to the table and kept them there until an agreement was struck," O'Brien said.
UPS members were upset. The next Teamster convention dumped that constitutional section. It also mandated rank-and-file members, not just officers, must be on bargaining teams. And it said strike benefits should start the minute a strike does. Both candidates took credit for the moves but differed on who pushed them through.
The Amazon campaign is a big reason Vairma wants the Teamsters to rejoin the AFL-CIO. "If we take on these organizing campaigns, we have to be united," he said. The SEIU, the Teamsters, the United Farm Workers, and four other unions left the federation in 2005, saying it devoted too much to politics and not enough to organizing. They formed Change To Win.
Change To Win now has SEIU, UFW, and the Teamsters. Two AFL-CIO unions, UFCW, and the Communications Workers sit in on meetings, too. UFCW had been one of the seven.
Vairma confirmed "I've gone on record" for returning to the AFL-CIO. But "I want to sit down with" new AFL-CIO President Liz Shuler "to make sure our voice will not be suppressed and our members will be heard. I don't have an issue with Change To Win."
"I'm going to assess the situation and make the best decision for our members and negotiate terms and conditions. But I don't know what Change To Win has done or what it plans to do," O'Brien said.
There's a history there, which Vairma didn't mention. The questioner, American Prospect Editor-At-Large Harold Meyerson, did: Animosity between Hoffa, who's retiring, and the late AFL-CIO President Rich Trumka, surrounding Trumka's support for the late Ron Carey, the TDU hopeful who was briefly Teamsters president.
Vairma, Herrera, O'Brien, Zuckerman, and their full slates are running in what may be the second close Teamsters election in a row at one of the few unions that directly elects its top officers, one-member, one-vote. Neither slate mate was on stage in D.C. The next debates will be on Sept. 14 in Las Vegas and Sept. 29 in Chicago. Ballots will be mailed Oct. 4, counting opens Nov. 15.
Video of this first debate is below.