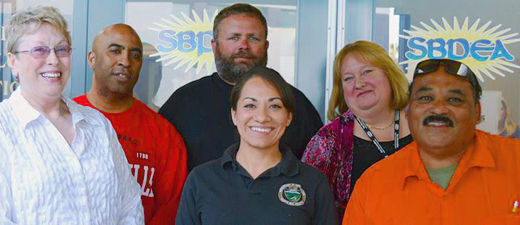 SAN BERNARDINO, Calif. (PAI) — Some 13,500 San Bernardino County government workers gave the Teamsters a big Southern California win this spring by organizing to merge their 83-year-old independent union into the larger national union.
The win is the biggest in the history of Teamsters Joint Council 42, which covers Southern California, Nevada and Hawaii, Council President Randy Cammack told the Southern California Teamster. The next largest, where the local organized 7,000 workers, was at the University of California.
"These are tough times for public employees and the San Bernardino Public Employees Association (SBPEA) members emphatically stepped up their clout by joining up for unparalleled Teamster bargaining and representation," Cammack added. Some 61 percent of voting members approved the merger.
SBPEA represents public employees at San Bernardino County, San Bernardino city and several county agencies. It will be Teamsters Local 1932, for the year it was founded.
SBPEA General Manager Deidre Rodriguez said after the ballots were counted that "we now turn the page to start a new chapter as Teamsters Local 1932, which promises to become the most powerful force in the Inland Empire [The Inland Empire is a metropolitan area and region of Southern California situated directly east of the Los Angeles metropolitan area] for the good of public employees."
"There is currently an unprecedented attack on the American worker by those who want to strip us of the wages, benefits and pensions we all worked so hard to earn," Cammack told the new members in an open letter.
"Worse, they want to silence public employees by taking away their bargaining rights and their voice in politics.
"It was an honor to be approached by such a large group and be told that not only were the Teamsters, the best choice, but the only choice to gain better contracts, maintain job security and to gain respect.
"Some politicians and most of the press have shown little respect for your dedication and service. This will now change as together we will not be disrespected, disregarded or disenfranchised," Cammack declared.
Using identical language, Cammack and Teamsters President Jim Hoffa promised workers the union "has the resources, expertise and political clout to negotiate the strongest contract possible."
The SBPEA members now join more than 250,000 other public workers nationwide who are Teamsters members. They're the union's largest sector. Cammack said a wide array of volunteers, led by Organizing Director Randy Korgan, ran the pre-vote campaign.
Photo: SBPEA Teamsters Local 1932 Facebook.