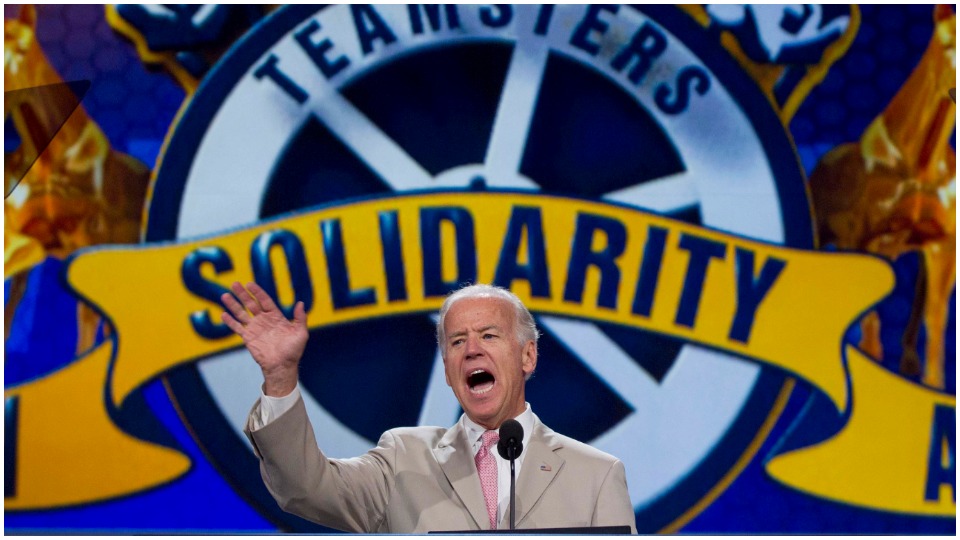 DETROIT (PAI)—The Teamsters board unanimously voted to endorse the Democratic election duo of Joe Biden for president and Kamala Harris for VP, union President Jim Hoffa announced Aug. 20.
The endorsement, two days before Biden's acceptance speech to the Democratic National Convention, carries a lot of weight. The union has more than a million members in a wide array of occupations and crafts, from port truckers to printers to railroad workers to college workers.
And its members also included field organizers for both Biden's and Harris's campaigns in Iowa, Hoffa noted. They joined Local 238 via card-check recognition.
"Joe Biden has a long history of standing with unions and workers on the job site," the board's statement said. "As vice president, he helped put rules in place that made it easier to organize and expanded overtime eligibility to millions of additional workers, and he has committed to protecting workers' hard-earned pensions."
"Harris has advocated for workers as Attorney General of California and as senator and offered her own thoughtful pro-worker platform during her run for the presidency."
Hoffa and the board particularly praised Biden's "bold plan to protect the interests of hardworking Americans going forward, one that prioritizes collective bargaining, worker organizing, and unions."
"It calls for workers to be treated with dignity and receive the pay, benefits, and workplace protections they deserve." And while the union did not say so, on the campaign trail Biden has said that his push for comprehensive pro-worker labor law reform would include perp walks and jail terms for repeat and egregious offenders.
"The Teamsters have a friend in Joe Biden," Hoffa said. "From his very first election to the Senate until now, Vice President Biden has been on the side of working Americans supporting their right to organize, their desire for fair wages, and their need for a secure retirement."
Both Biden and Harris signed the Teamsters' pledge last year promising to back the union's priorities—pension reform, collective bargaining rights, and fair trade—via related legislation. They also met with Teamsters on the issues, with Biden attending the union's candidate forum in Iowa before that state's first-in-the-U.S. caucuses.
Both Democrats welcomed the union's support, which follows endorsements from its partners in the Change To Win federation and also from the AFL-CIO. That leaves only North America's Building Trades Unions and the independent Carpenters to be heard from.
A few groups of police, ICE agents, and the Border Patrol, have endorsed GOP Oval Office occupant Donald Trump for a second term. The latest, this week, was the New York City Patrolmen's Benevolent Association, which is technically not a union.
"I want the support of the Teamsters because we need an incredibly strong labor movement that has to grow in America," Biden told the Teamsters when they interviewed him.
"We need to strengthen unions. It is something I have done my whole career, I think it is critically important and the Teamsters are an incredibly, incredibly important element of organized labor in America."
"I want Teamster members and their families to know I stand with them," Harris said at her sit-down with the union. "I want them to know the America I believe in, no one should have to work more than one job to have a roof over their head or to put food on the table."
"Joe Biden and Kamala Harris both had to fight hard to get to where they are today," Hoffa said. "The Teamsters will be just as determined working for Joe and Kamala this fall because we know they will work for our members in the White House."