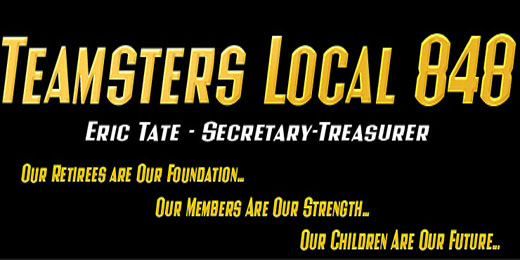 LOS ANGELES – The Teamsters, after a long organizing campaign and extended bargaining, have won and ratified a first contract for a notable group of West Coast workers, 65 port drivers for the Toll Group at the Port of Los Angeles.
And that win will lead union Local 848 to set its sights on organizing two more groups of drivers, totaling 100-150 workers, this year and even more than that in 2014, says Eric Tate, the local's Secretary-Treasurer. The union will use the new contract with Toll as a model of what organization can achieve for other port drivers.
Tate's local took over the organizing of the port drivers, one of the nation's more overworked and oppressed groups, after the international union started the drive several years ago. The long campaign enlisted community and environmental group support, emphasizing not just long hours, low pay and lack of labor protections for the drivers, but also environmentally hazardous working conditions.
After the Toll Group port drivers voted for the union in the middle of last year, "We put a strong organizing team together, to get trust of the workers, that we could help them. That was key," Tate says.
The Toll win and the first contract is important because thousands of port drivers serve the freighters at the Port of Los Angeles-Long Beach, the nation's largest. They haul freight and containers offloaded from ships to nearby warehouses. Many are mis-classified as "independent contractors," not covered by labor law – and not organizable.
But the Toll truckers are employees, and organizable, and the Teamsters felt they would be a good goal for the organizing drive, Tate said. They were right.
And the company and the union agreed, Tate said, that the Teamsters would emphasize, in its future organizing, establishing a level playing field for all the port drivers – and their employers – at the port of Los Angeles.
The new multiyear contract raises a Toll driver's pay from the current range of $12.90-$13.24 per hour to a range of $19-$19.75. It provides, for the first time ever for the port drivers, company-paid health insurance – giving the truckers yet another pay boost because before they had to buy their own – and a retirement pension based on the actual number of hours the driver toils.
Most Teamster contracts have a limit on hours that count towards pensions, and Tate says he's getting calls from other local officials asking, "How did you do that?"
Photo: teamsters848.org