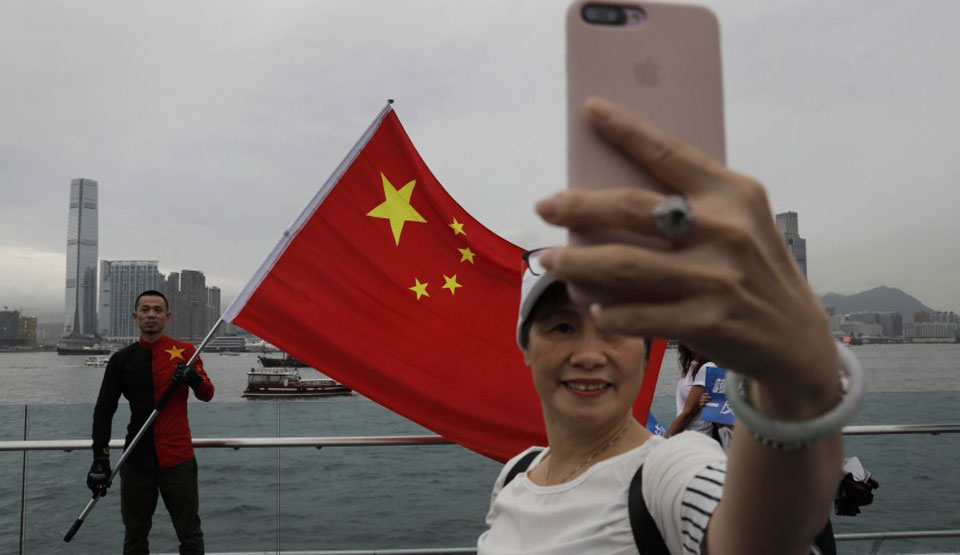 Who benefits as tech monopolies continue to remove or flag "coordinated" accounts in the name of "integrity" and "open conversation"?
Last month, Twitter, Facebook, and Google suspended or removed accounts criticizing the ongoing protests in Hong Kong. The protests originated in opposition to a revised—and now suspended—extradition law proposed by the Chinese government, and have morphed into a broader action against Beijing, with demonstrators nostalgic for the British-ruled colonial era that preceded Hong Kong's 1997 return to China.
Twitter announced on August 19 that it had suspended 936 accounts originating from within the People's Republic of China. Facebook followed suit that same day, removing seven pages, three groups, and five accounts questioning the protests. On August 22, Google disabled 210 channels on YouTube, a Google subsidiary, citing Twitter and Facebook. (Access to Facebook, Twitter, and Google is restricted in mainland China. Some users use virtual private networks, or VPNs, to circumvent this.)
Twitter, Facebook, and Google have sought to cast their actions as objective and to frame them as beneficial to the public. Twitter stated that these accounts were "behaving in a coordinated manner" to "sow discord in Hong Kong." Facebook labeled the accounts an instance of "coordinated inauthentic behavior" and implied they were being "used to manipulate people." Google, meanwhile, asserted that its move was designed to "protect the integrity" of its platforms, echoing claims of "coordinated influence operations."
These justifications have appeared before, often targeting left-leaning movements and countries deemed by U.S. think tanks, intelligence agencies, and other entities as enemy states. In 2018, for example, Facebook removed 32 pages, allegedly due to "coordinated inauthentic behavior" from accounts in Russia, the chief subject of "misinformation" narratives since the U.S.'s 2016 presidential election. However, as part of this policy, the social-media company removed at least one U.S. antifascist organization's account, insinuating, without proof, that Russia was somehow involved.
The same year, Facebook removed 652 accounts, alleging "coordinated inauthentic behavior," that the company claimed originated concurrently in Iran and Russia; Twitter suspended 284 accounts. Both companies took similar actions in 2019: In January of that year, Facebook and Twitter removed accounts purportedly linked to Russia, Iran, and Venezuela; in May, both announced the removal of accounts said to have originated in Iran—a country upon which U.S. officials have long sought to wage war.
Facebook's claims are largely unfounded. Many of the accounts Facebook flagged in 2018, for example, posted innocuous progressive memes and articles condemning homelessness and colonialism. Despite deeming the accounts "coordinated," Facebook admitted in a blog post that year that it couldn't prove any such coordination. In a video, the company defined "coordinated inauthentic behavior" as "when groups of [Facebook] pages or people work together to mislead others about who they are or what they're doing." Facebook, however, failed to list its criteria for designating information as "misleading." In the same video, Facebook added that "the posts themselves may not be false."
This begs the question: Where do Facebook and other social media companies source their information? In the 2018 blog post, Facebook revealed that it had received a tip from the cybersecurity firm FireEye, which has garnered funding from a CIA investment arm. In its bid to combat "misinformation," Facebook also partnered in 2018 with the Atlantic Council, a Washington, D.C.-based think tank funded by the U.S. State Department, military branches, and weapons manufacturers such as Lockheed Martin and Raytheon.
This year, Twitter has consulted with several similar sources. Among them is Freedom House, a self-described human rights organization funded primarily by the U.S. government. Another is the Economist Intelligence Unit Democracy Index, a project of the historically pro-Western, free-market-championing magazine The Economist. (Twitter noted this in a blog post; all of the sources it listed in the post are U.S.- or Europe-based.)
On the same day, it suspended the accounts thought to originate in China, Twitter announced a new protocol: it would "not accept advertising from state-controlled news media entities" in order to "protect healthy discourse and open conversation." Curiously, the policy won't apply to what it describes as "taxpayer-funded entities, including independent public broadcasters." As Mohamed Elmaazi observed for The Canary, "Twitter's policy appears designed to make an exception for Western 'state' media," such as the publicly-funded PBS, BBC, Voice of America, Radio Free Europe/Radio Liberty, and France 24, "and those allied to Western governments." Twitter, Elmaazi continued, "is more likely to label [Russia's] RT, Sputnik, [Venezuela's] Telesur, [Iran's] Press TV and the Chinese CCTV as 'state-controlled.'"
Twitter's new guidelines resemble YouTube's schema, which applies different funding-disclosure standards to news sources depending on their relationship with the United States. For instance, the BBC is labeled as "a British public broadcast service," and PBS is "an American public broadcast service." Meanwhile, YouTube labels teleSUR videos as "funded in whole or in part by multiple Latin American governments," and CCTV videos as "funded in whole or in part by the Chinese government."
Facebook, Twitter, and Google likely have a number of reasons to comply with U.S. government dictums and to abide by the recommendations of FireEye, Freedom House, and other state-aligned organizations. A friendly relationship with the U.S. government and military benefits tech companies; after all, the contracts are lucrative. In addition, in order to minimize the threat of government oversight, tech monopolies such as Facebook and Google are invoking U.S. nationalism, insisting that large, powerful U.S. corporations are necessary in the effort to outpace China's tech sector.
Thus, as Twitter, Facebook, and Google continue to remove or flag "coordinated" accounts in the interest of protecting "healthy discourse" and other seemingly salutary causes—and, if history is any indication, they will—the answer to the question of who benefits will only grow clearer.