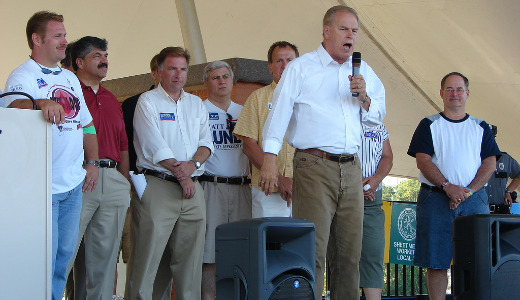 CLEVELAND – Blasting his Republican opponent as someone who "only cares about Wall St.," Ohio Gov. Ted Strickland rallied labor supporters here Monday to mobilize for the crucial November elections.
Speaking at United Steelworkers Local 979 hall, Strickland told a gathering of steelworkers, painters and laborers that unlike contests where differences are small, "I flat out disagree with John Kasich on every issue."
Kasich, a former congressman and a managing director of Lehman Brothers prior to its collapse, has run innumerable TV ads noting that during Strickland's time as governor Ohio lost 400,000 jobs.
"Actually," Strickland said, "the U.S. lost 8.5 million jobs. But this is not because of policies in Columbus, Ohio. It was caused by the policies of Bush and Cheney and the shenanigans on Wall Street."
The collapse of Lehman Brothers was a key part of this, Strickland charged. "It was the largest bankruptcy in history and it cost Ohio pension plans $400 million."
Kasich, however, did not suffer, Strickland pointed out. "He got a $400,000 bonus."
"Kasich says he should be elected because he has business knowledge," Strickland said. "Lehman Brothers cooked the books. They deceived investors. What he knows is monkey business."
While in Congress, the multimillionaire Kasich voted against raising the minimum wage and voted for the North American Free Trade Agreement, which has cost Ohio hundreds of thousands of jobs, Strickland said.
"He calls for eliminating the state income tax, which accounts for 46 percent of our revenue," Strickland said. "That is reckless. It is irresponsible."
Kasich also would privatize the state Department of Development and other agencies, the governor charged.
"This is a tough time to be governor," Strickland said. "People are rightfully concerned. They are anxious. They wonder if government is capable of helping."
But, he said, "We can't go back to the same policies that led to this recession. We can't go back to the years of bad decisions, bad policies. The Republicans controlled Ohio for 16 years. Barack Obama has been president for less than two years. As Vice President Biden said, 'Things are hard, but they are not hopeless.'"
"I am the proud son a steelworker," Strickland said, "and I never forgot where I came from."
Strickland cited achievements of his administration despite the recession, including allocating $1.6 billion for job creation and retention, achieving the sixth highest economic growth of any state, freezing college tuition and increasing enrollment and increasing investment in job training and public education.
"I'm not perfect," he said. "You should not compare the governor to the Almighty. The governor should be compared to the alternative. We must not turn our state over to Kasich."
Photo: Ohio Gov. Ted Strickland addresses the Lorain, Ohio, Labor Day Festival in 2008. Second from left in red shirt is Rich Trumka, then AFL-CIO secretary treasurer and now the federation's president. (AFL-CIO)