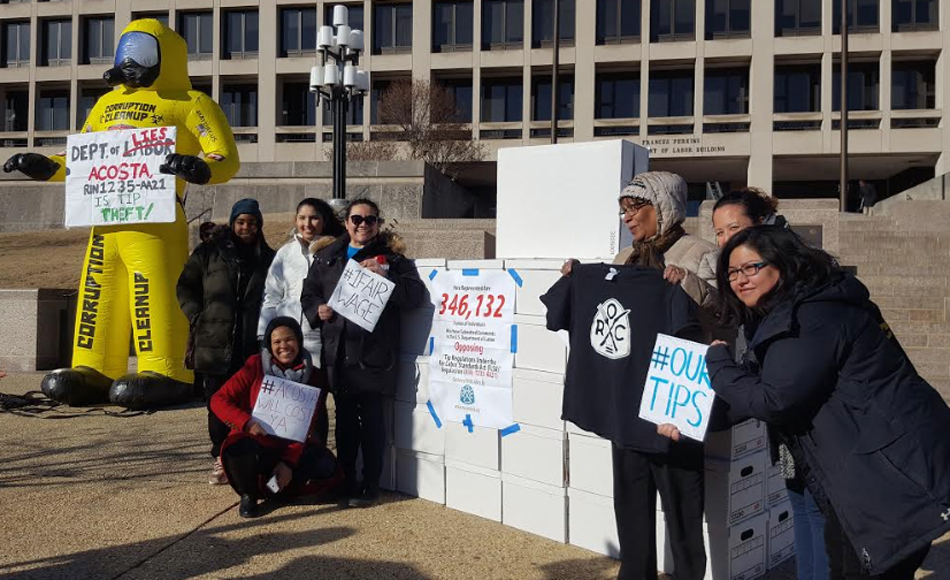 WASHINGTON – In December, Donald Trump's Labor Secretary Alexander Acosta announced a proposed rule, which would allow restaurant owners to pocket the tips of millions of tipped workers. EPI estimates that the new rule would result in $5.8 billion each year in lost wages for workers, with $4.6 billion of that coming from the pockets of women working in tipped jobs.
The Department of Labor was required to provide an estimate of the economic impact of this proposed rule. But in a highly suspicious move, DOL claimed that such an analysis was not possible.
This month, thanks to critical investigative reporting,[1] we now know that DOL did produce an estimate, which showed that the rule would be terrible for workers, but hid its own analysis.
This shows the lengths to which the Trump administration and Secretary of Labor Alexander Acosta will go to hide the fact that this rule would make workers' lives worse.
Write to your members of Congress and demand they hold the Department of Labor and Labor Secretary Acosta accountable. Tell Congress to squash Trump's proposed tip theft rule.
Research shows that tip theft is already prevalent in the workplace, with 12 percent of tipped workers in Chicago, Los Angeles and New York reporting that they had tips stolen by an employer. And now Donald Trump's Department of Labor is siding with the National Restaurant Association over tipped workers in an attempt to legalize tip theft.
Last month, EPI and our allies submitted over 220,000 official comments to the Department of Labor in opposition to the tip stealing rule. But in order to stop this rule, we will need Congress on our side.
Click here to write to your members of Congress and tell them to stop Donald Trump's proposed plan to steal billions of dollars from tipped workers.
On this Valentine's Day, let's steal hearts not tips!
Heidi Shierholz senior policy analyst at the Economic Policy Institute