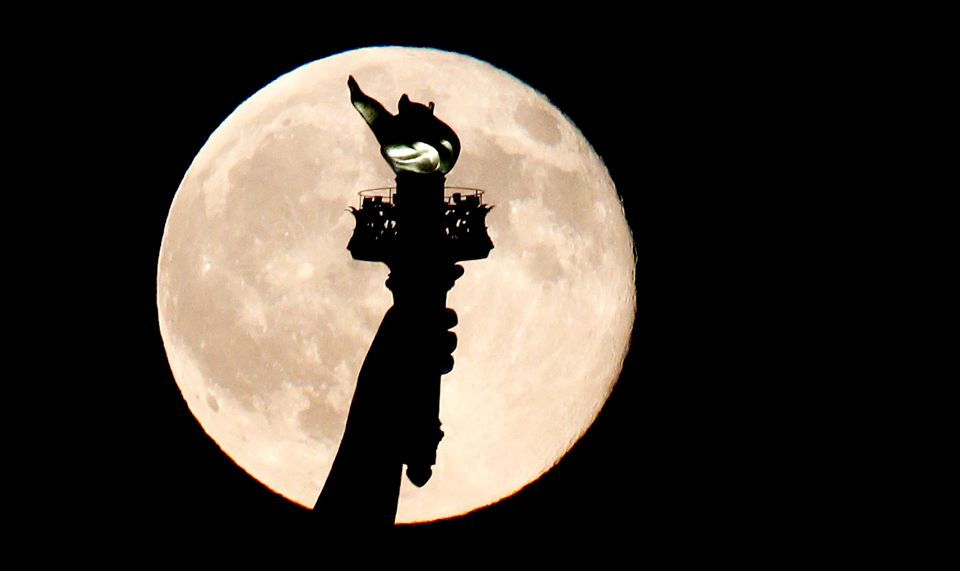 Last week, Trump and Mitch McConnell both blamed Democrats and the impeachment trial for distracting the nation and aiding the spread of COVID-19. We know—the shamelessness of this accusation is infuriating.
In light of this article, and the entire GOP response to COVID-19, the quote we've been coming back to in recent days is from George Orwell's novel 1984, a dystopian story about a futuristic authoritarian government bent on controlling the population through misinformation, brainwashing, and coercion. The quote is this:
"Who controls the past controls the future: who controls the present controls the past."
The authoritarian political party in 1984 needs to justify itself and its actions, so it alters the official record of the past in an effort to control the future.
One form of resistance in moments like this is to simply to insist that reality is reality. We resist by insisting that the past is not just whatever they say it is. We have to cling to real, honest-to-God truths, otherwise the authoritarians will control our future. We've felt this at various times during the Trump presidency, but never more than we do now.
So, let's collectively cling to some truths
In late January, when asked whether there was any reason to fear a pandemic, Trump responded "No. Not at all. And… we're…we have it totally under control. It's one person coming in from China, and we have it under control. It's…going to be just fine."
At a campaign rally in early February, Trump said of the virus, "Looks like by April, you know, in theory, when it gets a little warmer, it miraculously goes away."
Less than six weeks ago, Trump's story was the same: "The Coronavirus is very much under control in the USA. We are in contact with everyone and all relevant countries. CDC & World Health have been working hard and very smart. Stock Market starting to look very good to me!"
A couple days later, Trump continued downplaying the severity of COVID-19, explaining "When you have 15 people and the 15 within a couple days is going to be down to close to zero, that's a pretty good job we've done."
About five weeks ago, Trump's Chief of Staff Mick Mulvaney advised Americans to turn off the TV and stop paying attention to media reports about the dangers of COVID-19.
About four weeks ago, Trump claimed "As of right now and yesterday, anybody that needs a test [can have one], that's the important thing, and the tests are all perfect." The same day, his Secretary of Health and Human Services said, "There is no testing kit shortage, nor has there ever been."
Less than four weeks ago, Trump noted how much less severe COVID-19 was than the flu: "So last year 37,000 Americans died from the common Flu. It averages between 27,000 and 70,000 per year. Nothing is shut down; life & the economy go on. At this moment there are 546 confirmed cases of CoronaVirus, with 22 deaths. Think about that!"
The rot within the GOP extends far beyond Donald Trump
The same day that Trump was comparing COVID-19 to the flu, Fox News was rushing to his defense. Sean Hannity accused the media of "scaring people unnecessarily" and trying to "bludgeon Trump with this new hoax."
Three weeks ago, Rep. Devin Nunes, one of Trump's top lieutenants in Congress, sought to downplay concerns about COVID-19, announcing, "It's a great time to just go out, go to a local restaurant."
Two weeks ago, the GOP governor of Mississippi issued a statewide order overruling local government efforts to contain COVID-19, mandating some restaurants, gun stores, and other businesses reopen.
Last week, the GOP governor of Florida issued a statewide stay-at-home order, but one with exemptions that overruled local government efforts to limit in-person religious gatherings.
Then, the GOP governor of Texas issued a statewide stay-at-home order than allowed for in-person religious services while banning all surgical and medication abortions throughout the state.
And just a few days ago, the GOP governor of Georgia issued a statewide stay-at-home order after claiming that he only just learned that COVID-19 could be spread by people who were not showing symptoms.
A new academic study puts data behind a fact that is blindingly obvious to anybody who doesn't feed at the Fox News trough: "Republican governors and governors from states with more Trump supporters were slower to adopt social distancing policies."
Throughout the crisis, and with few exceptions, the entire GOP has engaged in shameless partisan grandstanding and power grabbing, while accusing Democrats and the media of politicizing the crisis, and while orchestrating a mortally inept response.
Who controls the past controls the future: who controls the present controls the past
We have a lot of work to do in the weeks and months ahead to care for and heal our communities—and we know this is precisely what local Indivisible groups across the country are doing right now. If you're looking for ways to be part of that work, we recommend you reach out and help build up the community response locally with your own local Indivisible group.
But while we do this immediate, necessary community work in the present, we cannot allow Trump, McConnell, and their allies to define the past. We cannot allow them to escape the responsibility for their craven political games and inept response that have and will cost American lives. We cannot allow them to control the future. We have to hold them accountable. We have to take back power in November. And we have to build a functioning, representative democracy where these types of villains never dictate American public policy again.
Levin and Greenberg are co-executive directors of the Indivisible Project, a grassroots movement of thousands of local Indivisible groups with a mission to elect progressive leaders, rebuild our democracy, and defeat the Trump agenda. This was reprinted from Indivisible's monthly newsletter, April 4, 2020.