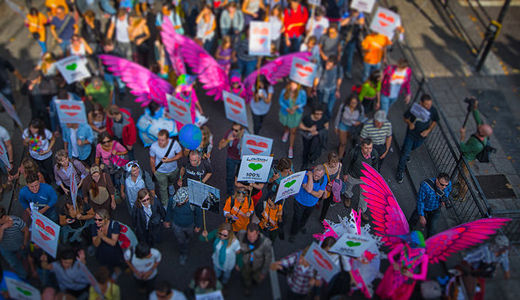 Hope seemed in short supply in a year in which ISIS beheadings and Ebola deaths screamed from headlines on high. But a look closer to the ground where workers and people are struggling shows plenty of reason for the theme that dominated the first years of the Obama presidency and still grips the hearts of hundreds of millions. Here are ten moments in 2014 that give us reason to continue to hold hope's banner high.
1. Low wage and fast food strikes: Twice this year workers all across the country went on strike demanding union recognition and a living wage. The movement is growing and with it new possibilities for building the trade union movement and improving people's lives.
2. The birth of a new movement for racial justice: All across the country people are rising up in unprecedented numbers and political breadth to protest the police murders of Michael Brown and Eric Garner. #HandsUpDontShoot and #ICantBreathe hav become rallying cries of truly mass movement.
3. The election of Newark, N.J., Mayor Ras Baraka and other progressive city officials. Mayor Baraka was the latest of a number of local officials – that include the 2013 election of New York City Mayor Bill De Blasio – who have been elected to office running on pro-people progressive platforms.
4. President Obama's executive action on immigration. Refusing to allow the GOP to continually block immigration reform, the president has prevented the deportation of millions of immigration and laid the basis for a path to citizenship.
5. The Cuba Ebola medical intervention. The decision of Cuba to send hundreds of doctors, nurses and other health workers to Liberia, Sierra Leone and Guinea to fight the Ebola epidemic was a humanitarian intervention far and above that of any other country and showed the basic decency that motivates the socialist republic.
6. The fight for a $15 minimum wage. The struggle for a living minimum wage won several legislative victories as several city councils passed resolutions to increase the minimum salary paid workers, proving once again it takes a fight to win.
7. Paid sick days won big last November. Massachusetts; Montclair and Trenton, N. J.; and Oakland, Cal. – all passed ballot initiatives guaranteeing paid sick days!
8. The heating up of the struggle for climate change. The climate-change agreement between the U.S. and China was a big step forward, no doubt inspired by protests like the march in New York City.
9. Restoration of diplomatic ties between the U.S. and Cuba. Obama's decision to normalize relations between the U.S. and Cuba was a big step forward. Ending the blockade is next!
10. Frack fracking. Governor Cuomo's decision to ban fracking in New York state was a big step forward and will hopefully put other parts of the country in a "New York state of mind" on this important issue.
Let's keep hope alive this holiday season and into the New Year with the hope and expectation that lasting victories are possible!
Photo: People's Climate March. | Antonio Acuña/Flickr (CC)