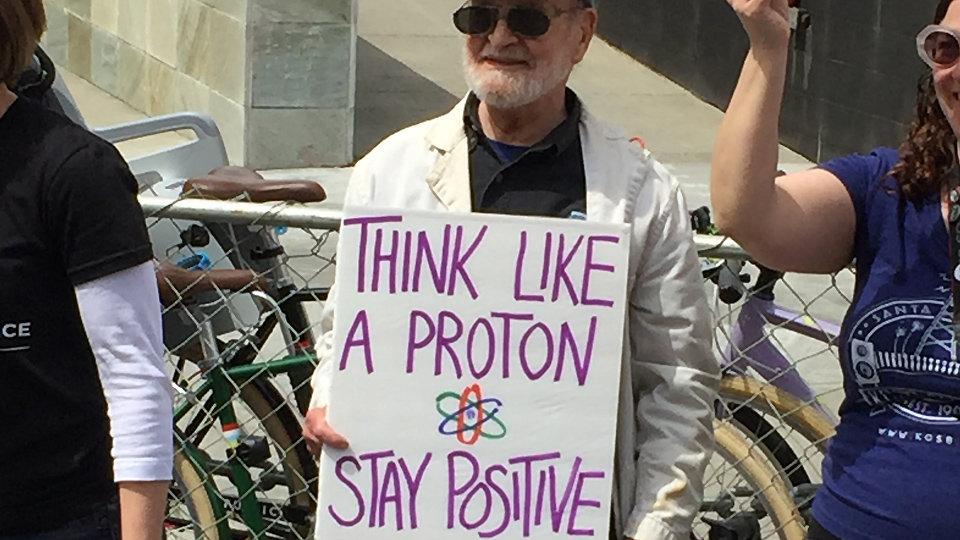 SAN JOSE, Calif.—Ten thousand South Bay residents took to the streets this Earth Day to declare their support for science in the face of the Trump Administration's dismissal of established scientific consensus on climate change and other issues and threats to slash Federal funding for scientific research.
Participants marched from City Hall to Cesar Chavez Plaza at the center of the city, filling several city blocks and bearing signs such as "Make American Smart Again," "Data Not Dogma, Science for All" and "I can't believe I have to protest for objective reality."
MC Rachel Bloom, co-creator and star of the TV show Crazy Ex-Girlfriend, led off the rally by declaring, "We're partying for science!" Many participants showed by signs and costumes (including lab coats) that they shared the festive mood despite the seriousness of the issues. Congressperson Zoe Lofgren began her speech by saying this was the first march she'd been on in which people chanted, "What do we want? Science! When do we want it? After peer review!" but went on to deliver sobering news about the fate of science in the GOP-controlled Congress, where, she said, peer review has been replaced by political review. She pointed out that the current chair of the House Science Committee, of which she is a member, has issued more subpoenas than in the last three congresses put together—and all for the purpose of harassing scientists whose research results don't conform to what the GOP wants to hear.
Nobel laureate in chemistry Dr. William Moerner, responding to Trump's proposals to cut funding for climate change research and for programs in the Department of Energy and the National Institutes of Health, emphasized the benefits of science for human welfare and insisted, "It would be terrible to turn our backs on this advance by cutting science and trying to weaken it."
Several speakers touched on the importance of encouraging women and people of color to enter careers in science and technology. Kimberly Bryant, founder of the organization Black Girls Code, declared that society must provide "opportunities for everyone to have a place in creating a new world and open up a space for more women and women of color to be in technology." Sarahi Espinoza Salamanca spoke of her own struggle as an undocumented immigrant to attend college after being discouraged by her high-school counselors. She not only made a way for herself to earn a college degree but created an app, DREAMers Roadmap, that connects undocumented youth to resources for higher education.
Other speakers touched on the importance of science education even for the youngest students. Actress Mayim Bialik of the TV hit Big Bang Theory told of the satisfaction she feels in "teaching young people to be honest scientists," and after stating that she sees no contradiction between science and religion—"I'm very much a scientist of faith"—concluded, "May science bless us all."
The lineup of speakers at the rally was notable for the number and importance of "mainstream" science and technology organizations and corporations that were represented, including the Tech Museum of Innovation, the Monterey Bay Aquarium, and Google.