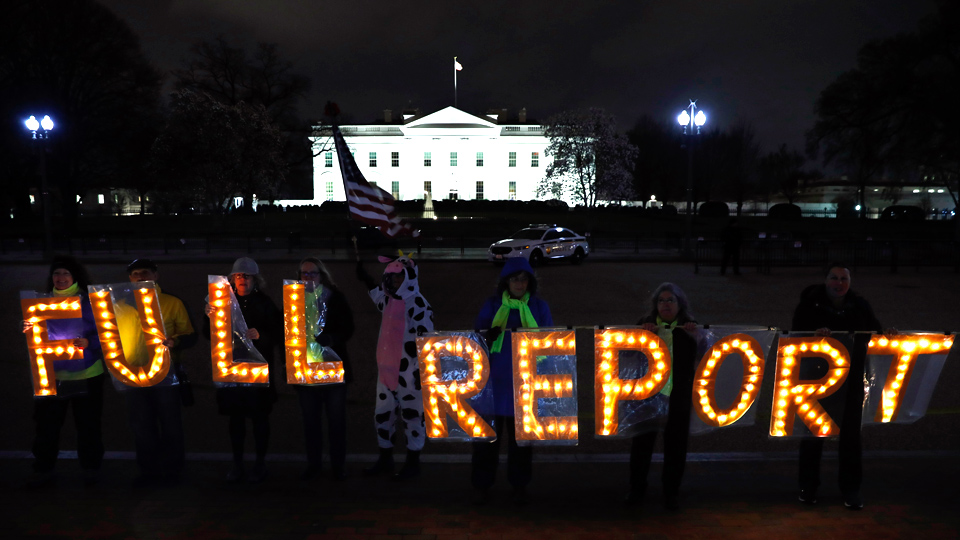 WASHINGTON—Shades of Watergate.
In late 1973, GOP President Richard Nixon tried to shut down the Watergate investigation by arbitrarily firing Special Prosecutor Archibald Cox, padlocking the prosecutor's offices and canning a top official, William Ruckelshaus, who refused to fire Cox. Another Nixonite, Robert Bork, did so.
Cox responded that whether the nation would be governed by the rule of laws or by men was up to the people to decide. They decided, quickly.
Western Union's telegraph system broke down under an avalanche of angry wires to lawmakers. Protests erupted nationwide. The U.S. Capitol switchboard was paralyzed by the flood of angry phone calls. Nixon backed down, but after that "Saturday Night Massacre," momentum for impeaching him accelerated. It culminated when Nixon's tapes disclosed the "smoking gun," Nixon's cover-up of constitutional crimes. Nixon was forced to resign before Congress impeached and convicted him.
Well, Rep. Jerry Nadler, D-N.Y., who's running the current congressional probe of GOP President Donald Trump's entanglement with the Russians, his obstruction of justice and his abuse of power, said much the same thing about Trump as Cox did about Nixon – and he did so as headline speaker at a mass rally opposite the White House the afternoon of April 4.
"We are in a battle over the rules that govern our democracy and that sustain our democracy," he said, after long cheers and chants of "Jer-ry, Jer-ry!" from almost 1,000 people jammed into Lafayette Square.
The D.C. rally, like 330 others from coast to coast which drew hundreds of thousands of people – including big marches in Chicago, New York, and Los Angeles – was festooned with signs and banners demanding release of the full report, with backup evidence, compiled by Special Counsel Robert Mueller and his staff.
A coalition of groups entitled NobodyIsAboveTheLaw.org — including the Teachers (AFT), the Service Employees, the Working Families Party, Common Cause, Indivisible.org, MoveOn.org, Democracy21, the Progressive Change Campaign Committee and People for the American Way — called the protests.
And members of the D.C. Labor Chorus, a group of unionists, chimed in by leading the crowd in We Shall Not Be Moved. But they changed some verses: "We are fighting for transparency; we shall not be moved…We demand the full report; we shall not be moved…We are fighting for democracy; we shall not be moved."
The demonstrations came as Mueller's own staffers told friends, allies, The New York Times and The Washington Post, that they found much more evidence of Trump's obstruction of justice and possible collusion with the Russians in manipulating the 2016 presidential election. The probers called the evidence on both issues "alarming and significant."
And Mueller's team said they prepared summaries of each chapter of the 400-page report, covering their findings and evidence behind them. William Barr, Trump's hand-picked attorney general – who prior to taking the post wrote a 19-page memo opposing Mueller's probe and special counsels in general – sat on those conclusions.
Barr's 4-page letter gave his opinion that there's not enough evidence to charge Trump with collusion with the Russians to rig the election, but did not fully exonerate him, despite what Trump himself claims. And Barr, summarizing Mueller, flatly declared the Russians manipulated the election.
But it's more than just Trump and the Russians, Nadler said. So did other speakers.
"We cannot let a president carry sustained attacks on our democracy and on our checks and balances," Nadler explained. "Release of the report is to make sure that this president and future presidents are accountable to the Constitution and accountable to our democratic institutions."
Nadler, chairman of the House Judiciary Committee, intends to do just that, and his committee, by a party-line vote, gave him a weapon the day before: Subpoena power to the Justice Department for the whole Mueller report and its backup evidence. But if Trump's Justice Department refuses to go to court or to release the report, the committee will have to sue for itself.
While Nadler talked constitutional issues, other speakers were more pointed and personal against Trump and his minions.
"This is the most corrupt administration in American history," said Noah Bookbinder of the watchdog group Citizens for Responsibility and Ethics in Washington. "And this is not Trump Derangement Syndrome speaking," as the president's blind supporters charge.
Besides the Judiciary Committee and other congressional panels, "There are real investigations going on by the U.S. attorney for the Southern District of New York" and federal and state officials there, too. "The president says it's time to move on. We say no."
"We need to see that full report and Congress needs to see that full report and then we can draw our own conclusions" about Trump's collusion with the Russians, his obstruction of justice and his abuse of power, Bookbinder said.
"We will win this fight and then we'll defend the investigations taking place into the abuse of power and the obstruction of justice," said Neera Tamden, head of the Center for American Progress, a think-tank allied with the Hillary Clinton wing of the Democratic Party.
"We will fight till hell freezes over and then we'll fight on the ice," said one closing speaker, a Marine Corps veteran who served in Democratic President Barack Obama's Defense Department.
"When justice is under attack, what do we do? Stand up, fight back!" went another chant, adopted from the labor movement. Chanters then substituted "transparency" "the rule of law" "the Constitution" "the balance of power" and "civil rights" for the word "justice."
Some of the signs were barbed.  "We The People can READ and will decide," one said. "OMG, WTF, GOP," another added. "Gangster Oligarch Party," a third declared. One woman wore a button declaring "Trump is a traitor."
And Stephanie Bagliani, whose voice rang loud when she called Barr's 4-page letter "Cliff's Notes," carried a sign imploring the Centers for Disease Control to "quarantine the White House because of the Orange Plague inside of it."
"Orange is the new Nixon," read the sign Marty Pearl, a retired research manager for the Navy Department, toted, referring to Trump's hair. "Some of us with gray in our hair understand this" — the Watergate comparison – "is what it is," he told an equally gray-haired reporter.
But the crowning chant came two-thirds of the way through the D.C. rally. One person began it and others quickly took up the cry.
"Lock him up! Lock him up! Lock him up!" that group roared, echoing Trump's and Trumpites' demand about his 2016 Democratic foe, Hillary Clinton, but changing the gender.
"Well, he started it," one chanting woman explained.