SAN FRANCISCO – Market Street, this city's main downtown thoroughfare, was jammed with marchers and their brilliant banners Sept. 8 in what organizers are calling "the largest climate mobilization the West Coast has ever seen!" They said over 30,000 people from a broad range of organizations participated.
The Rise for Climate, Jobs and Justice march, with sweeping demands for racial and economic justice and transitioning to all-renewable energy in ways that benefit workers and communities, came just days before the city hosts the Global Climate Action Summit, bringing together public officials, corporate executives and other decision-makers from around the world on Sept. 12-14.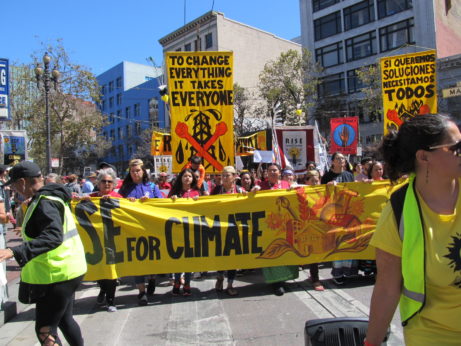 The broad spectrum of organizations bringing those demands included environmentalists, environmental justice advocates, indigenous organizations, anti-war and anti-nuclear weapons activists, labor unions, religious congregations, vegans, youth and women's organizations, single-payer health care advocates and more.
Indigenous activists from throughout the U.S. and beyond led the march.
Some contingents gathered earlier, for an opening speak-out. One, organized by the San Francisco Labor Council, brought together more than 700 unionists from over 50 Bay Area labor organizations.
The San Francisco unionists welcomed their sisters and brothers from the Alameda, Contra Costa and other nearby Labor Councils, and Norman Ten, president of the San Francisco chapter of the Asian Pacific American Labor Alliance (APALA) led the crowd in a "people power" unity chant in Chinese, Tagalog, Spanish and English.
Declaring "the only thing that will truly fight climate change is system change," John Avalos of the National Union of Healthcare Workers urged everyone to "speak up for our future, with our brothers and sisters in labor and communities across the world," and fight for "the institutions that will protect us from global capitalism."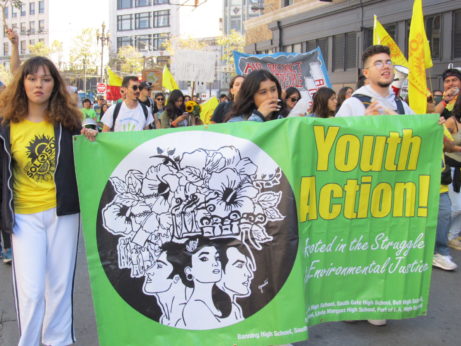 An organizer for Unite Here Local 2 warned that the "Green Choice" program the hotel industry is offering guests – receiving reward vouchers and points if they agree to skip housecleaning sessions, really results in greater pollution, because the more intensive cleaning that results uses "double the chemicals, water and electricity" to remove the accumulated grease and dust. "Say No to Green Choice next time you stay in a hotel," she urged, "and let your friends know, too."
A No Nukes! No Wars! No Warming! contingent co-sponsored by nearly 30 Bay Area anti-war and anti-nuclear weapons organizations highlighted the intertwining of dangers from militarism generally, and nuclear weapons in particular, with the existential threats posed by climate change.
In a statement issued before the march, the group called nuclear weapons and global warming "two different ways that the human species can do enough damage to threaten not only our own survival but that of most life on this planet." Today's work to eliminate nuclear weapons, they said, takes place in a broader context – the interface of nuclear and conventional weapons, the long-term humanitarian and environmental consequences of nuclear war, and their incompatibility with democracy and human well-being.
"We rise up in solidarity today to achieve an ecologically sustainable and nuclear free world tomorrow."
Also marching were members of People Organizing to Demand Environmental and Economic Rights (PODER), which organizes with Latino immigrant families and youth to achieve healthy neighborhoods in San Francisco. Organizational Director Antonio Diaz called on climate leaders to "address the racial, social and economic injustices especially impacting low-income immigrant communities, indigenous communities and communities of color."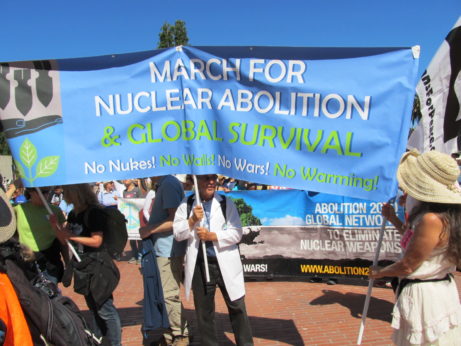 Climate change's impact on migration brought marchers from the National Network for Immigrant and Refugee Rights into the action, to highlight the intersection of climate change and climate justice with global migration and immigrant rights. NNIRR points out that over 25.4 million people a year are now displaced by climate change – 60 percent more than 40 years ago and expected to rise significantly in the coming years.
350.org said around the U.S., over 260 events were held, including New York City, Boston, Baltimore, New Orleans, Portland, Miami, and Flint, Mich. In Puerto Rico, 1,500 young people and families called on the government to take meaningful climate action including on renewable energy.
Around the world, 350.org reported that over a quarter of a million people took part in more than 900 actions in 95 countries. France saw its largest-ever climate mobilization, while thousands came out in Denmark, Belgium and elsewhere in Europe. Manila; Bangkok; Sydney; Kampala, Uganda and Kutaisi, Georgia were among sites around the world. In Antarctica, where it's still winter, astrobiologist Cyprien Verseux and his colleagues marched through below-zero temperatures to show their solidarity.