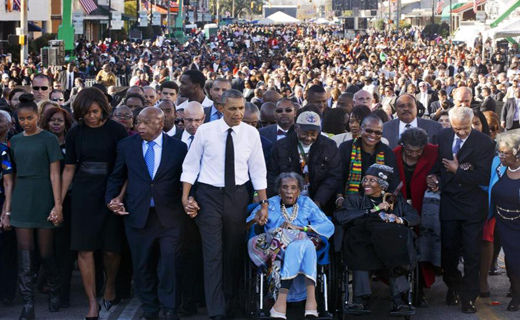 SELMA, Ala. (AP) – Tens of thousands gathered here over the weekend to mark the 50th anniversary of the 1965 "Bloody Sunday" march for voting rights across the infamous Edmund Pettus Bridge. On Saturday, President Barack Obama and Alabama native Congressman John Lewis, who was among the demonstrators that was attacked by law enforcement and badly beaten during the voting rights march 50 years ago, addressed some 40,000 people.
The commemorations continued Sunday with an estimated 70,000 people marching across Pettus Bridge in a rally so large that many appeared unable to move as the stream carried them across the bridge. Singing hymns and carrying signs with slogans such as "Black lives matter, all lives matter," the enormous outpouring for the jubilee anniversary events blended current struggles for civil and voting rights with moving tributes to the women and men who put their lives and bodies on the line for freedom 50 years ago.
Police beat and tear-gassed marchers at the foot of the bridge in Selma on Mar. 7, 1965, in an ugly spasm of violence that shocked the nation. The attack on demonstrators preceded the Selma-to-Montgomery march, which occurred two weeks later. Both helped build momentum for congressional approval of the Voting Rights Act later that year.
A march from Selma to Montgomery in remembrance of the journey the demonstrators took is set to begin Monday morning and culminate with a rally at the Alabama state Capitol on Friday afternoon.
Both Obama and Lewis gave rousing speeches on the work left to be done to achieve equality and Obama also touched on improvements in American race relations. The president mentioned recent high profile clashes between citizens and law enforcement on the circumstances leading to fatal police shootings and law enforcement tactics toward minorities.
America's racial history "still casts its long shadow upon us," Obama said Saturday as he stood in solidarity and remembrance with civil rights activists whose beatings by police a half-century ago galvanized much of the nation against racial oppression and hastened passage of historic voting rights for minorities. Tens of thousands of people joined to commemorate the "Bloody Sunday" march of 1965 and take stock of the struggle for equality.
Under a bright sun, the first black U.S. president praised the figures of a civil rights era that he was too young to know but that helped him break the ultimate racial barrier in political history with his ascension to the highest office. He called them "warriors of justice" who pushed America closer to a more perfect union.
"So much of our turbulent history – the stain of slavery and anguish of civil war, the yoke of segregation and tyranny of Jim Crow, the death of four little girls in Birmingham, and the dream of a Baptist preacher – met on this bridge," Obama told the crowd before taking a symbolic walk across part of the Edmund Pettus Bridge, where the 1965 march erupted into police violence.
"It was not a clash of armies, but a clash of wills, a contest to determine the meaning of America," Obama said. He was three years old at the time of the march.
A veteran of that clash, Rep. Lewis, who was brought down by police truncheons that day in 1965 and suffered a skull fracture, exhorted the crowd to press on with the work of racial justice.
"Get out there and push and pull until we redeem the soul of America," Lewis said. He was the youngest and is the last survivor of the Big Six civil rights activists, a group led by the Rev. Martin Luther King Jr. that had the greatest impact on the movement.
Selma's fire department estimated the Saturday crowd reached 40,000. Former President George W. Bush shared the platform. Republican congressional leaders were mostly absent but one, House Majority Leader Kevin McCarthy, joined the walk.
The walk progressed under the bold letters on an arch, identifying the bridge named after Pettus, a Confederate general, senator, and Ku Klux Klan leader.
Obama, his wife, Michelle, and their daughters walked about a third of the way across, accompanied by Lewis, who has given fellow lawmakers countless tours of this scene. Bush, his wife, Laura, and scores of others came with them before a larger crowd followed.
The shadow of enduring discrimination touched the event as Obama addressed his government's investigation of the Ferguson, Missouri police department. The investigation, he said, "evoked the kind of abuse and disregard for citizens that spawned the civil rights movement."
"What happened in Ferguson may not be unique, " he said, "but it's no longer endemic, or sanctioned by law and custom. And before the civil rights movement, it most surely was."
The Justice Department concluded this past week that Ferguson had engaged in practices that discriminated against the city's largely black population. The department also declined to prosecute the white police officer who shot and killed an unarmed black 18-year-old last year, sparking days of violent protests and marches.
"We just need to open our eyes, and ears, and hearts, to know that this nation's racial history still casts its long shadow upon us," Obama said.
Yet, he said, "if you think nothing's changed in the past 50 years, ask somebody who lived through the Selma or Chicago or L.A. of the 50s. Ask the female CEO who once might have been assigned to the secretarial pool if nothing's changed. Ask your gay friend if it's easier to be out and proud in America now than it was 30 years ago. To deny this progress – our progress – would be to rob us of our own agency, our responsibility to do what we can to make America better."
The next day Attorney General Eric Holder, speaking at Brown Chapel AME Church Sunday, drew parallels, without being explicit, between the events of 1965 and today. He noted that the "Bloody Sunday" march was sparked by the murder of activist Jimmie Lee Jackson, "an unarmed, young black man."
"An unarmed, young black man," he repeated.
Annie Pearl Avery, 71, recalled being arrested on Bloody Sunday as she tried to get a nurse to the bridge. She said it was one of many times she was arrested during the freedom rides of the 60s.
The nurse was needed, she said, because the young activists were uncertain if local white doctors were members of the Ku Klux Klan.
"I heard the explosions. I thought it was gunshots. It was the tear gas," Avery said.
Earlier Sunday, Selma officials paid tribute to the late President Lyndon Johnson for the Voting Rights Act. The attack on demonstrators preceded a Selma-to-Montgomery march, which occurred two weeks later in 1965. Both helped build momentum for congressional approval of the Voting Rights Act later that year.
Bishop Dennis Proctor of the Alabama-Florida Episcopal District said his group brought five buses to the anniversary commemoration. But he told members not to come to Selma if they couldn't commit to fighting to restore protections in the Voting Rights Act that were recently eliminated.
The U.S Supreme Court in 2013 struck down Section 4 of the Voting Rights Act, which required states with a history of minority voter suppression to get permission from the Justice Department before changing voting laws.
"I think within every human being there's a desire to be validated," Proctor said before Sunday's unity breakfast. "For African Americans, especially in this state, validation came at the ballot box."
Proctor said it was bittersweet to commemorate the 1965 march and legislation when what many people consider the critical component of the Voting Rights Act is no longer in place. Fifty years after fighting for equal voting rights, black people and other minorities still face serious opposition when it comes to legislation to protection from discrimination, he said.
"It seems like the clock is being turned back 50 years. After all of the strides that have been made, all of the blood that has been shed," said state Sen. Vivian Davis Figures, a Democrat from Mobile.
Other commemorations took place across the country. In New York, a multigenerational and racially mixed crowd of about 250 people crossed the Brooklyn Bridge in a "Selma is Everywhere" march.
"I'm not sure how many of us would have been willing to walk across that bridge in Selma, getting beat on every step of the way," said David Dinkins, 87, who in the early 1990s was New York's first black mayor. "We think it's important that people not forget Bloody Sunday," he said. "You'd be surprised how many young people don't know."
Watch President Obama's speech:
Read a transcript of the president's speech here: https://www.bloomberg.com/politics/articles/2015-03-07/transcript-of-president-obama-s-selma-speech
For more on the history of Selma and the civil rights movement visit: http://www.whitehouse.gov/issues/civil-rights/selma
Teresa Albano contributed to this story.
Photo: Jacquelyn Martin/AP