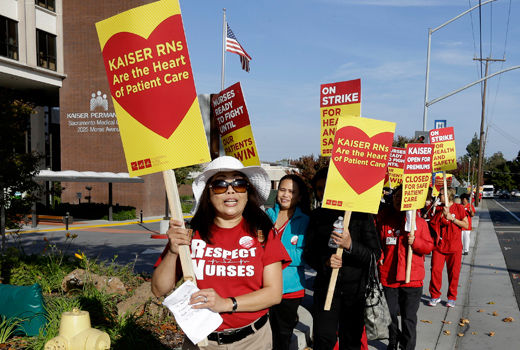 OAKLAND, Calif. – A tentative new contract between California's largest hospital chain, Kaiser, dealing with its nurses' anger over eroding patient health care, let Kaiser's 18,000 unionized registered nurses, members of the California Nurses Association/National Nurses United, to call off a planned two-day strike. Instead, on what would have been strike day, Jan. 22, nurses held ratification meetings, NNU executive director RoseAnn DeMoro said.
The nurses and Kaiser agreed to establish a new joint committee of registered nurses and nurse practitioners "who will work with management to address concerns the RNs have about care standards" in Kaiser's 86 facilities throughout California, the union said.
The pact shows the chain recognizes the nurses' devotion to assuring the highest level of quality care for patients as well as protections for the nurses who deliver that care," DeMoro said. NNU co-president Zenei Cortez, who chaired the union's bargaining team, said the contract "will strengthen the ability of Kaiser RNs to provide the optimal level of care our patients deserve, while establishing additional security for nurses. I am so proud of the Kaiser RNs and NPs who worked so hard for so long for this day."
Besides the joint committee, the pact commits Kaiser to hire hundreds of new nurses to help improve quality of care – by reducing workloads – and commits the hospital chain to a new commitment to RN training and employment for new graduates. NNU said the combination could set a tone for the entire country, since California has one of every eight U.S. residents, and is a leader on health care issues. Hospitals elsewhere have frozen new RN hiring.
The tentative agreement also includes "groundbreaking workplace protections for nurses from" hazards ranging from workplace violence to infectious diseases and needle stick injuries, a 14 percent pay raise over its three years, more long-term retirement security and an increase in Kaiser's contributions to nurses' 401(k) plans and annual paid release time for 25 RNs to participate in the union's relief response network, which has sent RN volunteers to natural disaster zones worldwide.
Photo: Rich Pedroncelli/AP