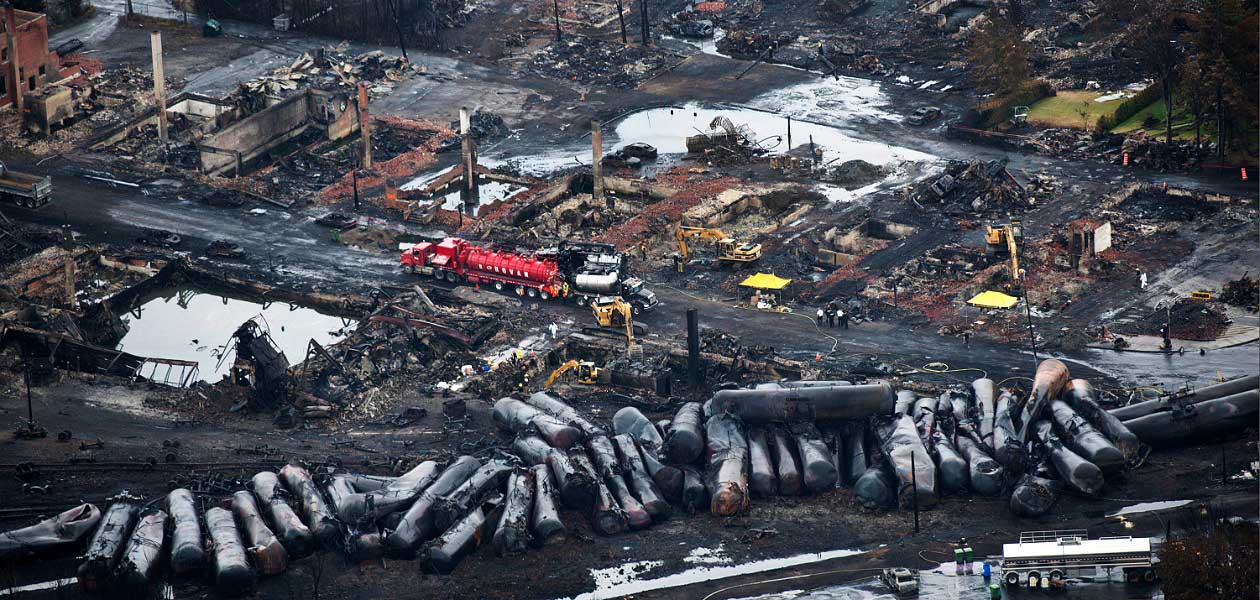 EAST PALESTINE, Ohio—It's sometimes amazing what one event—in this case, the Norfolk Southern freight train derailment that sent an atomic-like cloud over East Palestine, Ohio—can do to move minds in the Nation's Capital. Whether it'll move legislation is another matter.
Especially when you combine the reaction to that smash, which befouled the air and water and killed 3,500 fish, and sickened people, with the tenth anniversary of a lethal accident in an equally small Québec town, Lac Mégantic.
That July 6, 2013, disaster involved an "oil train" parked on a hillside. Its faulty brakes failed while the engineer—its sole worker—was out on a break. Two other workers monitoring the train were in a tower miles away. Under Canadian rules, it had no on-board conductor to stop the smash.
The Lac Mégantic train rolled down the mountain, gathering speed up to 65 mph, hit a curve way too fast, jumped the tracks, completely derailed, crashed, exploded, and, as one observer put it "incinerated downtown," killing 47 people, and leaving 26 kids as orphans.
It also set off a continuing campaign by rail workers, their unions, and allies to alert both nations to the hazards of miles-long heavy freight trains laden with hazardous cargoes, such as oil (Lac Mégantic) or hydrogen chloride (East Palestine)—and to force governments to do something about it.
But that drive didn't bear fruit until the February crash in East Palestine. Now, despite the efforts of the railroads' corporate class and their lobbyists to bleat that big freight trains are inherently safe, neither senators nor the Biden administration believe them.
So a bipartisan group of solons, led by Sen. Sherrod Brown, D-Ohio, and the Democratic Biden administration, are moving fast to prove otherwise—and, despite lobbyists' and corporate campaign contributions, do something about it.
Brown has introduced legislation mandating safety standards for the big freights, including two-person crews, up-to-date warning systems, safer tank cars, modern brakes, and more. If the railroads don't obey, they face heavy fines. But rail lobbyists have already managed to pull one key provision out of his rail safety act: Limits on the length and weight of the long freights.
Biden's Transportation Department is on the verge of mandating two-person freight train crews, and cracking down on freight rail refusal to tell towns, counties and states what its trains are transporting, as Smart-TD, other rail unions, the AFL-CIO Transportation Trades Department, and rank and file workers, led by Railroad Workers United, all demand.
It only took a horrific crash to get them to move and overcome the railroad capitalists who put profits before people, and before safety.
The politics of railroading shows the need. Workers have said so for years. Academics agree.
The Lac Mégantic "tragedy was the consequence of four decades of mutually reinforcing policies—deregulation, privatization, tax cuts, and austerity–that eroded transportation safety protections," wrote Bruce Campbell, an adjunct professor of environment and urban studies at York University in Toronto in a recent analysis.
"They entrenched the power of railway corporations in concert with government enablers and regulators–a phenomenon known as 'regulatory capture.'" That phenomenon is equally well-known in the U.S., including among unions and workers, who often run up against it, either in agencies or in right-wing-loaded courts.
In keeping with their past performance, freight railroads are now suing to overturn Ohio's new mandate of two-person train crews. Had that been Canadian law, it would probably have prevented Lac Mégantic. A conductor would have been able to spot the brake problems before they failed.
Indeed, East Palestine did not duplicate Lac Mégantic's death toll only because when the Norfolk Southern freight that derailed—a wheel axle overheated in -10-degree outside temperatures, and broke—had three crew members. If NS and other big freight railroads had their way, it would have only had the engineer, just like the Lac Mégantic oil train.
Once they got the warning siren of the failed axle, Norfolk Southern Train 32's engineer, its conductor, and a trainee stopped the damage before it became worse and before the train exploded, by decoupling the locomotives, then letting experts vent some of the dangerous cars.
The venting, however, fouled the air and groundwater, leading to the mushroom cloud looming over East Palestine and the part of western Pennsylvania only a few blocks away—and the 3,500 dead fish. And when Norfolk Southern sent 39 workers, members of the Brotherhood of Maintenance of Way Employees/Teamsters, to clean up the mess, they got sick from nausea and migraines, too.
Norfolk Southern hasn't learned a thing, though. It now blames the manufacturer of the tank cars that carried the toxic hydrogen chloride, rather than the railroads' profit-making system, called Precision Scheduled Railroading, for backloading those heavy and dangerous cars onto NS32's rear.
They crunched into lighter cars in front of them, which collapsed like an accordion. Heavy cars went off the tracks, taking other cars with them—and leading to eventual "experts" venting the toxics.
That blame-shifting "really takes the cake," says Railroad Workers United, the rank-and-file organization cutting across all railroad crafts.
"Both the chemical manufacturer and the rail car owner are incensed by this NS nonsense. Make no mistake, they are big, bad corporations as well, and as such are not beyond reproach. But for NS to demand they bear blame as well, and that they are liable for the cleanup cost, seems simply absurd," RWU commented.
Now Brown, both Pennsylvania Democratic senators and right-wing Ohio Republican Sen. J.D. Vance may be on the verge of changing that sorry record, by restoring restrictions on the railroads.
"Railroad company lobbyists spent years fighting every effort to make our railroads safer, cutting more than 30% of their workers in less than 10 years, and now Ohioans are paying the price," said Brown when he introduced the Railway Safety Act of 2023.
"It shouldn't take a train derailment for elected officials to put partisanship aside and work together for the people we serve–not corporations like Norfolk Southern…No other community should have to deal with what East Palestine and others in Ohio have," he added. Ditto Lac Mégantic.
"We need to see accountability in the rail industry. Ohio residents shouldn't have to wait six months or more to have their communities reopened when the railroads are up and running within hours," John Esterly, Ohio State Legislative Board Chairman, for the Brotherhood of Locomotive Engineers and Trainmen/Teamsters said after Brown introduced the legislation.
Jordan Barab, the former deputy Occupational Safety and Health Administrator—and former safety and health director for AFSCME—summarized four key findings from the Lac Mégantic crash:
His key one is "don't blame the worker for industrial disasters." That's what the small Canadian railroad responsible for Lac Mégantic did. It blamed the engineer, a Steelworker, for "allegedly not setting the brakes properly." He was tried "on 47 counts of criminal negligence causing death," Barab reported. So were the other two workers, who were far away.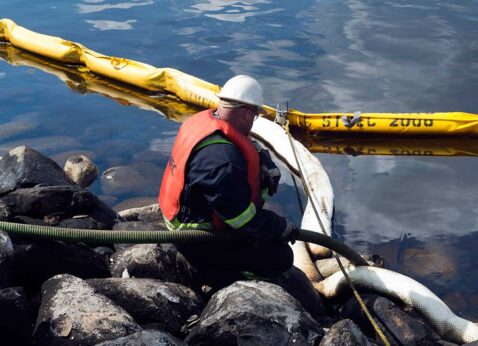 But their trial, plus a Canadian government report, showed the crash and fire were due to poor maintenance, faulty brakes, "failure of allegedly redundant safety systems"—some were disabled–"flawed procedures, one-man crews, inadequate training, and weak oversight were among the real root causes of the catastrophe," Barab reported. And he noted railroads have resisted strengthening their tank cars against ruptures, for almost a decade.
The problem at Lac Mégantic turned out to be not faulty people but a faulty locomotive.
The engine had "serious mechanical problems," investigators found. The railroad didn't haul it into the shop for a weeks-long repair but "decided to essentially glue the locomotive back together with an epoxy-like material that lacked the required strength and durability. It finally broke down in the mountains above Lac Mégantic, leading to the disaster," Barab explained.
Canada lets freight trains run with one-person crews. The big U.S. freight railroads have lobbied for years for one-person crews—and crewless trains in rail yards. Rail unions vigorously oppose the one-worker crews.
Led by the Brotherhood of Locomotive Engineers & Trainmen/ Teamsters, the workers made little headway during the Republican Trump regime. Democratic President Joe Biden's Federal Railroad Administration now proposes a two-person crew mandate.
And 12 states, including key ones for freight rail transportation such as New York, Illinois, Ohio, and Nevada—the gateway to California—have mandated two-person crews, too.
That still doesn't solve another problem Barab identified: "The volume of dangerous goods on the tracks rose 70% between 2011 and 2019, according to the government's rail traffic database." There are no mandates for modern brakes on any freight trains, hazmat or others. The brake technology, if not the brakes themselves, on the East Palestine train dated to the late 1800s.