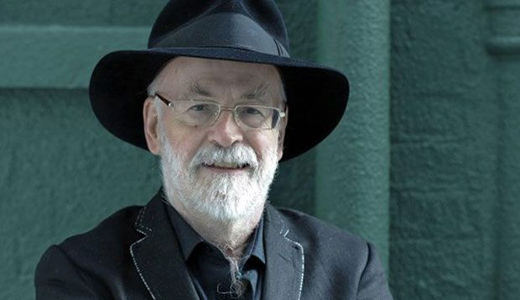 Fantasy novelist Terry Pratchett died Mar. 12, leaving several library shelves' worth of published literature behind, as well as the legacy those books created. Author of the popular Discworld fantasy series and other bestselling novels, his passing was confirmed via his Facebook page.
A short piece by PJSM Prints noted, "Terry passed away in his home, with his cat sleeping on his bed, surrounded by his family on March 12, 2015. Diagnosed with PCA (posterior cortical atrophy – a rare form of Alzheimer's disease) in 2007, he battled the disease with his trademark determination and creativity, and continued to write. He completed his last book, a new Discworld novel, in the summer of 2014, before succumbing to the final stages of the disease."
Fellow fantasy author Neil Gaiman remarked that he met Pratchett "30 years and one month ago" and contacted the novelist for feedback on one of his early fictional works during the 80s. The two later collaborated on the novel Good Omens, an apocalyptic novel with parodical and comedic elements, which went on to win four awards. For Gaiman, the idea to work with a writer he admired was a no-brainer: "It was like Michelangelo phoning and asking if you wanted to paint a ceiling together," he said.
Though Pratchett wrote more than 70 books, he is most commonly associated with his Discworld series, which played with and poked fun at common fantasy tropes and conventions while offering a unique and intriguing narrative of its own. The books also commented on serious issues with analogies to the Gulf War, trade unions (interestingly, there's something in this world that is essentially a magicians union), financial matters, university politics, religion, and philosophy. The books were also interesting in that they had humorous or offbeat footnotes that marked a brief departure from the narrative, and which sometimes also had footnotes of their own. The novels also did not use chapters, as Pratchett's view of them was thus: "Life does not happen in regular chapters, nor do movies, and Homer did not write in chapters. I'm blessed if I know what function they serve in books for adults."
Pratchett was a lifelong defender of the fantasy genre, in which he worked rather exclusively, and which he, as so many of his peers, felt did not get the credit or respect it deserved. "Fantasy is about seeing the world from new directions." That it is often "unregarded as a literary form" is aggravating, he said, because "it is the oldest form of fiction. What were the storytellers of old doing when they talked about the beginnings of the world? They were weaving fantasies."
His obituary is perhaps best summed up with the words that he himself said in 2011, when he remarked, "I believe everyone should have a good death; the ideal death, I think, is what was the ideal Victorian death. You know, your [family] around you, a bit of sobbing. And you say goodbye to your loved ones."
Photo: AP