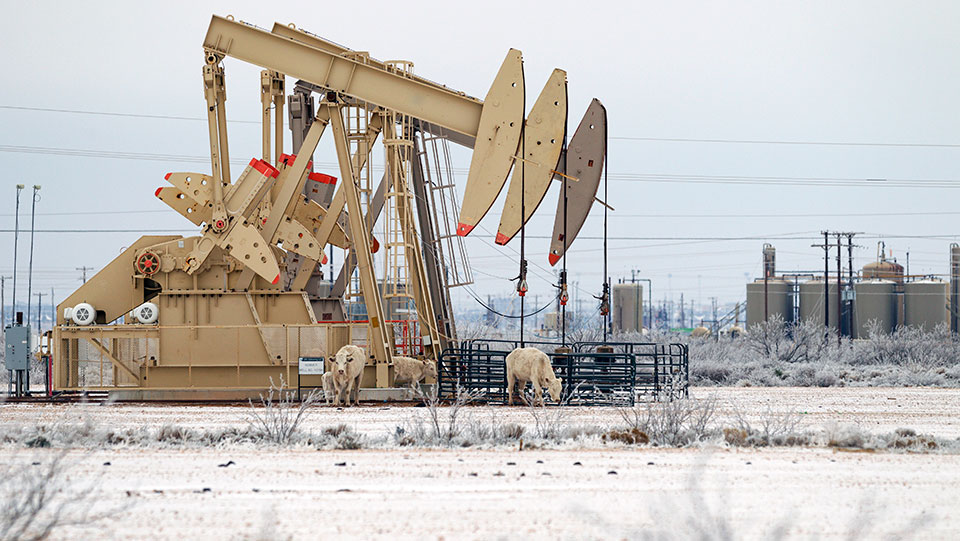 While Texans suffer from freezing temperatures and extensive power outages, frozen wind turbines are being used as a ploy to spread skepticism on the reliability of renewable energy.
This week, a relentless winter storm pummeled through parts of the southern and central U.S., causing people to crank their electric heating systems. In Texas, the energy demand became too high for its outdated electric grid, forcing the state to begin rolling blackouts on Monday, leaving more than four million Texans in the cold and dark, The New York Times reported.
So far, analysts say the grid system failed due to high electricity demand, pushing grid operators into worst-case scenarios. Other causes for the failed grid included fuel shortages as gas-fired power plants went offline while demand increased and frozen wind turbines.
Yet while some experts used the dire conditions to urge the state to adopt more climate-resilient energy systems, a few conservative commentators used the example of frozen wind turbines to encourage distrust of renewable energy systems in a state largely dependent on natural gas.
"Texas is frozen solid as folks are left w/ no power to stay safe & warm," Steve Daines, a Republican U.S. Senator from Montana, tweeted Tuesday. "This is a perfect example of the need for reliable energy sources like natural gas & coal."
 According to The Electric Reliability Council of Texas (ERCOT), which represents 90% of the state's electric load, wind turbine outages were responsible for less than 13% of Texas' lost generation. The majority of the power outages can instead be attributed to coal and gas, a local news outlet reported.
The Montana senator's tweet included a viral image of a helicopter spraying liquid to defrost a frozen wind turbine. According to the image's caption, fossil fuels powered the helicopter while the liquid it sprayed contained them. "Keep that in mind when thinking how 'green' windmills are," Rep. Lauren Boebert from Colorado tweeted, gaining thousands of retweets, Earther reported. This same image has been shared by Luke Legate, a prominent oil and gas consultant, Earther added, although it is misleading.
While helicopters are used to defrost wind turbines, the image is from Sweden in 2014, not present-day Texas, said Brian Kahn, managing editor of Earther. The photo is originally from a Swedish study on de-icing wind turbines using hot water. Now the image is being used "to argue against clean energy in the U.S," Kahn wrote. "It's a rather silly claim."
Wind turbines in Texas did indeed fail during the frigid winter temperatures, losing about 4.5 gigawatts of capacity according to the Times. But as of Monday afternoon, 26 of the 34 gigawatts of ERCOT's grid that went offline were from thermal sources such as gas and coal, The New Republic reported.
Cold temperatures are becoming less common due to climate change. But research suggests that as the Arctic warms, the jet stream will weaken, sending cold temperatures farther south. As a result, Texans are asking how their energy system can be more resilient to a changing climate.
Solutions include heaters that can help turbines operate in winter storms, on-site oil storage for gas plants, and backup power plants for emergencies. These strategies could make Texas' electric grid more resilient to severe weather caused by climate change. But baseless skepticism toward renewable energy is not making the transition any easier.
"That type of work and serious conversations about how to end our grids' reliance on fossil fuels —which, just to be clear, are severely underperforming during the Texas blackout—are vital moving forward," Kahn wrote in Earther. "Misinformation and whataboutism to score lazy political points as a humanitarian emergency unfolds are not."
EcoWatch