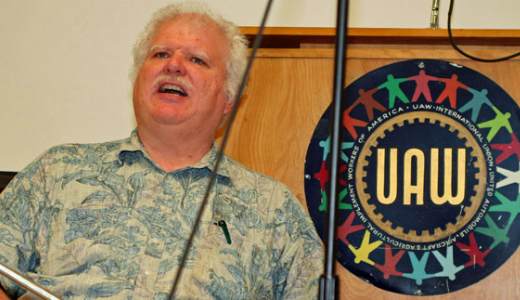 DALLAS – North Texas Jobs with Justice and UAW Local 848 co-sponsored a "Union Song Revival" in Grand Prairie July 24. Old and new union songs, poetry and information were presented to a group of about 50 people from all over the area.
Many of the participants may have begun like songwriter Jack Hardy, whose song "I Ought to Know" was sung by Lisa Markley early in the program. It includes these lyrics:
I ought to know the songs of Joe Hill
I ought to know Trotsky, Marx and Hegel
I ought to know about the Haymarket hangings
And the HUAC
This I ought to know
But I don't.
By the time the two-hour program was over, people knew and appreciated a lot more about the progressive history of unions and the common people of America.
Dean Reklaw sang his great parody, "Unemployment" to the tune of "Poison Ivy." His "Bring Back the WPA" was listed in the program, but he sang "Mister Boehner, Where Are the Jobs?" to the tune of "Mister Sandman." It was particularly appropriate in light of a national call for public actions August 8 on the slogan, "Where are the Jobs?" Here is the last verse:
Mister Boehner, where are the jobs?
Don't tell us jokes, you're no Calvin and Hobbes
We live on junk food; it's all empty calories
Who needs a tax cut when we have no salaries?
Johnny, we won't harass,
If you're not serious, you're out on your ass
Don't make us form angry mobs, Mister Boehner
Tell us, please please tell us, Mister Boehner, where are the jobs?"
The program included traditional union songs such as "Which Side Are You On" by Florence Reese and "I'm a Union Card." The latter is on a CD published by the Smithsonian Institute and was sung by its author, Kenny Winfree. The great union standup singalong "Solidarity Forever" ended the program to a great ovation.
Photo: Dean Reklaw singing "Unemployment" at the union song revival. Jim Lane/PW