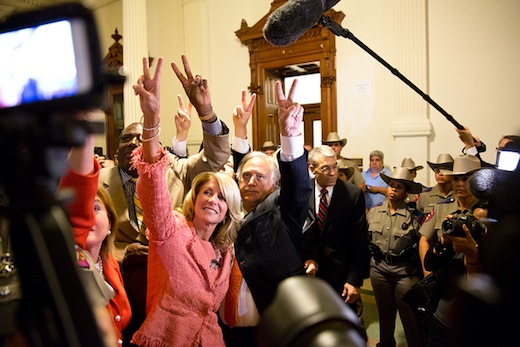 HALTOM CITY, Texas — State Senator Wendy Davis announced her candidacy for the Democratic Party nomination for governor of Texas on Oct. 3. Even while newspersons are giving her the most positive of possible coverage, they include estimates from political pundits and statisticians who predict, based on past election performances, that she will lose to her Republican opponent by at least 7 percentage points, and possibly as many as 17.
Progressive-learning Democrats don't agree. Over 2,000 of them, a majority female, packed into the coliseum to hear her long-awaited announcement. They had been hoping she'd run since she took national headlines with her stirring last-minute filibuster of an anti-women bill in the last state legislature. Davis' announcement was delayed by the long illness and eventual death of her father in Fort Worth.
Davis has a wonderful backstory. She told her supporters that she was a single mother living in a trailer park when someone suggested she start community college. Eventually, she took her law degree from Harvard, and then launched her political career as a Fort Worth city councilwoman.
In the state legislature, she won the hearts of women and progressive men with her uphill fights for education and women's health care.
Within hours of Davis' announcement, the Texas affiliate of the American Federation of Teachers announced their endorsement and the Texas AFL-CIO sent out a quick list of her legislative stances favoring labor. It is worth mentioning that she sponsored the Lilly Ledbetter Fair Pay Act on equal pay for Texas women and "buy Texas" legislation. She led the fight against budget cuts in education, against privatization of state jobs, and against payday loan abuses. She also voted to end human trafficking.
Texas' last Democratic governor was a woman, Ann Richards. Richards' polling figures took a steep climb when her male opponent made a chauvinistic joke about rape. Davis got a similar bump when her presumed Republican opponent thanked a supporter who called Davis a "retard Barbie."
Immediately after the U.S. Supreme Court gutted the Voting Rights Act, Texas Attorney General Gregg Abbott, who is expected to win the Republican nomination for governor, implemented voter suppression laws here. Texas is currently preparing to deal with its first election under these laws on Nov. 5. For most Texans, the ballot will list only nine unromantic constitutional amendments, but turnout and voter suppression will be closely monitored as harbingers of what to expect in the 2014 governor's race and general election. Major lawsuits against Texas voter suppression are ongoing and progressive organizations, including the Dallas Board of Commissioners, are trying to warn presumed victims in advance.
Republicans have run Texas since 1996 while the state demographics slowly transformed from majority white to "majority minority." In Texas parlance, we might say that Davis' announcement has made it a horse race!
Photo: Texas state Senator Wendy Davis waves to supporters during a July 13 state senate session on the abortion bill. (The Texas Tribune/Callie Richmond)