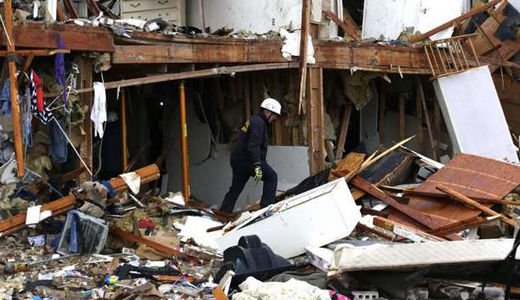 A fertilizer plant in West, Texas exploded on April 17, killing 15 and injuring hundreds more. Members of the International Association of Fire Fighters are on the scene, attempting to pick up the pieces after the devastating disaster that left some people missing, including a worker; a member of Dallas IAFF Local 58. People nationwide have responded to the tragedy with support and sympathy, and musician Willie Nelson, who grew up near West, has said he will turn an upcoming concert into a benefit show for victims of the explosion.
Nelson lives in Abbott, Texas – five miles north of West, where he said he still has family and friends. "Our hearts and prayers go out to the people of West," he said. "There are a lot of our friends and loved ones and neighbors down there. We talked to some of them and some of them made it out okay, but some of them didn't. But they're strong and they'll be back. It's one of those things you don't get over. But you will get through it."
Though the performance – scheduled for April 28 in Austin – was originally intended to be in celebration of Nelson's 80th birthday, the artist will now raise funds for victims instead.
"I'll be there, and my son Lukas, my son Micah, and my daughters Paula and Amy," he added. Originally, "it was set up as a birthday show. But since the West tragedy happened, we decided to start a benefit there and let other people join in. If they want to donate to the West Volunteer Fire Department, they can do so. That's where our proceeds are going to go on that day."
Currently in West, Hazmat teams from IAFF Locals 478 and 2505 (the towns of Waco and Killeen, respectively) are joining the firefighters and other emergency service workers in assessing conditions and addressing safety issues.
"People are devastated here," said Darryl Hall, a firefighter who lives in Thorndale, about 50 miles away from West. "It's hard to imagine."
IAFF president Harold Schaitberger remarked, "Our members are doing what they do best and are on the scene, making calm out of chaos by assisting their neighboring community. This is another situation where this country is counting on our first responders to be there, and our members never disappoint – they respond no matter the circumstances."
As of now, said Texas State Association of Fire Fighters president Guy Turner, "The severity of the damage remains unclear. We won't have a clear picture until the entire scene has been swept by emergency personnel."
The plant was owned by West Fertilizer, and had problems prior to this incident. In 2006, it was cited by the Texas Commission for Environmental Quality for not having a permit after a stench of ammonia emmanated from the plant. It was also issued a $2,300 penalty that same year by the EPA for failing to have a risk management plan in place.
Furthermore, the Occupational Safety and Health Administration had not inspected the facility in five years, as they are understaffed and underfunded nationwide.
Reporter Mike Elk remarked, "This kind of plant here, OSHA has not inspected it in five years. This is a non-union facility. The way OSHA typically works – as well as the EPA – is they get a call from a worker, and then inspectors show up [to look at] the plant, and they find the problems. When you have a non-union workforce like you had in this plant, that's a lot less likely, since many folks are scared of losing their jobs. If you look at OSHA's budget, OSHA is so severely understaffed. So there's some misplaced priorities."
Events such as this one may cause people to remember the words of right-wing politicians in the state who wanted less oversight from federal agencies – when in fact, too little oversight was one of the problems to begin with.
During his 2011 run for president, GOP Gov. Rick Perry had remarked, "I promise you one thing: I'll get up every day to make the government as inconsequential in your life as I can." A budget he had approved also cut funding for volunteer fire departments in Texas to $30 million from $70 million. As anyone can now see, a better-funded volunteer fire department could prove very important in a situation such as this. Certainly, those cuts were credited for worsening the wildfires that plagued Texas in 2011. The cuts, according to critics, had a direct negative impact on the state's ability to respond to disasters. And this, unfortunately, is the result.
Photo: A firefighter walks among the remains of an apartment complex destroyed by the Texas fertilizer plant explosion (LM Otero/AP).