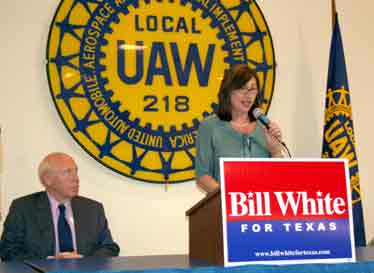 HURST, Texas – The 2010 election campaign is well under way among Texas unionists, even though they have traditionally waited until early September, and even beyond that in non-presidential years. Democratic gubernatorial candidate Bill White received a rousing union welcome at United Auto Workers hall here in the Dallas-Fort Worth area on May 28.
The president of the Tarrant County Central Labor Council organized the event from the council office in Fort Worth. The Communications Workers had a big group, and most area unions were represented, but American Airlines employees from the pilots, flight attendants and ground crew unions had the most numbers. The pilots and flight attendants are waiting for permission to strike under the Railway Labor Act.
When Association of Professional Flight AttendantsPresident Laura Glading introduced White, she said, "There is no question who the jobs candidate is!" The union hall belongs to production workers at Bell Helicopter in Hurst. White took note of that, saying, "American aircraft workers are the finest in the world."
All over Texas, local unions, central labor councils, and state union federation leaders are soliciting volunteers for a mighty effort in 2010. In the last two elections, and in special elections here and there, the unions have seen their candidates make steady progress against the anti-worker incumbents strangling state and local government. A particular target is Republican Gov. Rick Perry, who continues to embarrass Texas before the nation by defending British Petroleum (he said the largest oil spill in history was an "act of God") and by refusing to cooperate with federal efforts to ease the suffering of unemployed workers.
Texas unionists have a special reason to be enthusiastic this election season. Former top AFL-CIO leader Linda Chavez-Thompson is running for lieutenant governor, which is one of the two most powerful positions in state politics. The other most powerful is speaker of the Texas House. Texas AFL-CIO President Becky Moeller makes it a point to push the Chavez-Thompson campaign in every union meeting.
Photo: Association of Professional Flight Attendants President Laura Glading introduced Bill White at the UAW hall in Hurst. (PW/Jim Lane)