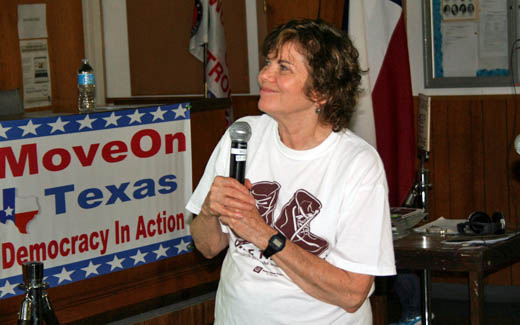 MoveOn's big conference in North Texas Mar. 15 decided to focus on the right-wing American Legislative Exchange Council which is planning its national convention here from July 30-Aug. 1.
ALEC brings together right-wing politicians and big-money corporations to write and promote anti-worker legislation throughout the country. It claims that among its most dramatic successes were the union-busting campaigns in Indiana and Wisconsin and the passing of "stand your ground" legislation in Florida.
MoveOn's all-day conference filled the union hall of the United Auto Workers, Local 276, the General Motors local in Grand Prairie, just outside Dallas.
Teamster activist Darryl Sullivan attended every session and stayed for the the process through which participants sift through all the issues discussed and choose a major project for the immediate future. He was pleased to report that his choice, fighting ALEC, won out.
Speakers at the MoveOn conference discussed a variety of topics including the extraction of oil from tar sands, renewable clean energy, fracking,diminishing water supplies, immigration reform, economic justice, civil rights, and getting money out of politics.
Bob Cash of Texas Fair Trade said he was very pleased and impressed with MoveOn's new petition-based approach to social change.
Stefanie Hamm, a member of TexasMoveOn.org, explained MoveOn's new approach. Rather than organizing through local councils, MoveOn now allows activists to set up on-line petitioning campaigns on issues of their choice. Lobbying, letter writing, telephoning, and street actions can then be called and carried out by the original petition creator, all using MoveOn's incredible on-line network with eight million members!
Photo: Stefanie Hamm. Jim Lane/PW