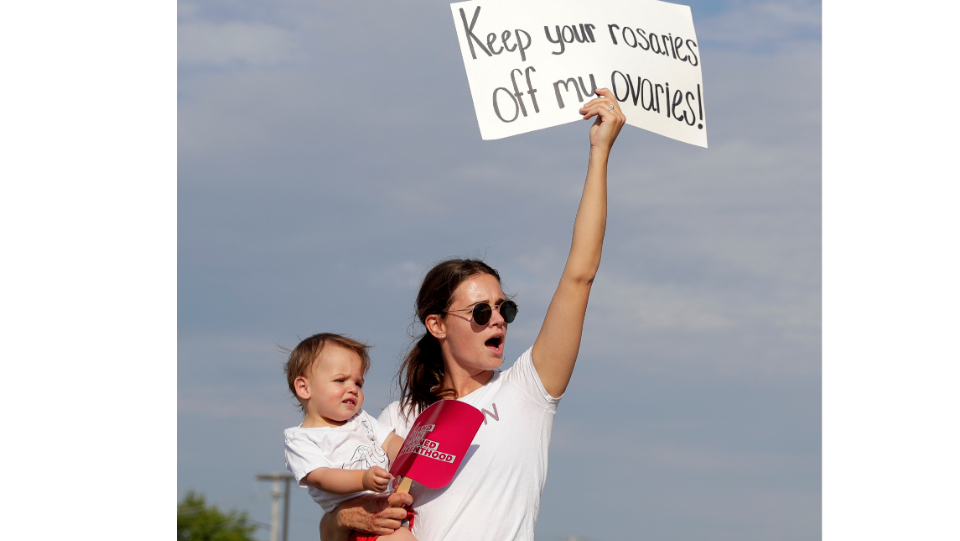 BEAUMONT, Texas—The Supreme Court decision to overturn Roe v. Wade has rocked the whole country, nowhere less than Texas, where in less than three weeks a trigger law will make providing, seeking, and receiving an abortion a first-degree felony. Nevertheless, at Roger's Park in Beaumont, at the intersection of Dowlen and Gladys, a crowd of an estimated 50 people gathered last Saturday to protest.
Beaumont, an oil city of around 120,000 people, is the only Democratic stronghold east of Houston. The peaceful protest, punctuated by chants and sign-waving, represented the largest protest noted in the city for some time. Despite a week's worth of heavy rains which caused minor flooding and muddy conditions that overwhelmed the community, pro-choice activists remained outside for two-and-a-half hours.
The protest was planned via a Facebook group and was joined by members of the Southeast Texas club of the Communist Party USA. According to local party member Richard St. James, the Communist club handed out 120 pamphlets and talked with the community about their concerns and fears going forward in Texas as abortion rights come under attack. Three individuals spoke to People's World on condition of anonymity about their experience and their reasons for coming out.
One man who was interviewed referred to the Supreme Court decision as "judicial gaslighting," and said he felt as though the justices were attempting to "brainwash" Americans and that it was "his duty to speak up about it." One woman said she was thinking mostly of her young daughter. She said she attended the event so that her daughter wouldn't have to in the future. The third individual, another woman, often led the crowd in chants and reported that this was her second protest, but this one had the largest turnout. She attended to "stand up for women's rights" and to "support women's decisions over their bodies."
The protest, albeit smaller than similar events in Houston and Austin, was met with overwhelmingly positive responses from drivers. Many honked in support, and at least one jumped out of their car to take pamphlets, give hugs, and pose with a sign. Only two expressed open disapproval from their cars before driving off, and one man knelt for a time, praying before departing to chants of "Get your rosaries off our ovaries" from the crowd.
Despite public support, notably absent were the Jefferson County Democrats, who were concurrently holding their county convention. Several protesters commented that the lack of response from local Democrats was disheartening, but St. James still viewed the protest as a great sign of solidarity in putting the focus on a crucial issue affecting the nation. "We [activists] are out here in the heat and the humidity alongside [the working women this affects], and always will be."