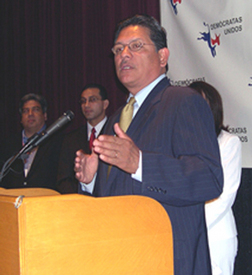 FORT WORTH, Texas — Democrats denounced Republicans over immigration policies as both state parties wrapped up their conventions. A high point came when 10 Latino state representatives organized "Democratas Unidas" and held their own press conference during the Democratic Convention here on June 10. In part, they were responding to a Dallas Morning News article that morning that claimed that Democratic gubernatorial candidate Chris Bell had little or nothing to say about the issue. In fact, Bell had denounced the Republicans for using immigration as a "wedge issue" designed to distract from the overall crisis in the nation and abroad.
The 10 representatives represented more than 150,000 constituents from Dallas to Laredo. Rep. Roberto Alonzo opened the press conference, but credited Rep. Rafael Anchia as author of the message presented. Beginning in Spanish then switching to English, Anchia began, "What I want to talk about is the stark difference between our party and the Republicans in terms of immigrants." He went on to blast the state Republican convention that concluded just a few days earlier in San Antonio. The Republicans talked about little other than immigration, and they adopted the most extreme right-wing version of "enforcement only" legislation as their program. Many of them denounced President Bush as too liberal!
Anchia, Alonzo and the other representatives said their program would keep families together, allow immigrants to earn citizenship, provide for health care needs and keep children in school.
Rep. Trey Martinez-Bishop of San Antonio had particularly poignant comments. He noted that the anti-Latino Republicans had met in his city's Henry B. Gonzalez Center. Gonzalez, who stood up for civil rights and progressive causes during his long 35 years in Congress, is greatly loved in Texas. Under the Republican proposals, it is questionable whether Gonzalez could even have been a citizen, as both of his parents were from Mexico, Martinez-Bishop said. He pointed out that the Republican conventioneers had gladly used restaurant and hotel services that are provided primarily by immigrants in San Antonio. "If they really want to protest illegal immigration," he said, "let them clean their own rooms!"
Martinez-Bishop talked about a Mexican family now living in San Antonio. Four of their sons had joined the U.S. Army. Three were still serving while the fourth was killed in action. He concluded, "How dare they vilify our heroes, how dare they accept our services and our hard work."
Responding to a reporter's question on the giant border fence proposed by Republicans, Anchia replied, "We would ask two things about the fence: we want to know how much it would cost and who's going to build it." When laughter subsided, he added, "We would probably need more undocumented workers to build it than we currently have available in the United States."
TOWN HALL May 2 – Confronting the COVID Economy: Women Fight Back