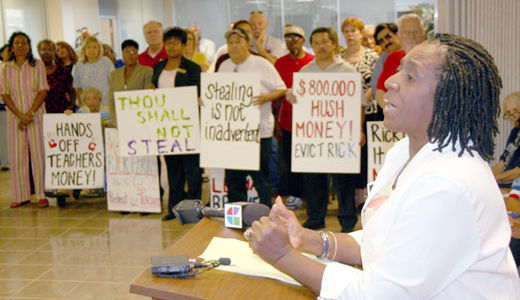 DALLAS – Texas teachers added their voices to the worldwide outrage over attacks against retirees at a rally here on October 25. Linda Bridges, Texas president of the American Federation of Teachers, called for the state legislature to investigate charges that investment decisions for the Teachers' Retirement System are being based on political influence rather than what is best for the fund and for teacher retirees. The allegations came from whistleblower Michael Green in an April, 2009, memo that recently came to light.
The Dallas Morning News has been explicitly charging Governor Rick Perry with allowing political cronies and campaign contributors to oversee parts of the giant retirement fund. The charges follow other articles revealing a correlation between Perry's campaign contributors and the people who receive grants from two big taxpayer-financed slush funds that he controls.
Linda Bridges went on to demand that the legislature pass a bill allowing retired teachers more say-so in selecting the funds' trustees. The last session passed such a bill, Bridges said, but Governor Perry vetoed it. Bridges said that Governor Perry appoints the trustees!
Other leaders of the teachers union pointed out that retired teachers in Texas have received no increase for ten long years. While more than 50 supporters shouted their encouragement, teachers union leaders listed the grievances of retired teachers and demands for redress. They also thanked the Communications Workers, Auto Workers, Steelworkers, and Food & Commercial Workers for sending people to the rally.
Gene Lantz, Secretary of the Texas Alliance for Retired Americans, gave a short synopsis of protests over retiree benefits around the nation and the world, including street riots in Greece and a general strike in France. "We are part of a worldwide struggle," he told reporters.
Photo: Teacher union leader Dorothy Isaac demanded fair treatment during retiree protest. Jim Lane/PW