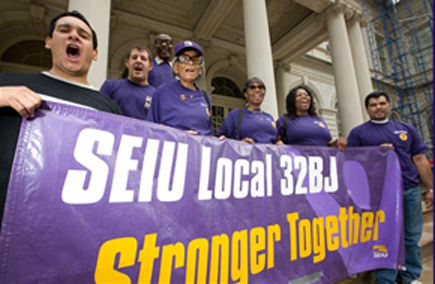 NEW YORK-From the dawn of capitalism, working people have had to battle constantly for better wages, working conditions and quality of life. Usually the bosses own most of the communication tools to spin that battle in their favor.
But now, with the Internet and digital revolutions, workers have gained powerful new tools against their bosses. And one example comes from SEIU Local 32BJ, New York's building workers union, as they prepare for a potential strike. Some may call it Labor 2.0.
Union members are in a battle with the Realty Advisory Board to secure a fair contract. The Realty Advisory Board represents the private building owners. The cost of living in New York City has continued to rise, while workers' wages have been stagnant. But the RAB has balked at wage increases, as well as improved health and pension benefits.
On April 2, union members voted to give their negotiating committee the authority to call a strike-which would be the first since 1991-if an agreement isn't reached by April 20.
But this time-honored and tested tool of battle is being supplemented by modern technology. 32BJ members recently received an e-mail from their union's president, Mike Fishman, urging them to keep informed on late-breaking developments-by text message.
"As we head into the most critical days of bargaining," Fishman wrote, "make sure that we can contact you with urgent updates." The message went on to say that workers should text "32BJ" to 787753. After doing so, workers would begin to receive updates as they occur, directly on their phone.
Worker-to-worker contact is still important and texting can help. Fishman's note asked workers to "make sure everyone in your building is signed up for texts so you all have up-to-the minute information."
The slightly more traditional e-mail campaign is also in use. 32BJ, representing about 120,000 workers, including 30,000 in private city buildings, is asking its supporters to go to www.standwithbuildingworkers.org to sign a letter to the RAB demanding that the board negotiate in better faith.
Photo via www.seiu32bj.org.