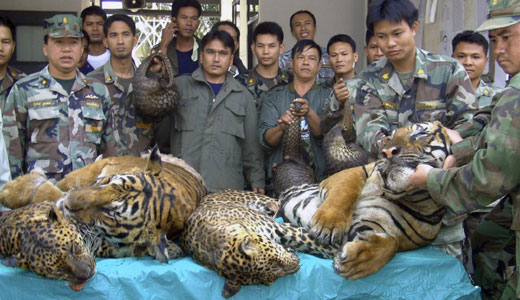 Bangkok police raided a house on Saturday, where men had slaughtered and carved up dozens of endangered animals, said a report by Time. As part of an intense crackdown on the illegal wildlife trade, eight men – including the alleged ringleader – were arrested.
Policemen first grew suspicious when they spotted a man walking the streets with blood on his hands. After being questioned, that man led them to the house where the animals had been butchered. The remains included two tiger carcasses, dead leopards, and body parts of zebras, crocodiles, buffaloes, and an elephant. The goods were going to be smuggled into China.
The horrible scene came a week after rumors that national park rangers were killing elephants and selling them to a "bush meat" restaurant, as well as selling their young to animal shows marketed toward tourists.
Thailand's developed infrastructure, in combination with substandard law enforcement, typically makes for almost effortless smuggling, said the report.
Saturday's crackdown, however, was an example of how that seems to be changing. Major police operations in Thailand and beyond – coordinated by Interpol's Environmental Crime Program – have begun to use increased force against wildlife crime networks since December of last year.
"A decade ago, the Thai police wouldn't even have considered what was going on in that house a crime," said Patrick Brown, a Bangkok-based photographer who documents the illegal wildlife trade.
Also late last year, 50 representatives from customs, police, and special agencies from 18 countries across Africa and Asia attended the first international workshop. This was in accordance with Interpol's program, to form a network of controlled delivery units for wildlife law enforcement. Such units have already been used to investigate drug smuggling, and will now be utilized to look into the smuggling of wildlife. This will also give authorities an opportunity to gather evidence at key checkpoints, to eventually identify and prosecute the ringleaders of smuggling operations.
But even with developments like these, it doesn't mean things have gotten better, Brown warned. "It has only pushed the trade deeper underground," he said, "rather than having reduced or ended it."
The global trade in endangered species and wildlife is one of the most profitable criminal enterprises, estimated to be worth around $10 billion a year.
"An ounce of rhinoceros horn sells for one-and-a-half times the price of gold," said Brown. "If the penalties for trafficking an ounce of rhino horn were the same as for an ounce of cocaine, it might make a difference, but the profits are still so huge that it will attract criminal networks."
And the illegal wildlife trade doesn't end in restaurants and tourist outlets – it extends into the illegal pet trade, a fierce criminal network in its own right. Australian authorities have been working with Thailand to crack down on this aspect of the problem, as well.
Onkuri Majumdar, an officer with anti-trafficking organization Freeland, remarked that the increasing desire for exotic pets has exacerbated the issue. "It's like owning a piece of art illegally," he said. "It's the thrill of owning something no one else can have or see. So we're seeing lots of rare reptiles – especially tortoises from Madagascar, some Australian reptiles, and any kinds of animals which are not [ordinarily] available."
Australian Customs is working with Thailand, particularly because its city of Bangkok is a major trafficking hub.
In addition to the recent raid there, authorities described a past year full of problems, including an incident where tiger cubs were camouflaged in a shipment of plush animal toys, which tried to pass through the city's airport.
Brown said issues like these are becoming harder for even the police to ignore, and that something has to change before it's too late.
"If we lose our wildlife," he said, "we lose our environment. And if we lose the environment, we lose everything."
Photo: "Thai navy officers and forestry officials display dead wildcats seized after a raid. The tigers in particular are at risk, due to poaching." AP Photos