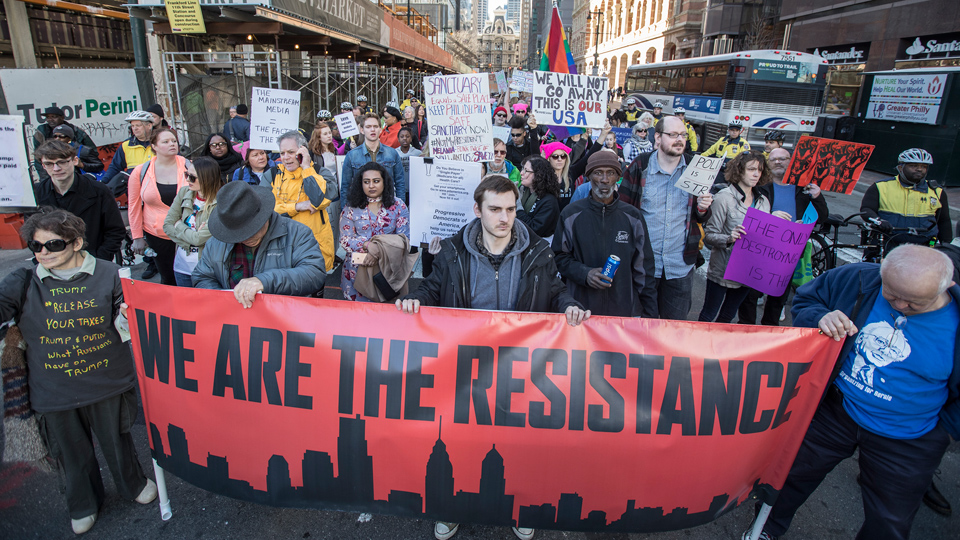 It's been mere weeks since Donald Trump was sworn into office as president. America is in shock as Trump tries to run the country like a corporation. He's appointed a Cabinet reflecting his vision of America — one that is white, rich and privileged, that believes what is good for big business is good for our citizens.
An America without a social safety net, from the Affordable Care Act (Obamacare) to defunding Medicaid and denying benefits to the poor and disabled. An America that is very conscious of the color of one's skin, the God we choose to pray to, and an America that turns its back on the notion that we are a nation of immigrants, denying tens of thousands who come to our shores in a thirst for justice, dignity and opportunity.
His is a white man's America that turns back the clock to a time when women are denied opportunity and are objectified; an America that rolls back programs and policies that eliminate barriers to the LBGTQ community.
What a turnaround from just eight years ago, when President Barack Obama was handed an America in the grips of a great recession, with millions without healthcare. His presidency focused on lifting Americans up: Creating infrastructure projects to rebuild America, providing tens of thousands of jobs driving America out of an economic ditch to the road to recovery while providing healthcare to millions. His policies and advocacy provided greater opportunity for women and communities of color, took major strides in bringing undocumented workers out of the shadows, and broke down barriers for the LBGTQ community.
But for too many, electing America's first black president and implementation of programs and policies that were in stark contrast to their beliefs, gave rise to a new movement, the Tea Party. State by state, their movement grew, passionate and aggressive in their tactics.
Their agenda is small government and turning back the clock to the 1950s where women were in the kitchen, communities of color "knew their place," and if you were LBGTQ, your voice, rights and identity were stifled by a closet door. They gained power, dominating the 2010 election by defeating establishment Republican candidates in primaries, and electing them to the 2011 U.S. Congress.
As a result, what we see today in the streets, on the steps of state capitols, and in Washington, D.C., is an insurgency of epic proportions. People from all walks of life have created a grassroots movement that within one day of Trump being sworn in as president, marched in millions through the streets of America.
When Trump issued an executive order banning immigration from selected countries, thousands of people expressed their outrage at airports across America. When a federal judge issued an injunction halting the executive order, thousands went to airports again — this time welcoming immigrants and refugees.
This new movement is the opposite of the Tea Party, which wanted to restrict government and limit human rights. This is a movement of compassion and love, strong, powerful, and quick to react.
If this grassroots movement can be maintained and grow, the 2018 election will bring change.
We will elect candidates to local, state, and federal offices who share a vision of an America that takes care of its people, welcomes immigrants and refugees as an American asset, and eliminates barriers to women, communities of color and the LBGTQ community; an America that provides a quality education for our children and grandchildren, and reestablishes the American Dream, where each generation achieves greater prosperity than the last.
It is within our grasp if we seize it.
Thank you, President Trump. You have accomplished in a few days what others couldn't have accomplished in a lifetime when you awakened the American Peoples' Movement and filled us with resolve and purpose.