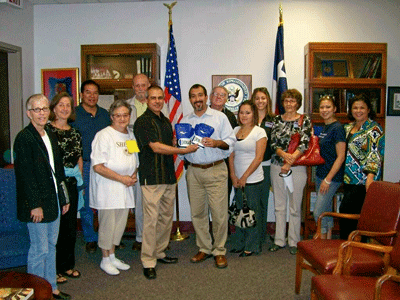 Thanks for fighting
Here is a photo of Leo Munoz of Congressman Charlie Gonzales' office accepting boxing gloves to keep on fighting for health care. Congressman Gonzales has been a strong supporter of the public option throughout the summer and has been very outspoken and clear about his message. Representatives giving the award are Health Care for America Now, SEIU, MoveOn, people of his district who have demonstrated for health care reform throughout the 100 degree summer and ever soaking wet days this fall. Events like this were scheduled all over Texas to thank the congressmen who supported the health bill that was just sent to the Senate.
Vivian Weinstein
San Antonio TX
More nuance
I have great respect for Dr. Don Sloan and his long work, on the ground, fighting for health care for all Americans. But I felt the need to write in, touching on his recent letter, where he says many on the left have "huge disappointment with the present administration" and part of the reason for this disappointment is "despite party label and intent [Obama] is still, a capitalist!"
That should not be a revelation to any of us.
He goes on to state "having a Democrat instead of a Republican makes little difference."
Possibly not from where he's sitting, but from where I'm at, the new administration is fighting with us to reverse the theft of pensions and health care the Bush regime forced on us.
There is, unfortunately, no recognition of any balance of forces between progressive and reactionary/pro-corporate forces, no recognition of the very real and substantial differences between Republican and Democratic forces in the Congress or even the differences within the Democratic Party.
Beyond this, what is of central importance and what Sloan is missing in his letter is the key role of the mass organized people's movement in pushing to put forward, and expand, the reform agenda.
As Sloan states, "the struggle is far from over!"
I know that, regardless of his concerns or disappointments thus far, he will continue to fight the good fight, for the people, for health care for all.
I certainly hope that he also will continue this discussion of strategy in this time of crisis. At this crucial time, we need unity of all people's forces to win the present health care fight, as well as push forward toward the goal of a single-payer system for all. I'll only ask that he also take a much more nuanced, educated, look at the present struggle.
Bruce Bostick
Columbus OH
Full circle
Well, we've come full circle since the day I found a copy of the Daily Worker in the hiring hall of the Marine Radio Operators Union in 1946. It was a daily then and a daily now. The king is dead; long live the king. A big round of applause to all of you who brought THE people's paper into the 21st century! Cordially and fraternally,
Ray Davis
Zapopan, Mexico
More, more, more
I am pleased that the weekly downloadable version of People's World is already available; it is very accessible and easy to print out. But at present it is four short pages and hardly measures up to the content and quality of the hardcopy print version of the paper I have been subscribing to for years. I will be able to receive my newspaper much quicker and reliably now; but I hope that when the print version disappears in a few short weeks that the online downloadable version is expanded, including especially the letters from readers and the World Notes section.
Also, I have always been frustrated by my very deficient Spanish and my inability to read much of the interesting-looking articles on the three print pages of the Mundo Popular. Hopefully you will give thought to providing translations of all articles into both languages when you go completely cyber. Your friend,
John LeRoy
Phoenix AZ
Thanks for raising consciousness and doing such wonderful work for People's World. I use it in the Latin American Studies class I teach and never throw away a copy. I leave them at bus stops, universities and libraries. Recycle to a friend!
I particularly enjoy World Notes. I've spent years in Latin America on Fulbright Scholarships and personal travels. As a result, I've written many poems about the workers' struggle for justice.
Keep up the good work. Best wishes,
Brian Fitzpatrick
Lakewood CO
Obama and Bush same on Cuba
Re: "Obama peace prize is wise and timely decision," there is no doubt that Obama is not exactly a follower of the George W. Bush ideologue, but analyze the Barack Obama philosophy of what he has said when running for the presidency.
Author Juan Lopez looks at the Obama election as a break through of the past and a "huge opening for progressive mankind." True, it is a breakthrough and it could be a huge opening for the future, but so far it is not. President Obama has treated Cuba nastily up to now. His actions are still following the Bush line, both in foreign policy and his treatment of Cuba.
The conduct of the U.S. government since October 2008 until May 2009 confirms that the newly elected administration has not taken one step to put and end to the economic trade and financial embargo it has imposed on Cuba. In fact, the U.S. has taken an opposing position voting against lifting the embargo. The general assembly voted 185 to 3 to lift the embargo.
Barack Obama please talk the talk, please walk the walk and "let the Cuban people go."
John Gilman
Milwaukee WI
Photo: Vivian Weinstein