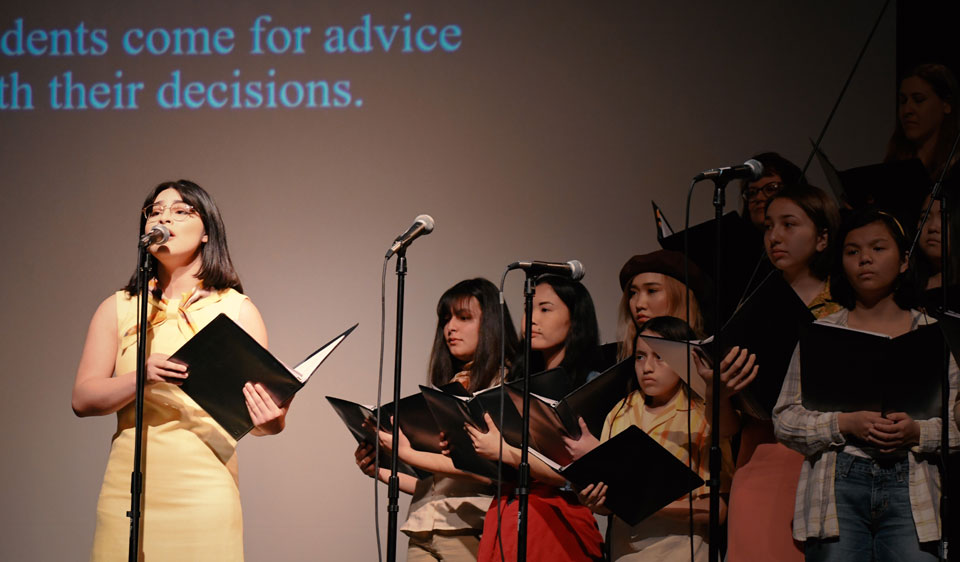 VAN NUYS, Calif.—What if you attended a high school where you were forbidden to use your own native language (even though it's one that was taught as a subject there)? Where you were pushed into home economics, typing, and shop, and discouraged from pursuing science or the arts? Where none of your history was taught? Where none of your teachers looked like you? Where you weren't expected to succeed, or even graduate?
That's what public schools were like all through the 1960s for kids of Mexican and other Latin American backgrounds. (The same could be said of predominantly African-American schools at the time as well.) The school system served as a powerful enforcer of the dominant racial code, trying to make sure that those kids would grow up to be farmworkers or gardeners, domestic servants, seamstresses or soldiers like their parents. "Americanized" out of their cultural traditions, food, language, and environment. Exceptions were notable and rare.
By 1968 L.A. high school students had had enough. Over 20,000 of them walked out of their classrooms to demand change. They were a significant stream of the new Chicano civil rights movement.
Walkout: Past, Present, Repeat is an original oratorio based on the 1968 protest, written by 85 students from Van Nuys High School's Vocal Ensemble and Bella Voce ensemble. Together they chose the subject, wrote the text to the work's 10 movements, and composed the music, consisting both of choral passages and individual solo voices representing either real or symbolic figures of the time. Walkout not only addresses the historical injustices but also refers to current events, such as the gun control and climate change movements, in which high school students are playing a visible role.
The Los Angeles Master Chorale (LAMC) is the institutional force that moved this new composition into fruition (heard at its March 1 premiere for fellow students at Van Nuys High School), though its Oratorio Project. Previous efforts that we have covered include a combined high school oratorio on the World War II-era concentration camps for Americans of Japanese descent, and a collective grammar school work on the theme of math and science.
This project comprised an artist-in-residency program in the school that began at the beginning of the school year, in which three teaching artists worked with the students: Saunder Choi, a young but already accomplished L.A.-based Filipino composer; Alice Kirwan Murray, who taught performance skills and techniques; and lyricist Doug Cooney, who helped elicit ideas and lyrics. Together with the students, they created a vivid, 40-minute-long work that tells a dramatic story with vernacular, and often poetic words. As many as 23 individual soloists received vocal coaching for these two performances (the second took place March 2 and was open to the community).
In addition, to strengthen the students' voices, an octet of LAMC singers, two in each vocal range, salted the chorus, helping them to stay on pitch and rhythm and demonstrating proper vocal technique.
Brianne Arevalo, the school's choral music director, led the entire ensemble, which also included a 14-piece student orchestra with Mr. Choi at the piano. Lesili Beard, director of education for the LAMC, was the general producer of the event.
A short video shown before the first downbeat revealed how the oratorio got started and how much of an impact it had on the participants. Many of them knew nothing about this history before they began. Part of the project involved hearing directly from people who had walked out of their classes more than 50 years ago and researching the visual imagery that survives from the protests. This research was also important in creating indications of costumes for the soloists, which featured, on some of the student activists, the famous "brown berets" of the movement. Other members of the chorus wore formal black concert attire.
The uplifting overture signaled that this was going to be a work of importance, with civic gravitas. It almost recalled the soundtrack of a 1960s educational film. Overhead and behind the performers, video projections showed beautiful militant photos of the period and provided the full text that audience members could follow.
Watch and learn
The first section, "Walkout," defines the problem of the piece: racial oppression. "Walkout! Walkout! What do we want? Equality! When do we want it? Now! Give us the education we deserve. Give us the right to learn…. The classroom feels like a cage. The teachers treat us like criminals. They hold us here, trapped, with no future. But they don't know how I watch and learn. Watch and learn…. I don't want to lose my language. I want to learn my history. I want to see Mexican food in the lunchroom. I want my education and my dignity."
In "Better Than You," a bright student, Paula Crisostomo (Jessica Turcios), speaks up. Her teacher, Mr. Mitchell (Adam Ruckman), has just insulted her by saying, "Oh, Paula. Why do you bother? You're only going to be pregnant by summer like the rest of your girlfriends." She launches into an aria: "I thought this was my teacher; I was his student but he only sees me as an outcast, worth nothing. This man cannot teach me. What does he know? I will have to teach myself. And I will grow. I will be a teacher. And better than you. I have hopes. I have goals, things I want to be. My students will work hard and be allowed to dream."
Movement 3 is about the school's insistence on speaking only English. Teachers called Spanish a "dirty" language, contrasting in high relief with what the kids knew as the warm, supportive language they heard and spoke at home. "Language holds me close to my family. Mi lenguaje me acerca más a mi familia."
In "We Will Rise," the Brown Berets are eager for action but are afraid that no one will follow and their plight could get even worse. Here, the rare Chicano teacher in the L.A. teacher corps, Sal Castro (Darian Calderon), has an aria: "Stand together, brothers and sisters! You are not alone! As they try to tear us down, we will fight for our rights and unify the Chicanos! You may be silent but I choose to speak out. You may sit around but I will stand. You sit and talk but I will stand and act." Historically, Castro was fired from the faculty for his role in supporting his students but later reinstated after widespread protest.
"We Rise, We Walk" takes place in the desert, a scene of border-crossing immigrants (Stefanie Santos, Victor Martinez and Rafael A. Gómez) which ties together in one historical-geographical fabric the past (perhaps in the family histories of some of these choral singers) and the present: the walk out of rural poverty, the Walkout from oppressive schools. "I had a paper in my pocket. With the name of my uncle. The paper is lost. My identity with it. Parts of me are forever left behind. The further I walk, the more I lose hope. In this desert wind, I hear my soul crying…. I have been walking for miles, for days, for weeks. When I see my mother's smile, I stay tough and determined. I can't think about being caught at the border. This is everything I've got. Please God, don't let me be separated from my mother…. For months on end, for endless days I struggled, yet I survived. With little more than the clothes on my back. The sky is blue. My life renewed. Is this the end of my walk?…. One step. Another. We do our best. We try to survive. Our futures are not set in stone."
The walkout is on! "Viva La Raza! Somos Latinos! Viva La Raza! Chicano means power! Viva La Raza! We stand together. La Raza Cósmica!"—as photos of the marchers appear on the screen, complete with a poster of Che. "I've been told over and over that I'm wrong for my culture. Wrong for my accent, wrong for my parents, wrong for my race. I'm wrong to be different. But I'm not wrong." Here, really for the first time in the oratorio, identifiable Latino rhythms are heard in the music—I had been missing them!
"The Aftermath" (Part 7) speaks of the immediate period after the walkout. On the surface, nothing had changed. But in reality, everything changed: "Their demands are met with disappointment. Empty promises. Nothing changes. In time, the walkout will be seen as uplifting. Latino students went to college and earned degrees…. We see a change when we decide to be the change. Fight for what we believe in, and do not back down. We are the ones who think and take action. We are the ones striving for a change. Our legacy will not be kicked (to the curb)."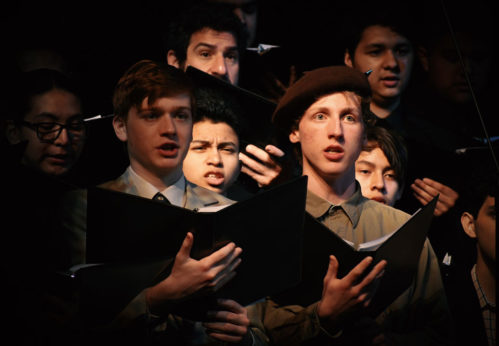 Movement 8, "When Will We Learn?" is set at the March for Our Lives in Washington, D.C., in 2018 (mistakenly referred to in the projected libretto as "The March for Life," which is the big annual right-wing anti-abortion rally). Florida's Marjory Stoneman Douglas High School pro-gun control student Emma Gonzalez (May Nguyen), she of the famous Cuban flag patch on her military-style shirt, sings: "We are not a statistic. It happened to us. A normal school day. I saw it all happen. I hid in the auditorium. Silent witness. We were just kids. Now it's not so easy. No one should have to go through what we did. People are dead! Do something! It's time to do something."
The oratorio begins to sum up in Part 9, "Past, Present, Here Again," reflecting on how history is remembered, and how selective memory can be: "Our story is not finished. Even we in this moment will become a memory." I found some of the most interesting choral music in this part, with the use of aleatoric phrases and murmuring, ghostly sound textures. A reprise of "When Will We Learn?—this time with the voice of Florida student David Hogg (Enrique Berganza)—concludes the oratorio, the full choir once again echoing one of the great protest songs of the 1960s, "Where Have All the Flowers Gone?" "It's time. Do something. Tragedies become normal. We want to feel safe again. Safe to pursue our education, our lives. A scream in the streets. We shout and no one listens. When will we learn? When will we learn?"
A surprising touch came at the end, after the soloist, the orchestra members, the chorus and the conductor all took their bows: The chorus came back with a few final bars of "Viva La Raza!"
At the conclusion, I asked Ms. Beard why there was so little Latin musical and rhythmic content to this work that textually and historically was meant to lift up Latin culture? She assured me that it was the students themselves who conceived of both the text and the music, with only help, but not interference, from the LAMC teaching artists. I wonder if the students had been exposed to the rich repertoire of Latin American choral writing, that might have helped them set their own work within that continuum.
That comment aside, all power to Los Angeles Master Chorale for sustaining this critical program in our schools—and for helping to build future audiences for great choral music!