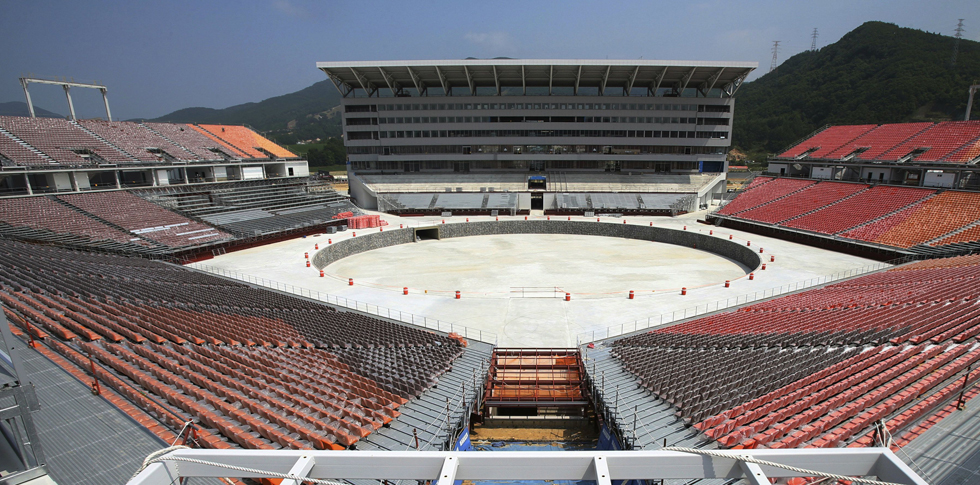 The 2018 Winter Olympics are officially underway. A unified Korean team marched out together carrying their nations unification flag, lit the torch, and created a historic moment of diplomacy for a nation politically divided since 1945.
South Korean President Moon Jae-in even referred to the 2018 games as the "Olympic Games of peace," and there is renewed hope that a unified Korea is possible.
How times have changed.
Back in 1988, South Korea hosted the Summer Olympics, where the world saw the last Olympic games for the USSR and East Germany (the German Democratic Republic), and a boycott by Democratic Peoples Republic of Korea (North Koreaa), Cuba, Ethiopia, Albania, and Seychelles.
While we watch the world's top athletes compete for gold, we are also watching a fierce competition between sports and politics—whether we know it, try to ignore it, or continue to say that there's "no place in sports for politics."
The politics
The Russian Federation flag was notably absent at the parade of nations during the opening ceremonies, and for good reason.
The International Olympics Committee banned the federation from the 2018 games after their investigation found a widespread doping system was in place during the 2014 Sochi Olympics.
But, you might have seen athletes competing for the mysterious nation called "OAR," well, it just happens to be Russia in disguise. Around 100 Russian athletes were given clearance to compete as "Olympic athletes from Russia." Such a light punishment highlights the IOC's hypocrisy, double-standard, and is a slap in the face to all clean athletes.
Vice President Mike Pence—who staged a walkout of an NFL game last season because of players taking a knee during the national anthem—refused to stand and recognize a united Korea.
"Our objective here today is to stand with our allies. But it is also to stand up for the truth. And to recognize that whatever images may emerge against the powerful backdrop and idealism of the Olympics, North Korea has to accept change," said Pence while visiting a South Korean naval base before the opening ceremonies.
It would be foolish to think that the world didn't notice Pence's hypocrisy.  I did, and it is not only shameful but embarrassing. Pence offended the host country, did not "stand with our allies," and showed Americans that this administration will choose petty politics over diplomacy.
Team Pence made it worse by using patriotism to justify the move. A spokesperson tweeted out that Pence would rather "stand and cheer for U.S. athletes" than recognize "the most oppressive regime on earth" – the expected tactic to divert attention from his poor manners.
Personally, I don't believe anyone watching would see Pence standing as recognizing North Korea, even if that is how people saw it, who cares? International diplomacy is tricky. And as far as politicizing the event goes, all blame can be placed on Trump and Pence. They tried to upstage and take attention away from North Korea and failed.
Hell, even Japanese Prime Minister Shinzo Abe, who shares the American skepticism of inter-Korean relations, stood, clapped, and greeted Kim Yong-nam, President of the Presidium of the Supreme People's Assembly of North Korea.
Ah… what political drama during such a great sports event.
But politics isn't the only ugly side of the Olympic games, in fact, it plays a relatively small role.
The harsh truth is that behind the pageantry and positive optics, host cities regularly lose huge amounts of money on the games, build enormous stadiums that will have no use or value afterwards, and governments often force residents out of their homes and businesses to make room for the Olympic Games.
During the 2008 games in Beijing over 1 million people lost their homes; over 60,000 Brazilians were evicted for the 2016 Summer Olympics in Rio. Not to mention the economic toll cities face as government subsidies are used to finance the games—similar to what we saw during Super Bowl 52, and when local governments finance the construction of sports stadiums. Government subsidies usually cause more harm than benefit, and most of the jobs promised by such ventures end up being temporary or low-wage.
The City of Los Angeles, who hosted the 1984 Olympic Games, is the only city in recent history to avoid massive financial loss. Their Solution: relying on private funds for the Olympic Games instead of government subsidy.
It's a shame that the IOC and international community turns a blind eye to the pain workers and residents feel when the Olympic Games come to town. And unless we hold them accountable and responsible I don't see them changing that position.
Maybe it's about time the Olympics build themselves a permanent home and stopped extorting money and incentives from potential host countries.
Until that happens, I don't plan on watching.