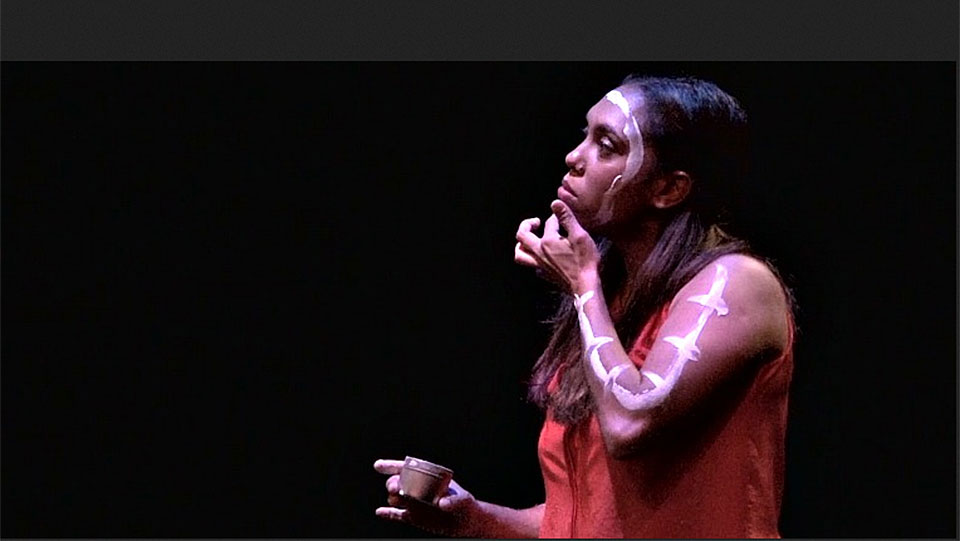 LOS ANGELES—One of my big bugaboos as a cultural historian and critic is originality. Today's spate of sequels, remakes and copycatting of content from one medium to another usually rubs me the wrong way. But as soon as the curtain lifts at the Skylight Theatre, The 7 Stages of Grieving kicks off with something most American audiences are likely to have never seen before in all of their theatergoing. Phosphorescent rocks glowing in the dark are poured onstage, the only thing visible onstage in the gloom, forming a circle around a mound of dirt which we glimpse, once the lights are turned on.
We also see our storyteller, Chenoa Deemal, a full-figured, pretty, youthful brown-skinned woman with long straight hair in a colorful dress. A sort of Down Under counterpart to African griots, Ms. Deemal proceeds to lead us through seven vignettes that shed light on the Aboriginal experience, after she has recognized the Traditional custodians of the land here in Los Angeles—the Gabrielino, Tongva, and Kich tribal peoples.
To honor Indigenous Peoples Day (formerly Columbus Day) Skylight Theatre presents The 7 Stages of Grieving, a one-woman show dramatizing the history, culture and current state of being of Australia's Natives, the Aboriginal and Torres Straits Islander peoples that has toured throughout Australia, as well as Montreal and London.
Deemal is​ from the Thitharr Warra clan that is part of the Gugu Yimithirr tribe who reside in and around Hopevale, north of Cooktown in the Cape York Peninsula of Australia. This remote part of Queensland is a 23-hour drive by car to Brisbane. Grieving's award-winning co-writers Wesley Enoch and Deborah Mailman (who is also a stage and screen actress, as well as performing Grieving for the Sydney Theatre Company) are also Indigenous Australians. All this is important because, in stark contrast to stage and celluloid stereotypes and misrepresentations, self-determination means: The self (not outsiders) determines how s/he is presented.
The first vignette Deemal enacts deals with the death of a relative. There's nothing singular about the grief brought about by a loved one's dying, which subtly reminds viewers of the universal nature of human existence. However, it can be argued that whereas Westerners are future-looking, Pacific Islanders and Aboriginals tend to look more to the past, back to their ancestors. Grieving proceeds to dramatize how British colonization disrupted this living link from one generation to another, and deals with the theme of conquest. As if what we now call Australia was a "Terra Nullius" or unoccupied land, as the early British conquerors and their convicts maintained, rather than a continent already populated by Aboriginals.
Exploring their dispossession, like a Down Under Anna Deavere Smith, in various vignettes the actress brings vividly alive harrowing tales of children being torn away from their parents by a paternalistic white state to be "educated" Western-style. If North America's First Peoples can relate to that harrowing history, African Americans can share outrage and solidarity with Aboriginals confronted by police brutality and the school-to-prison-pipeline. Aboriginal Lives Matter, too, and Ms. Deemal singlehandedly enacts mass demonstrations, marches, and protests with some bravura thespianism.
But here's something that America's Natives and Blacks won't readily be able to relate to Euro-Australians officially apologized to the Aboriginal people. Can you imagine President Donald "Very-fine-people-on-both-sides" Trump saying "I'm sorry" to tribal peoples for genocide or to African Americans for slavery? I didn't think so.
(In fact, early in his presidency Bill Clinton came to Hawaii—I was there at Waikiki Beach with CNN's Wolf Blitzer and thousands of Hawaiians when Clinton spoke—and he later signed what came to be known among Hawaiian nationalists as "the Apology Bill," a resolution expressing regret for the U.S. role in overthrowing the Kingdom of Hawaii in 1893. However, talk is cheap and a quarter-century on not a single solitary acre of stolen land has been returned to the Aloha "State's" landless, dispossessed, often homeless Indigenous people.)
Grieving includes occasional interludes featuring a recorded soundtrack and projections, but it's mainly Deemal's show—and what a marvelous job she does. Throughout the play she makes uses of that mound of Earth, expressing visually how important the land is to Native peoples.
Presumably white Australian Jason Klarwein, artistic director of Queensland's Grin & Tonic Theatre, ably helms this production that bestows so much insight into and light upon the struggles, griefs, and the joys, of the Indigenous people of Oz, of whom most Americans are probably unaware. But there's a lot more hopping Down Under than Crocodile Dundee and kangaroos, and the short, sweet but to the point Grieving, which is presented without intermission, does an excellent job in introducing us Americans of all ethnic backgrounds to the Aboriginal people. The "fair dinkum" Grieving is highly recommended for those who love great, thoughtful theater and multi-culti awareness and sensibility. Brava!
United Stages and Skylight Theatre Company present the U.S. premiere of Grin & Tonic Theatre's The 7 Stages of Grieving at 8:00 p.m. on Thurs., 8:30 p.m. on Fri. and Sat., and 3:00 p.m. on Sun. through Nov. 24 at Skylight Theatre, 1816½ N. Vermont Ave., Los Angeles 90027. Tickets may be purchased online at: http://www.SkylightTix.com or ​www.unitedtix.org or via phone at: (866) 811-4111.
A promotional video can be seen here.