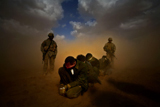 After a 14-week strike, members of the Writers Guild of America won a significant victory in a new contract with the Alliance of Motion Picture and Television Producers and the 80th annual Academy Awards show went on as scheduled Feb. 24.
"The fight is over," said comedian Jon Stewart, who hosted the show, referring to the writers' strike. "So tonight, welcome to the makeup sex."
Living up to expectations, Joel and Ethan Cohen's "No Country For Old Men" won four Oscars in Best Picture, Best Director, Best Adapted Screenplay and Best Supporting Actor (for Javier Bardem). Many awards were given to first-time winners, indicating a new generation of film makers, writers and actors is coming into its own. The Cohen brothers are known for their quirky films that play at art houses, with "Fargo" being the most recognized by the academy.
Bardem thanked the Cohen brothers for giving him "one of the most horrible hair cuts in history" as he portrayed a psychopathic killer in the film. In his acceptance speech Bardem — the first Spanish actor to win an Oscar — dedicated his award to Spain and his mother.
"Mama, this is for you," he said in Spanish. "This is for your grandparents and your parents. This is for the comedians of Spain who like you have brought dignity and pride to our profession."
Perhaps reflecting an increasingly globalized Hollywood economy, all four major acting awards went to European artists. Besides Bardem, France's Marion Cotillard won Best Actress for "La Vie en Rose," Britain's Daniel Day-Lewis won Best Actor for "There Will Be Blood" and compatriot Tilda Swinton took home Best Supporting Actress for "Michael
Clayton."
First time screenwriter Diablo Cody won for Best Original Screenplay in the film "Juno."
"This is for the writers," said Cody as she hoisted the Oscar statuette on stage.
Writer-director Alex Gibney won for Best Documentary in "Taxi to the Dark Side." The film is about a young taxi driver arrested by the American military in Afghanistan in 2002 while carrying passengers in a deserted area there. The driver, Dilawar, was taken to the Bagram Air Base. Five days later he was dead. He was savagely beaten and his injuries were compared to the damage that would have been inflicted had a truck run over him. Dilawar was never charged with any crime and was never shown to have any connection with Al Qaeda or the Taliban.
In the film Gibney, a journalist turned filmmaker, examines the torture practices of U.S. forces and the U.S. government in Afghanistan, Iraq and Guantanamo Bay under the Bush administration.
Gibney said, "This is dedicated to two people who are no longer with us, Dilawar, the young Afghan taxi driver, and my father, a navy interrogator who urged me to make this film because of his fury about what was being done to the rule of law."
"Let's hope we can turn this country around, move away from the dark side and back to the light," he said.
plozano@pww.org