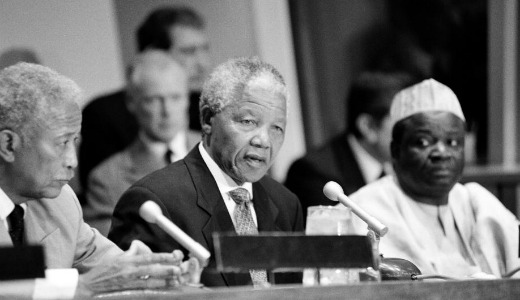 The African National Congress of South Africa celebrated its 100th birthday on Sunday.
Its centenary is surely a cause for celebration and hope for all who cherish freedom, civil rights and democracy.
Founded three years after the NAACP in the U.S., the ANC is one of the African continent's oldest and most enduring liberation movements.
Its leaders worked alongside W.E.B Du Bois in shaping the 20th century struggle against the color line.
Born in the struggle against white settler colonialism, the ANC's history is deeply rooted the struggle for human dignity and national independence.
Its heroes and heroines, like Walter and Albertina Sisulu, Oliver Tambo, J. B. Marks, Moses Mabhida, Ruth First, Chris Hani and Nelson Mandela, have earned a rightful place on progressive humanity's honor roll.
Labelled terrorists by an Afrikaner minority desperate to hold onto power, and suffering decades of persecution, banning, torture, imprisonment and exile, the ANC emerged in South Africa's 1994 democratic breakthrough as the leading political force in the country.
It was a signal moment in African and world history. Aided by a worldwide solidarity movement, including in the U.S., but principally by means of mass democratic struggle, South Africa's people rendered the apartheid-ruled country ungovernable, achieving a largely peaceful transition of political power.
Emphasizing unity and national reconciliation, the ANC's leadership moved quickly to adopt a new constitution restoring the African majority to its rightful place in leading South African society while emphasizing non-racialism and the unity of black and white.
Significantly, one of the ANC-led government's first acts was to unilaterally renounce and dismantle its nuclear arsenal.
These processes were no accident, but the fruit of a farsighted and seasoned leadership steeped in the experience of the African and world revolutionary movements.
Emphasizing unity and eschewing dogma, ANC leaders formed an enduring alliance with the country's trade unions and Communist Party in a coalition that has stood the test of time and is now leading the country into its second decade of national independence.
It is a government that by all accounts still has a long way to go in fulfilling the goals set in South Africa's historic Freedom Charter. Unemployment and poverty remain intolerably high as does infection and early death from the AIDS pandemic. While government is in the hands of its people, South Africa remains a country deeply divided by racial, gender and class exploitation.
But observers must keep in mind that with still few years of government under its belt the country's national democratic revolution is yet in its earliest stages, comparable to Brazil and Venezuela in terms of length of time in office.
Indeed, in some respects state power in South Africa is still contested political space.
Also, let no one forget that because of the very character of its left-of-center government it is confronted by efforts at destabilization, economic isolation and regime change.
Like any modern political party in a capitalist country, the ANC is also challenged within and without by big business designs to buy influence and peddle prestige and power.
By keeping its eye on unity and its feet firmly planted in the roots of its century-long experience, the ANC and its Tripartite Alliance partners will continue their steady march down the road to freedom and equality. They will meet obstacles and detours on the way but as Nelson Mandela once famously said, "There is no easy walk to freedom."
Photo: Nelson Mandela (centre), President of the African National Congress of South Africa (ANC), addressing correspondents at a press conference held today at UN Headquarters. He is flanked by Ibrahim Gambari (right), Chairman of the Special Committee against Apartheid, and David Dinkins, Mayor of the City of New York. 24/Sep/1993. UN Photo/John Isaac. Via UN Photo.