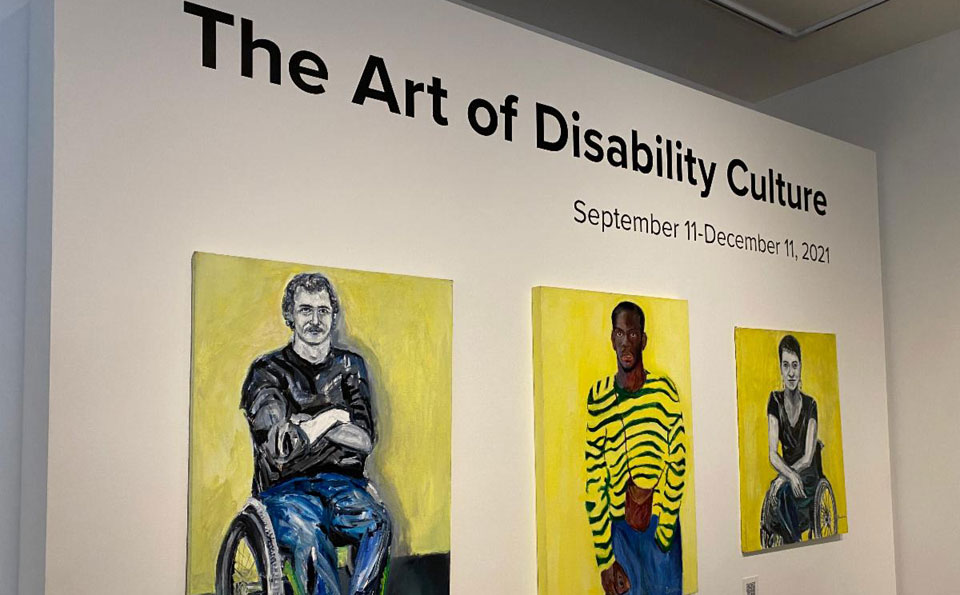 PALO ALTO, Calif. — The title of the current exhibit at the Palo Alto Art Center speaks of "disrupting prejudices," and I'll tell you my prejudices were not just disrupted but blown to pieces right away when I saw the portraits above painted by Bill Bruckner. I mean, I expected to be moved, to feel good that I had gone out of my way to support people less fortunate than me. I did not expect to see ART with a capital "A." I mean just plain old interesting beautiful art. I did not expect the quality of the work.
And then this statement from Bruckner's website really fried my brain circuits:
"As a person with a lifelong visible disability, I have been acutely aware of the patronizing, objectifying ways in which we are often depicted in the arts. Over the past 25 years, I have been creating a series of portraits of my friends who have disabilities. Because I believe that our lives are neither pitiable nor inspiring, my intent has been to convey images of our ordinary dignity, humanity, and self-respect. I hope you will feel that the people in these portraits are gazing at you with as much curiosity and interest as you may have about them."
"Neither pitiable nor inspiring…." Damn! Bruckner's making me face that even being inspired by people with disabilities is a way of seeing them as "other." He refuses to be used as an inspiration! I don't know if I can handle that, even though I can see that it is a kind of use.
When we entered the gallery, the first thing we encountered was not Bruckner's work but this:
How can I not be inspired by Matthaus Lam's elephant created especially for this exhibition from toilet paper rolls, egg cartons, and other detritus from the recycling bin? I think Bruckner's saying, "Yes, be inspired by Lam's creativity and resourcefulness. Start collecting toilet paper rolls yourself! You know you want to. But don't put a cherry on top of your appreciation because he's autistic. He's just a human being who happens to be an artist." Click here to watch a video about Lam and his elephant.
Below are two works by Katherine Sherwood, Dr. Speech and Neuron Nurse, both from the Healers of the Yelling Clinic series:
Sherwood says of her art:
"I think when you experience something so absolutely life-altering as a cerebral hemorrhage, you see that 'okay, I wasn't in control. And what's happening isn't just the conscious person inside of me.' Once you give up any notion of control, then I think life goes a lot easier. That's what I've experienced."
This very sophisticated and detailed work is about giving up control? Now, that's something to ponder. Sherwood is represented by two galleries.
There was so much beautiful and provocative work. And some of it had a very clear political viewpoint.
Michele Oteri's self-portrait (see below) is explicitly political.
I want to end with work that relates to a very important event in the history of the disability rights movement. This is Disabled Black Panthers in the Bay by Otis Smith, who is a long-time creative partner with Kriphop Nation, an international association of Black artists with disabilities.
The man in the blue jacket, Bradley Lomax, was part of the Section 504 protest in 1977 when over 100 disabled people occupied the San Francisco Federal Building. They were protesting the fact that nothing had been done to put Section 504 into effect. This law, passed in 1973, guaranteed that disabled people would have greater access to federal buildings. But by 1977, not a damn thing had been done to make it happen.
Disabled people occupied federal buildings all over the country. The occupation in San Francisco lasted longer than any others—26 days. Why? Because the Black Panthers supplied hot food to the protesters every single day!
My mind is blown again. Disability activists… Black Panthers…What?! In fact, the San Francisco action was the longest occupation of a federal building ever. And disabled activists remain grateful to the Panthers. Without that daily hot food delivery, the activists would not have been able to hold out for so long.
As a result of the 1977 protests, federal buildings were made accessible and the ground was prepared for the 1990 Americans with Disabilities Act.
Here is one photo from that historic protest:
And here's the photographer, Anthony Tusler:
Thanks to Elizabeth for telling me about the exhibit. And thanks to Tara, herself a disability rights activist, for driving me down and filling us in on so much of the history behind the art and the artists we saw. Oh, and of course thanks to Nella, the best-behaved and sweetest dog in the world.
It was a wonderful day, full of revelation and friendship. I took photos of almost every single work of art. I could imagine spending a whole day in this exhibit because every work has a QR Code that leads to lots of fascinating information about the artist's techniques, intentions, and history. See this exhibition before it closes on Dec. ll.
For more information about the show, see here. The Palo Alto Art Center is located at 1313 Newell Rd., Palo Alto, CA 94303. Gallery hours are Tues.-Sat., 10 a.m.-5 p.m., but closed Nov. 25-26 for Thanksgiving (open Sat., Nov. 27). Admission is free. Call (650) 329-2366 for further information.
Reposted and formatted for People's World with permission. Terry Baum's blog, including the original posting of this article on Nov. 18, can be accessed here.