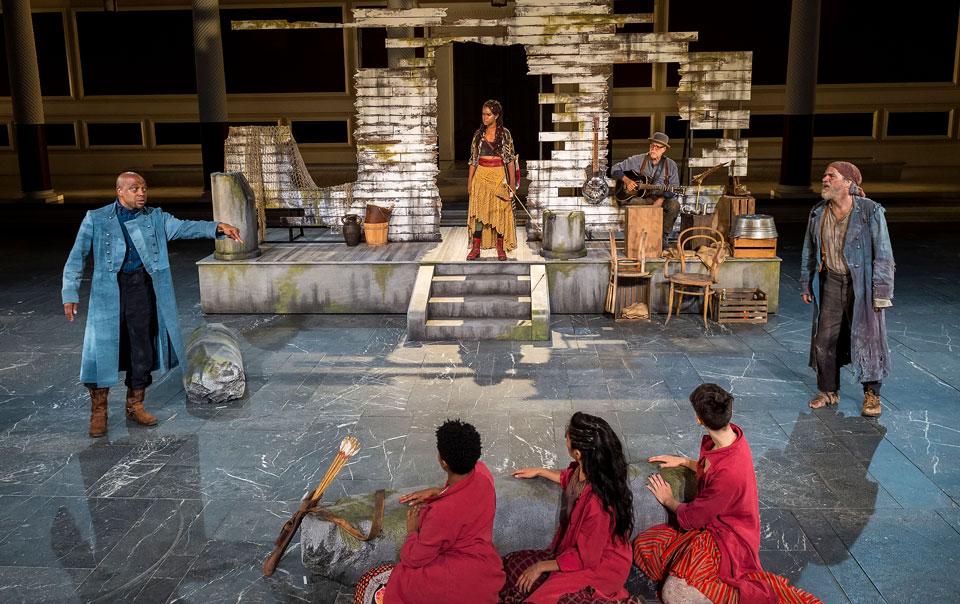 MALIBU—Making my odyssey up the Pacific Coast to the Getty Villa in Malibu to experience a Greek play under the stars in the Barbara and Lawrence Fleischman Theater is a yearly highlight. Not unlike attending the Festival of Dionysus, with its theatrical competitions, in 5th-century BCE Athens, except nowadays our chariots are motorized. Indeed, in 409 BCE, the judges lauded the play Philoctetes as the Festival's best tragedy and its prolific playwright Sophocles was awarded a wreath of ivy.
Like Athens' Theatre of Dionysus, the Fleischman is also an amphitheater, thus like the ancient Greeks, Angelenos are able to enjoy an adaptation of Philoctetes in the great outdoors. But in its current iteration as The Heal, Sophocles's tragedy has been turned upside down into a comedy, rewritten and directed by the crafty Aaron Posner.
Before the proverbial curtain lifted on this 90-ish minute version, performed without intermission, ticket buyers comfortably ensconced on new high cushion seats (conditions are no longer so Spartan at ye olde amphitheater!) were exhorted to shut off their devices and not to record any imagery. I couldn't help but wonder if, some 2500 years ago, theatergoers were similarly beseeched not to rustle their papyrus or paint portraiture of the thespians on Grecian urns or vases during the drama?
In any case, co-produced by the Getty Villa with Maryland's Round House Theatre, The Heal is a howl, a sheer delight, from beginning to end. Award-winning composer Cliff Eberhardt opens the show playing his mood-setting original song about how "everyone is wounded," accompanying himself on the acoustic guitar. As Demodocus he comments on the action throughout The Heal, reminding me of the role Stubby Kaye and Nat King Cole played in the 1965 cowboy comedy Cat Ballou.
Unlike that Western's troubadours, this being a Grecian play, Demodocus is joined onstage by a Greek chorus named for classic Muses: The sultry Melpomene (Eunice Bae), the pixie-ish Calliope (Emma Lou Hebert), and the beautiful Thalia (Jaquita Ta'le). The multi-culti trio enhance the ambiance and help move the plot along with their eye-catching costumes (designed by Sarah Cubbage) and kinetic choreography (created by Erika Chong Shuch).
Sophocles's epic saga is set during the era of the Trojan War. After committing a faux pas of mythic proportions, our man Philoctetes (Eric Hissom, who has a Bill Murray-like twinkle and vibe) has been stranded at a desert isle for about a decade. There he has been nursing an odiferous, painful wound in—you guessed it—his heel. However, "Phil" (as he's sometimes called) possesses the late Herakles's (that's Hercules to ye mere mortals) bow and arrow, believed to have magical powers. The scheming Odysseus (a sly Lester Purry) schemes to abscond with Philoctetes's weaponry, in order to win the never ending war with Troy.
To do so Odysseus, a master of the arts of deception, sails to the island where Philoctetes had been abandoned and dispatches Niaptoloma (the exquisite Kacie Rogers, winner of a Best Actress NAACP Theatre Award for intimate theater, which may be even mo' bettah than winning the competition at the Festival of Dionysus!), the daughter of Achilles, to do his dirty work and retrieve the fabled bow and arrow. But alas! our gal Niaptoloma has that thing totally missing in the White House, you know, a conscience!
That's enough of this comedic reworking of Sophocles's tragic storyline. The production, performed in front of an ancient Roman-style villa that is a repository of relics wrought contemporaneously when Sophocles created his dramas, is suffused with philosophical musings. On war, empire, realpolitik, the arms race, forgiveness, honesty, and above all, about healing our wounds as humans, inner and outer.
Adapting another's work from long ago and far away is fraught with peril. But even though there's nary a toga in sight, aided by a cast and crew with the gifts of the gods, Posner's interpretation rings true and is thoroughly entertaining and dare I say enlightening, from start to finish. The Heal is nothing less than a joy to behold. The 14th of the Villa's outdoor extravaganzas reviving Greek classics, this latest offering to the gods is among the Getty's best. From antiquity to modernity, audiences would be hard pressed to find a more enjoyable meditation on eternity, the condition of being all too human. The setting, like the cast, is peerless, and in our dire times we can't get enough laughter, especially when liberally laced with wisdom. Strap on those sandals and make an Olympic-like dash down to the 'Bu to catch The Heal. This play is rated "DM" for: Don't Miss.
The Heal runs through Sept. 28 on Thurs., Fri. and Sat. at 8:00 p.m. at The Barbara and Lawrence Fleischman Theater at the Getty Villa, 17985 Pacific Coast Highway, Malibu. For more info: (310) 440-7300 or www.getty.edu.
Aloha oe (farewell to thee) Peter Fonda: One of the greats. Ye shall be missed, Captain America.
Rampell is moderating the panel "Enter Stage Left: Theater, Film and TV for a Better World" at 12:40 p.m., October 13 at the Left Coast Forum. For details see here.