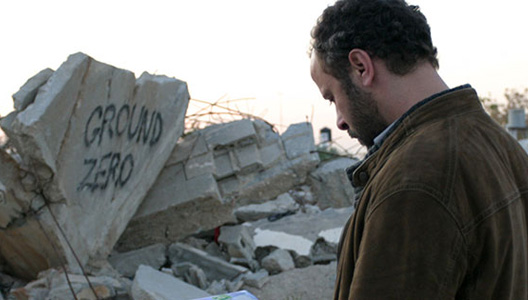 Dr. Amin Jaafari beings the movie as a celebrated surgeon in Tel Aviv. He is also passionately in love with his beautiful wife, Siham. The movie begins with the two of them in embrace. It is full of flashbacks of their meeting, their lovemaking, and their married life. Amin is at the pinnacle of success, the first Arab doctor ever to receive accolades in Israel.
But Siham disappears and is accused of being a suicide bomber responsible for many deaths, including a number of Israeli children who were celebrating a birthday party before being blown to pieces. Amin's hospital receives the dead, and he is called upon to treat the wounded.
When the police take Amin into custody, will he be treated with the same deference that his vocation and accomplishments usually merit? Or will he face degrading torture at the hands of Israeli police? Was Siham secretly a terrorist? Did she deceive their many Jewish friends? How will those friends react to the accusation? Does this all have something to do with religion, even though Siham was a Christian?
Worse, did his loving wife deceive Amin? Could she have been the wonderful wife, the center of his personal life, and yet have other commitments that he could neither condone nor even understand? Is Amin's family, out in the disputed territories where barbed wire and Uzi-toting Israeli soldiers are everywhere, somehow involved?
Amin denies even the possibility that Siham was responsible for the very graphic death and destruction he saw in the hospital. He denies that she could have had a secret life apart from him. "We share everything!" he asserts. He sets out determinedly to find out who is really to blame for the attack, and he is eager to fix the blame.
Like many of the best movies ever, the story of Amin, Siham and their friends and family, is only the front part of the film, while the real story is taking place in the background. In sparkling Tel Aviv and in the downtrodden territories, the real story unfolds behind Amin's shame, frustration and anger. It is a story of much larger shame, much larger frustration, and a much larger anger.
I couldn't recommend it more.
"The Attack"
Directed by Ziad Doueiri
1 hour 42 minutes
Born in Beirut, Lebanon, Ziad Doueiri grew up during the country's Civil War. He left Lebanon at 20 and studied in the United States, graduating in 1986 with a degree in Film from San Diego State University. The film is based on Yasmina Khadra's international bestseller of the same name.
Photo: Cohen Media Group Facebook page.