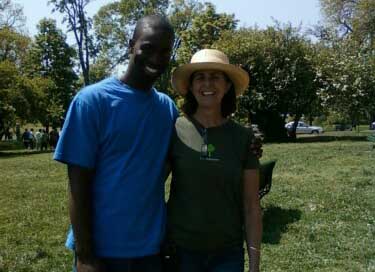 Editor's Note: Promoting environmental sustainability in Baltimore is the dream of green community activist Jerome Alexander who initiated a tree planting project recently. The interview was conducted by Jordon Farrar.
Q: What is it exactly that you guys are working on?
A: We, The Greater Baltimore Leadership Association Young Professionals (GBLA), a subset of the Greater Baltimore Urban League, actually just completed our 1st major function regarding our public health committee's Green Initiatives. Basically, we replicated a tree planting activity I was fortunate enough to participate in years ago while in summer camp. I suggested that we engage elementary school children so that the importance of having and maintaining a greener community would remain rooted in their memories so that they too would remember this experience and try to duplicate it in years to come. I affectionately titled it "The Big Dig".
Our goal was to:
• Emphasis sustainability;
• Connect physical health with a healthy environment;
• Encourage youngsters to get some fresh air for a change;
• Promote community activism
Q: Who are you working with?
A: Outside of the Greater Baltimore Urban League, we joined forces with TreeBaltimore, a division of Baltimore Recreation & Parks dedicated to increasing the percentage of Baltimore's Tree canopy. Other supporters and participants include Baltimore city's Parks & People, Ms. Cathy Allen, the director of Project H.E.A.R.(Horticultural Environmental Awareness Raising), Baltimore Antioch Diploma Plus High School, St. Ignatius Loyola academy and Lockerman Bundy Elementary School and Bentalou Elementary school.
I chose Lockerman Bundy because it was the elementary school I attended as a child and I was happy to discover that it is still open, unlike many of the other schools in Baltimore. I chose Bentalou because I was a mainstay in its recreation center for many years of my childhood.
Q: What made you interested in getting involved in activism?
A: Former teachers, of course my mom and while it may seem odd, cartoons from the '90s. I can remember my teachers reciting the "golden rule" since pre-k. I've always internalized it as the only true way the problems that plague humanity would and could be resolved; I still believe that to this day
My mom was always helping someone and although my household and neighborhood was not the most ideal environment for a child to grow up in, everyone loved her. To this day I've had former elementary classmates and teachers ask "how's Ms. Rita doing". The same thing happens when I cross paths with former neighbors from years ago. I think being remembered for your kindness and consideration by so many people is the best way to be immortalized.
In regards to the cartoons, I still believe that the cartoons from the late 80s through the mid 90s were some of the most positive, character building and entertaining cartoons ever created. Captain Planet taught me how cool it was to care about the earth, Chip N Dale Rescue Rangers taught me to acknowledge the lives of animals smaller and or otherwise and my favorite, The Uncanny X-men, taught me to remember that even though doing the right thing might not be always be popular, you can always find a group of like-minded individuals to team up with and get the job done.
Q: What are your plans and ambitions for future action?
A: I have a lot of concepts bouncing around in my head but I really want to start an aggressive campaign to initiate self-responsibility and self reliance to ailing neighborhoods in the inner city of Baltimore. My dream is to renovate or reconstruct some of the many abandoned homes people live right next door to and morph them into various businesses operated and watched over by its inhabitants.
I also want to bring back athletics and outdoor activities that have long since been removed from schools. My mom told me she used to take gymnastics in the same middle school I went to as a child. I would have loved that. Just this past Friday, during the tree planting field trip, there were 3rd graders doing back flips on queue. If they had an outlet to hone their skills, they could quite possibly be our next Olympic champions.
Q: What about the atmosphere in Baltimore made you want to work on this specific task/tasks?
In an effort to be concise, the overall atmosphere in Baltimore unfortunately is hardly positive. I was born and raised in Baltimore. I became a young man in the ghettos of Baltimore' but I was blessed with the fortune of exposure beyond the negativity. I remembered how much fun it was planting trees with my peers and how happy it made the adult volunteers and aides in summer camp and I thought it would be great to replicate that experience.
I pitched this idea to GBLA's Public Health committee chair Nicolette Louissaint during a phone conference back in November 2009 and the rest was history. She has assisted, supported, guided and bounced ideas off me since day one. Partnering with her specifically was one of the main reasons this event actually happened. I'm very appreciative.